About Upper Two Medicine Lake Trail
Trail Highlights — Gorgeous mountain vistas, lakes, a meadow, and a view of the Continental Divide
Roundtrip Length — 10 miles
Elevation Gain — 350 feet
Peak Elevation — 5,505 feet
Parking Lot — Yes
Difficulty — Easy
Region — Two Medicine
Availability of Water — Excellent
Two Medicine is one of the most under-explored regions of Glacier National Park–and it blows my mind every time I say that (or write it) out loud. The region is just absolutely gorgeous. I see no reason, whatsoever, for this place to be less than packed during every season. But, for now anyway, it isn't, so you should make plans to get there right away before all the breathing room disappears when its popularity booms.
About Upper Two Med lake Trail
The Upper Two Medicine Lake Trail is a great one for beginners. It's an easy 10 mile hike that you can get in and out of in a single day. In fact, you can make the trip even shorter if you take a shuttle boat from the trailhead at the North Shore across Two Medicine Lake. Doing this will shave more than half your hiking distance off the total. Personally, I recommend saving the shuttle for your second visit, because keeping those 5-6 miles in your first hike just makes for a couple more hours of sheer awe at the beautiful landscape.
Why is this trail great for beginners? It introduces you to the real rewards of hiking trails (getting some one-on-one time with Mother Nature and seeing some truly astounding mountain, lake, and meadow vistas) without causing too much physical effort on your part. You only gain about 350 feet in elevation on this hike, making it a fairly shallow incline.
The hike begins at the Two Medicine campground on the North Shore and ends at the Upper Two Medicine Lake.
The first leg of your journey runs parallel to Two Medicine Lake, as you make your way from one end to the other. Keep your eyes open to the left, and you might see some sleek birds fishing for their breakfast under the surface of the lake. Look to the right and you might catch some awesome wildlife foraging among the park's flora. (I saw a moose once, just as I got to the other side of the lake… What an amazing sight!)
When you reach the South Shore, you'll have caught up with your fellow hikers who opted for shuttle service–from here on out, y'all are walking the same path.
From the South Shore, you make your way to the Two Medicine Pass Trail and follow the sign. This second leg of your journey is full of large ferns, wild berries, and fresh mountain air.
After about a mile, you'll reach the North Shore Trail which makes a connection with the Dawson Pass Trail. Just head straight and eventually you'll wind up on Upper Two Medicine Lake Trail. And almost as soon as you do, you'll be met with a very memorable sight.
Towering over you, at an incredible height of 7,600 feet is the Pumpelly Pillar, gigantic cone-shaped mountain mass that was created by the ancient glaciers for which this park is named. You'll see Pumpelly again and again throughout the rest of the hike, but this is the view you need to take some snapshots of. Un-be-lievable.
Another mile or so will take you over a cool-water creek to a junction with another trail: Twin Falls. If you don't have the time or the inclination, you can just skip this side-adventure and continue on straight. But if you're willing to walk just a measly one-tenth of a mile, you'll get a close-up view of two cascading waterfalls, rushing down the side of Pumpelly.
Back on the Upper Medicine Lake Trail, another two miles or so will bring you out of a heavily wooded forest and into a wide-open meadow. The flowers, berries, and wildlife you'll see on this stretch will also be guaranteed to be snapshot worthy.
Just before the end of your hike, you'll cut through an Upper Two Medicine Lake backcountry campground. You can reserve a site up here for the night in advance, if you'd like, or you can hike back down after a quick look at the massively magnificent mountains rising before you.
The end of the line features a vista filled with four mountain masses, including: Mt. Rockwell (9,300 feet), Mt. Helen (8,500 feet), Lone Walker Mountain (8,500 feet), and Pumpelly Pillar (7,600 feet). There's simply nothing like the perfect mountain landscape to brighten those spirits, right? Well this is about as close to perfection as you get in all of Glacier.
And if you scan the tops of Helen, Lone Walker, and Rockwell, you'll be treated with an invisible–but no-less-awesome–gift: that up there is the Continental Divide.
Elevation Profile & Photos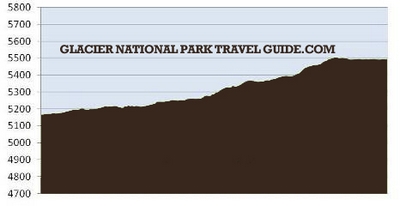 Upper Two Medicine Lake Elevation Profile
Additional Glacier National Park Hiking Info
Check out other Glacier National Park hiking trails, or head back to the hikes in the Logan Pass area.
Return home to
Glacier National Park Travel Guide