Below are the contest entries that were submitted for a contest held in May 2012. We asked our visitors to submit their favorite photo story and these were the submissions we received.
The first story, Ryan's Trees in Glacier National Park, by Victoria Hunt, was the winner. I hope you enjoy these stories as much as I do!
Ryan's Trees in Glacier National Park
Victoria Hunt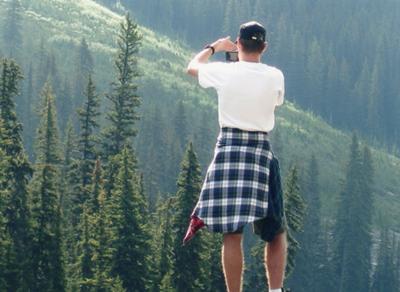 We discovered Glacier about eight years ago. No one loved it as much as my son Ryan!
The hiking, canoeing, wildlife sightings, photo opportunities… the list is endless!
He especially loved hiking into Goat Haunt from Waterton.
After his death in 2010, we felt the best way to honor Ryan would be to plant memorial groves in his memory in some of his favorite spots throughout the park and other spots that needed reforesting.
We met and instantly fell in love with Jane Ratzlaff and The Glacier National Park Fund.
They accommodated us and our wishes to actually assist in planting the very first grove of native trees.
We have since added two more groves thanks to the generosity of friends, family, and colleagues who bless me with each donation to add to the already spectacular scenery and beauty that IS Glacier!
His memory can live on in Glacier now and this gives us reason to return as often as possible to, in some small way, know we have given back to Glacier a small token of what it has given to us. I tell my family each and every day that someday, we will have a house near Glacier so that no matter the season, we can be as physically close to the most special, meaningful, and life-affirming spot on this planer.
Thank you for allowing me to tell what a difference Glacier National Park and Jane have made to my life.
To be able to give back to the landscape there only adds to our joy!!!
Comment From Billy Bowman
Nice way to allow folks to share their stories! Thanks! Billy Bowman, Glacier National Park Fund
Grinnell Glacier: My Journey to This Spectacular Destination
Victoria Hunt
A view from above…..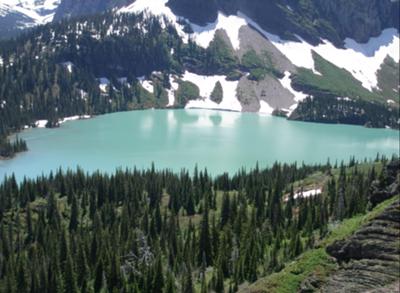 "Life is a journey, not a destination."
Ralph Waldo Emerson said this many years ago and he could have been speaking to my family as we hiked to Grinnell Glacier for the first time!
We thankfully took the two-boat shuttle which gave us far more time to enjoy the amazing scenery, wildlife, and awe-inspiring, if not a little scary, precipices.
This is now a trail I will hike each time I am blessed enough to return to Glacier, because as with life, the same trail can lead to different discoveries each time we travel them.
Thankfully, we've learned to focus on the journey and not the destination.
It is so true that joy is found not in finishing this hike, but in the fact we were able to enjoy a small part of what Glacier has to offer in the journey. (and thankfully, no run in with a Mama Grizzly!!!)
Bowman Lake – Heaven on Earth
Mary Lynn Smith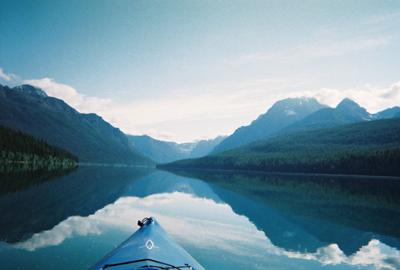 There is no story. This is just simply where I go to NOT have to think of anything other than existing in the most beautiful spot on the planet.
Me paddling at Bowman Lake. Heaven on Earth.
Early morning when the gin-clear water is smooth as glass with the lightest sprinkling of day-glo yellow pollen.
Nothing is better, or ever could be better.
Water meets sky, meets earth, meets sky.
How fortunate that GNP is practically my backyard!
How The Highline Trail Made Us Fall in Love With Glacier
Debra Moss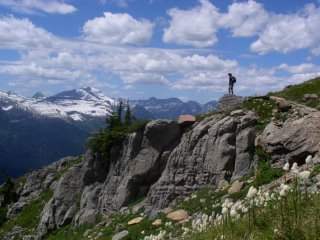 This is Hunter Moss, owner of Moss Mountain Inn organic B&B on the North Fork, hiking on the Highline Trail.
We came to Glacier in the summer of 2003, just passing through on a camping road trip.
We fell in love immediately and just stopped!
We ended up staying on for the summer, working in the park, and hiking as many trails as time allowed. Glacier was such as amazing place we decided to stay for good, sold our camper and bought an inn on the North Fork River, where we opened an eco-B&B.
Now we are filled all summer with hikers who come from all over the world to experience for a few days what we have every day of our lives.
Glacier is a magical place and we love seeing the huge grins on the faces of our guests after a day spent hiking the Highline Trail.