Smartphones, iPods, and other MP3-playing devices are great for when you're tromping through the wilderness alone. You can play music, listen to audiobooks, or even learn a thing or two from a non-fiction recording while you enjoy Mother Nature.
But it gets a little difficult to do those things when you're swimming, kayaking, rowing, trekking around waterfalls, or doing your thing during inclement weather. You really don't want your expensive gadgets to die from moisture, and you really don't want them to fry you.
So what to do?
Fitness Technologies, Inc. has the answer. They've been crafting MP3 players that are 100% waterproof for a good long time and they've just announced their latest product, the UWaterK8.
Believe me, it's worth your time to listen in.
Fitness Tech USA's Ongoing Underwater & Waterproof MP3 Player Work

Fitness Technologies has been manufacturing waterproof gadgets since 1996. Their first unveiling was for the SwimmersChoice FM Radio in 1997, letting you tune in to local stations without worrying about damaging the radio with moisture.
Other products leading up to the UWaterK8 include:
Waterproof MP3 players
Waterproof earphones
Waterproof connectors, adapters, extension cords
Basically, they're in the business of building products that let you listen to your tunes no matter where you go or what you do. For some of us, that's a rare treat. For others, it's maybe not so essential.
But no matter which of those folks you are, you should dive in with me right now and check out the UWaterK8.
Giving the Fitness Tech UWaterK8 a Listen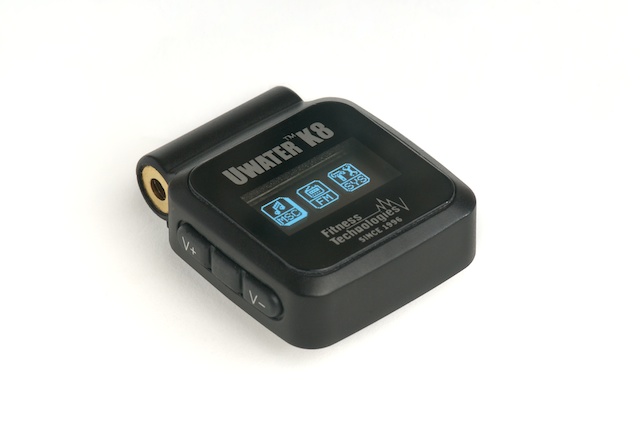 So what makes the UWater K8 special? This is an MP3 player that features excellent storage capacity, an ultra-light construction, and supreme protection from the elements.
If you're the kind of weekend warrior who likes to get on the water, or even near it, and you like to listen to music or books while you do so, this little gadget may just be the best thing out there for your needs.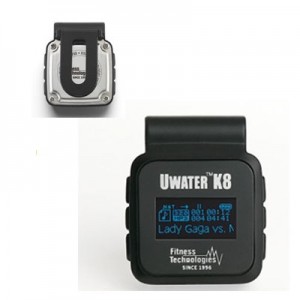 The UWaterK8 features:
8GB memory
Digital tuner
Back-plate made from stainless steel
OLED front display
It also weighs in at just one ounce and measures a measly 0.4″ by 1.25″ by 1.75″. This is about as compact as they come, but it's also very durable.
The price is a bit steep at $129, but if your brand of outdoor sporting calls for this kind of gadget, then I think the UWater K8 will more than pay for itself.
All in all it's a nice little gizmo that performs as advertised in water, will last you a long time, and provides enough storage space for up to 2,400 songs. If you love to kayak or swim, you'll love this Fitness Tech goodie.
Should You Take the Plunge?
It sounds great–if a bit pricey–but how does it compare to the competition? Ah! What a great question.
The fact is, the UWaterK8 holds up very well in the face of the enemy. There are certainly other wholly-waterproof MP3 players and radios out there, but this Fitness Tech product has twice as much storage space as most of them and is smaller than many.
Models like the Speedo Aquabeat and Aerb MP3 Players both perform well underwater, but neither of them has more than 4 GB of memory to offer. They also don't all come with all the same goodies you get with the UWaterK8, like:
100% Waterproof earphones
Multi-sized silicon ear tips
Detachable Clip
USB cable for loading up the tunes
Comprehensive owner's manual
Cool gift box
And, most importantly, a great manufacturer's warranty
The UWater K8 is more expensive than much of the competition, true, but it offers a lot more.
So, should you take the plunge? If you're going to be navigating sick rapids through the Colorado, than go for it. But if you're just worried about rain or waterfall spray now and then, you can find protective baggies for you iPods or smartphones that also have a jack for your headset that will work just fine.
What kinds of products do you use to protect your tech from moisture? Do you go in for the 100% waterproof gadgets or rely on protective sleeves and sacks?
Learn more at Amazon.com or Fitness Tech's official website.