Learn why women's hiking boots are different than men's & read my reviews of the 3 best hiking boots for women, including Asolo Attiva, TPS & more!
I say this–twice–because a lot of the time people think it's all about the brand name or the model name, no matter your gender, age, or experience level. But the truth of the matter is that just because Salomon hiking boots or Merrell hiking shoes are good for some people, that doesn't mean they're good for everyone.
The best women's hiking boots, then, aren't going to be the same as the best men's hiking boots, so you need to do some research if you want to make sure you get the best boots out there.
And in order to have the best time possible in Glacier, Yellowstone, or other majorly beautiful national parks, you need to do a whole lot of research. You don't want to be one of the ones who have to turn back halfway up the trail because of a twisted ankle, stubbed toe, or sore arches.
Here are the table of contents for this article:
How to Pick Women's Hiking Boots
Even with the easiest trails in Glacier, there are still obstacles to maneuver over and around. I was going around Avalanche Lake–a super easy-going path–with a lady friend of mine who didn't know too much about hiking. She was wearing pretty decent trainers, but not proper hiking footwear, and she took one single misstep on a slight incline, and bingo: twisted ankle.
You have to really make sure you're wearing the right gear before you head out into the Great Outdoors.
So how do you about picking the right women's hiking boots?
Well here are a few pointers: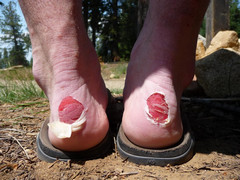 Bad Hiking Boots Will Make Your Feet Look Like This! YIKES!
Understand what kind of hiking you want to do. If you want to go on 12-mile treks through super rugged territory, then you need some heavy-duty boots. If you like to do shorter day-hiking, then you'll want some lighter, more breathable models.
Comfort is absolutely key. Try on as many different pairs of shoes as you can at your local sporting goods store. The only way to find out if a hiking boot is right for you is to give it a shot.
Look for deals and steals. Chances are, your favorite pair of hiking boots, the ones that fit the best and look the best and offer the best protection, are going to be expensive. But don't settle for anything less than the best! Go online, search for those boots, and see if you can find them somewhere at a discounted price.
To help you find a place to start in your quest for the perfect women's hiking boots, here's a look at what I think of as the three best models being sold today. Notice what they all have in common: they are all Asolo hiking boots.

Asolo Attiva GTX
If you haven't heard me say it before, I think Asolo makes the best hiking boots out there. When I took my trip to Spain, hiking more than 500 miles in less than three months, I was the only person in my entire group that didn't get blisters. I never twisted my ankles, hurt my knees, or had my boots literally fall apart around my feet either–yes, this happened to more than one person on more than one occasion.
And I was wearing Asolo boots.
Since that summer, I have been an Asolo fan all the way. No other boot does it for me, and I wouldn't put my recommendation to anything other than Asolo when it comes to serious hiking boots. Hiking shoes are another story, but we're not talking about them right now.
Now, don't get me wrong. I'm not joining the Asolo team just because of that one experience. The truth is that these are simply the best in the business in terms of comfort, security, reliability, cushioning, protection, and endurance.
The Asolo Attiva GTX boots are three-season models that are fully waterproof and ridiculously lightweight. Having a pair of lightweight boots is important, especially if you go on longer hikes. It helps to lessen the leg fatigue.
The Attiva boots are just positively loaded with special features to make your hikes some of the best you've ever had, including:
Gore-Tex liners for both waterproof protection and ultra breathability
Wicking nylon lining to absorb the moisture your feet make when they work
EVA footbeds that are more comfortable than lying on a Tempur-Pedic mattress, and that can be removed if you ever wanted to replace or enhance them
Where to Buy
Best Heavy Duty Women's Backpacking Boots: The Asolo TPS 520 GV
The second entry from team Asolo are these ultra rugged women's hiking boots that will take you absolutely anywhere you need to go, no matter how rough the terrain or wet the conditions.
The Asolo TPS boots

are made for backpackers who carry fairly heavy loads. With extra padding, added protection, and a design and construction that are as tough as they come–if not even tougher!–you can backpack anywhere you'd like and feel perfectly at home.
What makes them so tough? Well, as opposed to most other hiking boots in the Asolo catalogue–or other brands' catalogues–these boots feature super strong full-grain leather on the uppers, protecting your feet and ankles like a suit of medieval armor.
Some other fun features found with the TPS models include:
Ankle collars and gusseted tongues to keep dirt, snow, pine needles, pebbles, or other trail junk from getting into your boots
Gore-Tex membranesfor waterproofing and added breathability
Wicking nylon liningfor moisture absorption
Where to Buy
Most Comfortable Women's Hiking Boots: The Asolo Stynger GTX
These are perhaps the most comfortable hiking boots for women on the market today.
A lot of companies offer female-specific sizing, but none but Asolo have been able to really conform the boot's design to a lady's foot.
A couple of my female friends who wear the Styngers have told me that they felt perfect the first time they even tried them on, right out of the box.
The best things about the Asolo Stynger boots
:
Ventilation –Gore-Tex, Cordura nylon, and water-resistant suede work together to make a super breathable boot
Traction — Bi-density rubber and polyurethane midsoles offer not just amazing cushioning, but also some really fantastic grip
Protection — Waterproof Gore-Tex, shock absorbent DuoAsoflex, and reinforced toe boxes and rubber heels make these extra tough and safe
Backpacker Magazine, REI.com, and Outside Magazine are just as enthusiastic about the Stynger boots as I am, calling them some of the best in the entire world.
Obviously, being a guy, I have to rely on advice from lady friends, magazine reviews, and my own gut instinct when it comes to talking about the best women's hiking boots, but I have been told time and again that my love for Asolo is completely warranted in this area. These are comfy, cozy, tough, and long-lasting products that you'd be silly not to at least try on.
Where to Buy
Learn more about the best hiking boots with my overview on everything related to them!
Or head back from best womens hiking boots to Glacier National Park Travel Guide's homepage.