Discover the best 3 person backpacking tents as I review the Big Agnes Jack Rabbit Marmot Limelight & MSR Carbon Reflex three person backpacking tents.
With technology advancing as quickly as it is, and companies taking more and more stock in what their customers have to say, you have an amazing selection of 3 man, lightweight backpacking tents.
But with so much selection, that also means there are plenty being made that aren't worth your time or money.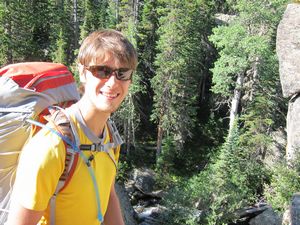 That's me, backpacking in Colorado
The best thing you can do to make sure you avoid wasting your time or money on these sad sack shelters is to educate yourself on what makes a good tent good.
When you've become familiar with the features that go into making the best 3 person backpacking tents, then you can easily pick out the good ones from the crowd.
And if you need a bit more of a helping hand than that, you can take a look at the bottom of this article, where I point out three of the best 3 person backpacking tent models being sold today.
And that's why I wrote this article. After backpacking for over a decade, I know what to look for in a backpacking tent and what to avoid. And now I want to share my knowledge with you.
What to Look for in a 3 Person Backpacking Tent
Tents come in a variety of sizes and styles, differing in terms of weight, size, protection, and price, among many other factors. A backpacking tent is different from others because it's meant to be highly portable.
Want to skip this part?
OK… Let's hop straight to the top, 3 person backpacking tents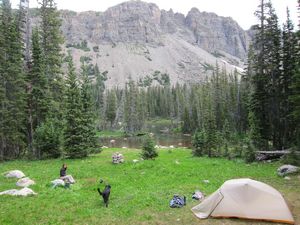 Allyson & I backpacking in Colorado with our ultralight tent
With a backpacking tent, you should be able to hike into any location easily and comfortably, without the weight that comes naturally in a larger shelter. The best backpacking tents are lightweight & collapse into nothing because in the end, you are the one who has to bear its burden.
In that regard, a lightweight construction is an incredibly important feature of any backpacking tent you look into buying. But it isn't the only thing to look for. Here's a list of features and design elements to bear in mind when you're searching for the best 3 person backpacking tent.
Weight
As I've already mentioned, weight is of supreme importance when it comes to backpacking tents. Because they need to be super lightweight ultralight tents are tight on the square footage, meaning you shouldn't have a problem getting cozy with your bunkmate.
Protection
Even though it's light–and necessarily small–your backpacking tent should still afford you all of the same protections of a bigger tent.
You never know what the weather has in store, so make sure you get a model that's waterproof–or at the very least water resistant–and able to stand up against the wind. If you're camping in colder climates, you'll also want to find something that can keep the heat in well.
Price
For any kind of tent, this is the factor that most people dwell on. Hey, I know that money doesn't grow on trees. We have to be as thrifty as possible.
The trick then is finding a tent that gives you protection, is lightweight, has plenty of interior space, is easy to set up, and still won't break the bank.
Keep in mind, though, that the tents with the best features will cost you the most money.
Size
By their very natures, backpacking tents are fairly small–they have to be in order for them to be so lightweight. But that doesn't mean you have to be content with sleeping in a sardine can–but if you are, you can go super light!
Set up
This isn't the most important factor on the list, but it's still worth your time to research. If you can, try to find a tent that is easy to assemble. Not only will this save you from the frustrations inherent in erecting more complex shelters, but it can also save your bacon if you find yourself witnessing the beginnings of an unexpected rain storm.
There are a lot of great tents out there, but for every one you find, there are two lemons waiting to distract you.
But now it's time to separate the losers & winners and share what I think are the top 3, best 3 person backpacking tents.
Big Agnes Jack Rabbit SL3 Tent Review
Big Agnes is a company that's most famous for their larger tents–you probably could have guessed that by the brand name, right? But they also make some real mean, lightweight tents.
I personally own the Big Agnes Fly Creek UL2
(SUPER SWEET!), but this page is about the best 3 person backpacking tents, not 2 person.
And the Big Agnes Jack Rabbit 3 person backpacking tent is the best of them all in this size & weight category.
One of the best things about this tent–but by no means the only good thing–is that it weighs in at a mere 4 pounds, 12 ounces. This makes hiking it in to a campsite an absolute breeze. It's also just 7″ x 21″ when packed, making it easy to stow away in a backpack.
Despite its light weight and small size when bundled up, the Jack Rabbit still offers a ton of living space: 43 square feet. And there's also a 9-square-foot vestibule to house your gear.
Customer Raves:
Very easy to assemble
Excellent storage pocket design
Great at keeping condensation at bay
Where to Buy:
MSR Carbon Reflex 3 Tent Review
MSR is the manufacturer of some really amazing gear. Their stoves, cookware, and water purifiers are some of the best out there. And their tents ain't half bad, either.
The Carbon Reflex is one of the most popular tents in the MSR lineup because it's so small and light, yet it has the ability to protect you well against the elements while you relax in a living area that's surprisingly spacious.
This tent is four ounces lighter than the Big Agnes Jack Rabbit and when it's packed up, it's an inch shorter, but there's still nearly 42 square feet of sleeping room. And the vestibule is 10 square feet.
With carbon poles, a DuraShield-coated rainfly, and plenty of pockets for personal storage, this is without a doubt one of the best 3 person backpacking tent models for sale today.
Customer Raves:
Quick and simple set up
Included rainfly for extra weather protection
Lots of interior acreage
Where to Buy:
Marmot Limelight 3 Tent Review
Marmot used to make a really fantastic tent back in the day called the Marmot Swallow.
People loved it because it was small, light, and super tough.
When they stopped making the Swallow, people were up in arms–me included.
Until they–and I–realized that the Limelight is the same thing…only much better.
This is a very lightweight, very small, super protective shelter. It doesn't matter how bad the weather gets, this sturdy 3 person backpacking tent will keep you safe. And it will keep you dry, too.
With two doors, two vestibules, and three-season protection, the Marmot Limelight should be one of your first stops along the road to finding the best 3 person backpacking tent for you and your needs.
Customer Raves:
Includes a ground tarp and loft
Great against high winds
Bone dry interior in rough weather
Where to Buy:
Learn more about ultralight backpacking gear with my overview on everything related to them!
Or head back from 3 Person BackPacking Tents to Glacier National Park Travel Guide's homepage.