About Avalanche Lake Trail
Trail Highlights – Pristine alpine lake with spectacular peak views, waterfalls, abundant wildlife
Roundtrip Length – 4 miles
Elevation Gain – 500 feet
Peak Elevation – 3,905 feet
Parking Lot — Yes
Difficulty — Easy
Region – Lake McDonald
Availability of Water — No
This is an easy trek, with beautiful views of Avalanche Gorge and Avalanche Creek. Because it's among the few flat trails in the park, it can be crowded in the summer months.
The lake itself is spectacular and takes its name from the profusion of avalanches that slide down the snowcapped peaks that surround it.
If you get there in late spring or early summer, you might be lucky enough to see one in action – quite a sight if you've never witnessed the awesome sight and sound of a massive snow slide thundering down a mountain!
Once the avalanche deposits melt, they become crystalline waterfalls cascading down the mountains – it is truly breathtaking. There are some small Cutthroat trout in the lake, but it's not one of the better fishing spots in Glacier Park because the water is extremely cold.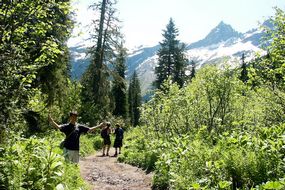 That's Me On the Trail of the Cedars
Begin your hike on the Trail of the Cedars which is located 6 miles from Lake McDonald Lodge (in the direction of Logan Pass) and directly across from the Avalanche Campground.
There's a parking lot, but it's best to get there early to be sure to get a spot at this popular destination. You can also park at Logan Pass and take a shuttle to the trailhead.
At .1 miles, the trail cuts off to the right. At the next juncture, you'll keep to the left and take a short jaunt uphill to get a spectacular view of Avalanche Creek crashing down the red rocks of the gorge.
Once you arrive at the glittering blue jewel of Avalanche Lake, you can hike the trail around the shore and find a nice spot to relax, grab a bite to eat and take it all in.
Keep your eyes peeled for the many cascading waterfalls feeding into the lake, as well as bighorn sheep, mountain goats and bears grazing on the mountainsides!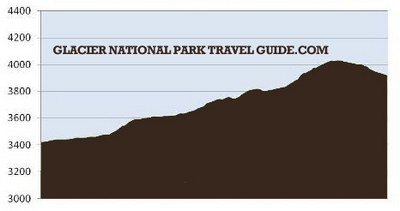 Avalanche Lake Elevation Profile
Additional Glacier National Park Hiking Info
Check out other Glacier National Park hiking trails, or head back to the hikes in the Lake McDonald Lodge region.
Return home to
Glacier National Park Travel Guide