Determining the best hiking shoes to meet your vacation needs is essential to guaranteeing your health and enjoyment while hiking.
Even though I do not believe hiking shoes are your best bet for footwear in Glacier National Park, for some hiking shoes meet all your vacation goals.
The question is, are hiking shoes for you?
Think about your future vacation and answer the following questions:
Do you plan to hike long trails of up to 10 miles each day?
Do you care if you cannot escape tourist crowds?
Will you be backpacking at all?
If you answered no to all of the above questions, then read on because you need to learn how to choose the best hiking shoes.
If you answered yes to any question, hiking shoes are not for you and you should learn about purchasing Hiking Boots.
Updated: June 2013
What Is a Hiking Shoe?
Hiking shoes are shoes designed to be used in a wide-array of activities. Also known as cross-trainer shoes, they provide enough ankle support, traction and breathability for well-maintained trails and all-around outdoor activity.
They are more durable than a sneaker and incredibly comfortable. However, you cannot wear hiking shoes with a heavy pack, or you WILL break an ankle.
Typically, the best hiking shoes are:
Waterproof Hiking Shoes – You are bound to encounter muddy trails and wet conditions while hiking, so you need waterproof hiking shoes to keep your feet dry
Lightweight – A major advantage to hiking shoes is that they are lightweight, thus providing you with additional freedom on the trail
Moisture Wicking – Your feet are bound to sweat and the best hiking shoes wick the moisture away to prevent blisters
Breathable – If a hiking shoe isn't breathable, what's the point?
Traction – Even though hiking shoes are only meant for well-maintained trails, you still need traction to avoid losing your balance, twisting an ankle, navigating fallen trees or giant rocks, or falling off a cliff
Best Vasque Hiking Shoes
I believe that Vasque hiking shoes are some of the best on the market. In particular, I suggest the Vasque Mantra GTX
.
By far, these are the best hiking shoes on the market and when I reinvest in a new pair, I will be purchasing Vasque hiking shoes (UPDATE: Nevermind! They are good shoes, but you gotta check out what I wrote about the Salomon's below. Vasque shoes are good, but don't hold a candle to Salomon).
These shoes are rugged, durable, water resistant, flexible and designed for any outdoor activity.
Most importantly, they have rubber outsoles with specific lugs designed for the best stability and traction necessary for hiking in US National Parks.
Learn more about Women's Vasque Hiking Shoes or Men's Vasque Hiking Shoes
Best Salomon Hiking Shoes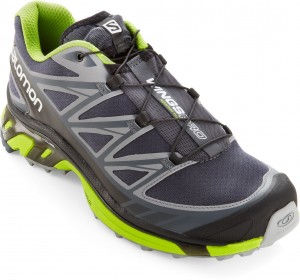 While the Elios is a fine cross-training shoe, if you are planning to purchase a hiking shoe, the Salomon XA provides the same benefits and more:Besides Vasque, I believe Salomon makes the best hiking shoes on the market. While many outdoor equipment reviewers would be quick to nominate the Salomon Elios Hiking Shoe as the best Salomon hiking shoe, my opinion is different.
Best Breathability – No hiking shoe on the market has the same kind of breathability as the Salomon XA. I own the Wings Pro (the XA is the newer model), and I 100% vouch for these shoes.
Protective Toe and Heel Guards – The entire shoe is breathable besides the toe and heel, which are guarded from bumps and abrasions
Coolest Laces Ever – Never again worry about tripping over an untied shoelace. A bungee cord system tightens the laces and tucks away beneath a mesh pocket
Again, I personally own the Salomon Wings Pro and love them. In terms of a hiking shoe, they don't get much better than them. The only drawback is that they are not 100% waterproof hiking shoes.
Learn more about the Salomon Wings Pro (the shoes I own) or the newer model, the Salomon XA Pro.
 RELATED: Check Out How The Best Hiking Shoes of 2013 Compare to the XT Wings
Video Reviews
I've been going into the wild lately to film real outdoor folk about their gear.
To show you how awesome these Salomon shoes are that I talked about above, you can follow this link to see our full Salomon XA Pro 3D review.
Or you can watch the video below (note: The XA Pro page has TWO video testimonials and it is updated every time I interview another outdoor junkie about their gear):
Salomon XA Pro 3D Video Review
Best New Balance Hiking Shoes
Right up there with Vasque are New Balance Hiking Shoes. In particular, I'm a fan of the New Balance 1520 GT Hiking Shoes
However, I believe these are not the best hiking shoes on the market and are inferior to Vasque hiking shoes for many reasons:
Cut – While hiking shoes are designed to have a low-cut, New Balance hiking shoes are particularly low
Lining – Vasque hiking shoes use Gore-Tex while New Balance hiking shoes employ a waterproof breathable membrane
Outsole – The outsole on New Balance shoes provides inferior traction as compared to Vasque
Discount Hiking Shoes
It is always possible to find discount hiking shoes. All it takes is persistence and knowledge.
First, go to your local store and try on each of the above mentioned best hiking shoes. Write down your size and come home.
Next, go to Steep and Cheap
Bookmark the site or download a nifty gadget to notify you whenever a new item is put up on the site.
Steep and Cheap is the best site to find discount outdoor equipment, including discount hiking shoes. Every 20 minutes a new item goes online, sometimes discounted as much as 80% and stays on for 20 minutes or until it is sold out.
I have found many killer deals on cheap hiking and camping equipment there, including my Keen H2 Hiking Sandals, Salomon Wings Pro Hiking Shoes, a headlamp and camping utensils
Bottom line – Steep and Cheap
is awesome!!
NEW UPDATE!!! – Have you heard of TheClymb?
It is a free site (you have to join as a member, but membership is free) and they offer hiking & camping gear for 40-60% off in these things known as 'Flash Sales'. The sale lasts around 24-48 hours, or until everything is sold out.
You can really get stellar deals there and I highly recommend becoming a member.
Learn more about TheClymb here.
More Hiking Boot Information
Best Hiking Boots: Advice on purchasing the best hiking boots to meet your vacation needs.
Keep Your Feet Dry: Having waterproof hiking boots is vital in Glacier National Park. Learn how to waterproof your hiking boots and the best hiking boots that are already waterproofed.
Asolo Hiking Boots – I love my Asolo hiking boots. Come learn why I've hiked over 3,000 miles only in my Asolo GTX hiking boot, one of the best waterproof boots for hiking
Leather Hiking Boots: Educate yourself on technological advances and why you should never purchase leather hiking boots.
Men's Hiking Boots – Learn how to pick hiking boots for men and my pick of the top 3
Men & Women Hiking Shoes: Read my recommendations on the best men's hiking shoes and best women's hiking shoes.
Return home from
Best Hiking Shoes to Glacier National Park Travel Guide