Hey ladies – Don't waste your money or time with unsupportive hiking shoes.
Learn what the best women's hiking shoes are & how to pick the right one for you.
OK — let me start off by saying that I'm not a woman. However, I'm married to one and she decided to write this article for all the female hikers out there. Take it away, Allyson!
Hi! My name's Allyson and I'm Perry's wife. I've been hiking and camping since I could walk, and backpacking for around 6 years now.
As a woman, we don't necessarily have different needs than men for our hiking shoes.
However, hiking shoes are made specifically for women and for men, so we figured we'd round up the best women's hiking shoes so you can have them all in one place for ease of deciding.
Choosing the Best Women's Hiking Shoes
How do you go about choosing the best hiking shoe for a women? There are a few characteristics to keep in mind:
Waterproof: Your shoes must be waterproof. Or at least have a quick drying material
Lightweight: If you're just going for an afternoon hike, no reason to be weighed down with heavy shoes.
Comfort: Goes along with waterproof and quick drying. No reason to get blisters on a day hike
Protection: Depending on how and where you're hiking, ankle protection is necessary. Even on an easy day hike, you can roll your ankle and suffer a nasty injury
Don't think I'm leaving anything out there. On a day hike, it's fun to be agile and quick-footed.
You're not carrying a 20-40 pound backpack. Usually just some water and a picnic that is split up between your hiking group.
Psst! Hey Dudes! Check out reviews of men's hiking shoes here.
So your hiking shoes should reflect your needs. Now, onto what I believe (and the Internet community has backed up!) are the best women's hiking shoes.
Here's a quick list. Just click on the link to go directly to the review:
La Sportiva Trango Cube GTX Boots
Bar-none, this La Sportiva hiking boot is one of, if not the single best hiking shoe designed for a woman.
For starters, it's an incredibly lightweight hiking shoe–but it doesn't sacrifice anything for its weight.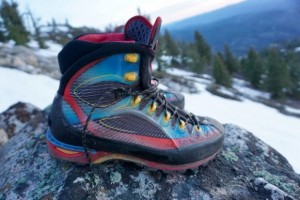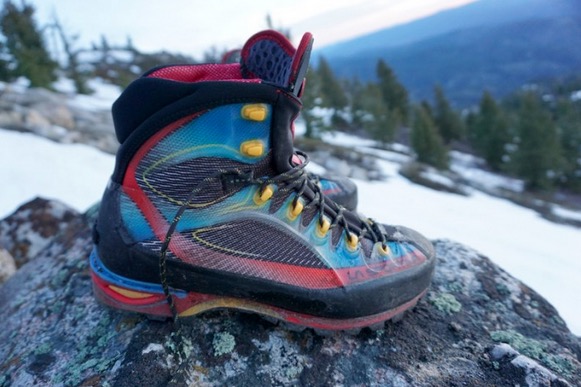 The Cube utilizes synthetic waterproof thermoplastic on the upper exterior of the boot, coupled with a GORE-TEX liner. The sole of the Cube is comprised of lightweight Vibram One material with its patented Impact Brake System technology. The vamp of the boot is wrapped with a rubber for extra protection from debris, keeping your feet feeling great.These boots are easy to spot and leave a lasting impression with their rainbow-colored exterior; however, what you will really remember about the Cube GTX boots are their performance. The Cube GTX boots are much more stripped-down than the earlier Trango models, as La Sportiva was intent on making these boots the ultimate standard in lightweight mountaineering. Weighing just 24 ounces, the Trango Cube GTX boots are incredibly lightweight, but they do not sacrifice any performance, with features that surpass those found on more heavy-duty boots.
The thermoplastic "wrap" around the exterior of the boot serves to add ankle support and protection while allowing for plenty of flexibility, keeping your lower leg and foot more comfortable than ever, even if you happen to take a bad step. Adding even more comfort is spongy mesh padding on the inside of the shoe's tongue, which is also grippy enough to have it stay in place all day long. and stretchy tongue that minimizes the lining from folding. However, if you need to place a heavily-socked foot into the boot, this tongue padding is also removable.
The laces on the La Sportiva Trango Cube GTX  boots are "directly injected," with the Cube's thermoplastic urethane hooks integrated directly into the exoskeleton, adding durability and comfort. These shoes do not come untied even after hours on the trails, and if worn correctly, the fit remains consistently great.
Due to the lightweight, synthetic design, the Cube GTX boots are also incredibly breathable and versatile; you can use them while traversing snowy mountain passes and while hiking through a sun-splashed meadow. The Cube GTX boots will get the job done, no matter what the job may be.
You can learn more about Cube GTX at Backcountry.com
Vibram FiveFingers KomodoSport Review
I'd be remiss if I failed to mention a Vibram FiveFingers shoe as one of the best hiking shoes for women.
Personally, I've never used one. But living in Colorado, you see them everywhere!
Seriously. I'm not kidding. People wear them doing everything from yoga to climbing a 14er.
So, what are my thoughts on them? It goes back to what characteristics are needed to make a shoe one of the best women's hiking shoes.
Waterproof? No.. But it doesn't matter because you don't wear socks. The reason you want waterproof hiking boots and shoes is so your socks don't get wet and you don't get blisters. No socks? No need for waterproof hiking shoes.
Lightweight? You betcha! 10 ounces!
Comfortable? Apparently they are the most comfortable hiking shoes ever made (if you like walking in a barefoot kind of way).
Protection? There's plenty of traction pods and the Vibram FiveFingers KomodoSport has a snug, supportive fit that should prevent ankles from rolling.
With over 25 reviews and an average rating of 4.5 stars on REI, hikers clearly love them. Me? I've honestly never used them so I can't give an opinion beyond analyzing the specs, description & reviews.
However, here's what people claim to be so amazing about Vibram FiveFingers' unique design:
You naturally run/hike/walk better.
If you suffer from back pain, these shoes help eliminate it as you're relying only on your feet, not the support of shoes.
Better balance because your toes are spread out instead of forced together
The Vibram FiveFingers is a unique kind of hiking shoe. I don't know yet know if it's for me, but hikers consider it to be one of the best women's hiking shoes–and apparently the KomodoSport is the best FiveFingers ever made!
You can learn more about the FiveFingers at REI or Amazon.com
.
Merrell Siren Sport Cross-Training Hiking Shoe Review
Merrell makes amazing hiking shoes for men and women. These cross-training shoes (a fancy word for day hiking shoes) provide everything you could want in a shoe.
They are quick drying with tricot and polymesh linings to wick away your sweat.
Whether you're running or hiking in these shoes, your feet and socks will stay dry (and your feet blister free!).
Weighing in at only 20 ounces, you're sure to stay light-footed as you bound up the mountainside or race through the forest.
Finally, with over 50 reviews on REI
and an average rating of 4.5 stars, the hiking community out there loves these shoes!
What are the disadvantages to Merrell's Siren women's hiking shoes? A few…
They aren't waterproof. If you're an early morning jogger/hiker (as in dawn when the grass is still sprinkled with dew), these aren't the best hiking shoes for you
They lace-up. I know, I know–all shoes used to be lace up or Velcro. But that's not necessary anymore. If your shoes constantly come untied, it's a major pain taking a few minutes here and there to retie them. Plus, there's the chance you won't even notice they aren't tied. This means you can easily step on a lace, trip and hurt yourself.
Overall, are these drawbacks significant? The lack of waterproofing is, depending on your situation. The laces, well, that's a personal preference.
You can learn more about the Merrell Siren at REI.com or Backcountry.com
.
Buying Women's Hiking Shoes
Wow. You made it all this way?
In that case, here are a few places that Perry and I recommend where you can go to buy a pair of women's hiking shoes:
REI.com — Always our top choice. With sales seemingly every month, your membership dividend rebate, and 100% return policy, REI really can't be beat
Backcountry.com — Our second stop. Reliable and good prices.
Amazon.com — If you are an Amazon Prime member you get free 2 day shipping. Plus Amazon's prices are always amongst the most competitive.
There you have it! I hope you enjoyed my reviews of the best women's hiking shoes!
More Hiking Shoe Information
Smartwool Socks: Learn why Smartwool Socks are the world's most comfortable sock and the best merino wool hiking sock
Asolo Hiking Boots – I love my Asolo hiking boots. Come learn why I've hiked over 3,000 miles only in my Asolo GTX hiking boot, one of the best waterproof boots for hiking
Men & Women Hiking Boots: Read my recommendations on the best men hiking boots and best women hiking boots.
Leather Hiking Boots: Educate yourself on technological advances and why you should never purchase leather hiking boots.
Head on back from Women's Hiking Shoes to Glacier National Park