Softshell jackets: How I love thee!
You've warmed me skiing since I was 4, provided shelter from torrential downpours all over the Rocky Mountains, served as a blanket while hiking through northern Spain, kept the wind & sleet off my body while biking around Colorado.
If I wasn't already married, I'd probably marry you.
Seriously.
I would.
Buying a softshell jacket is one of the best investments you can make if you love the outdoors. Allyson (my wife) is a Florida girl. We met in Colorado when she had lived here for only one winter. I bought her a Marmot softshell jacket as a birthday gift that year and that sealed the deal. That was over 4 years ago. It still functions flawlessly.
But how do you go about buying the best softshell jacket? Well, these 5 tips will help you determine your needs & figure out what jacket will best keep you warm, dry, and safe for whatever outdoor adventures you're going on.
Table of Contents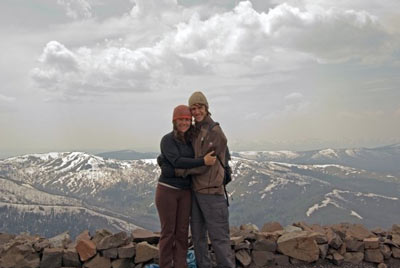 That's us at the top of a pass in Yellowstone
Not everyone needs a $300 softshell. Not everyone even needs a softshell for that matter. But if you ski or snowboard, you'll want one. And if you camp, hike, backpack or play outdoors during the shoulder seasons and don't own one, man, I feel bad for you! Do you realize how much happier you'll be once you snuggle inside one?
OK. Here's the table of contents for picking the best softshell to meet your needs.
Should You Buy a Hardshell or Softshell?
Before even asking yourself what type of jacket to buy, first, ask yourself this (and answer honestly): How extreme am I?
Are you a 4 season camper? Do you ski or ride every chance you get? Are you getting your fix in regardless of the weather? If you answered yes to any of those, a hardshell would be better.
Hardshells are designed for protection in severe weather. We're talking blizzards, 20 degrees or below, climbing the Himalayas. You aren't going to comfortably wear a softshell in those kinds of conditions.
I own an Icebreaker softshell jacket. One of the best. This guy right here. It's a $300 jacket and uses Merino wool for insulation. But it's only comfortable to wear in 45 – 65 degree weather. If I throw my Nano Puff on underneath, I can get away with wearing it in 30-45 degree weather (but I'm pretty cold if not layered with thermals).
CHECK THIS OUT: Here's a FULL Review of the Icebreaker Teton Zip
Softshell jackets are like snuggling in a blanket. They'll keep you warm, cozy and moderately dry. That's it.
While wind and water resistant, they are generally ideal for moderate temperatures and conditions. It doesn't make them any less awesome. Especially if breathable. But understand what they are made for & assess your activity levels before deciding on a softshell or hardshell jacket.
When a Softshell is Best Used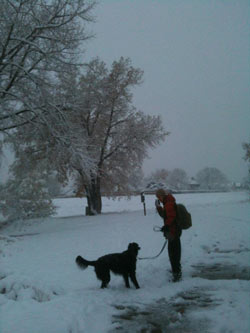 Softshells Aren't Ideal for this Weather
As I mentioned, softshells are best used in 45-65 degree weather and during moderate to strenuous exercise. My favorite 5 outdoor activities for wearing a softshell jacket are:
Snowshoeing / Nordic Skiing
Camping
Shoulder Season Day Hikes
Rockclimbing in Fall through Spring
Spring skiing
Notice how I didn't mention backpacking? Backpacking is my favorite sport ever. No doubt. But a softshell is just too heavy for it. I love going as ultralight as possible when backpacking. You think a softshell is ultralight? No way.
Again, I like to think of a softshell jacket as a cozy blanket that's water resistant, wind resistant and breathable. Any outdoor adventure with a moderate activity level in the 45-65 degree temperature range is perfect. Any other temperature range? Wear a different jacket.
Hood or No Hood
Me? I opted to go without a hood. Why? A few reasons:
I ski with a helmet (as you should, too!) and didn't want to fuss around with that. A hooded softshell jacket must have a large and deep enough hood to cover your helmet. Otherwise, you'll be mucho uncomfortable.
Just in case I ever take it backpacking, I wanted less weight.
Getting the hood over my bike helmet would be a major pain
It looks better.
Kidding about it looking better… Well, no, not really. It does look better, but that's no reason to buy it sans hood…
The most important reason why I chose a softshell jacket without a hood is the helmet comfortability. I don't find it comfortable cycling or skiing with a hood over my helmet. My head feels pulled back all the time and I'm miserable.
If you're only going to use your softshell for lounging around town, hiking, snowshoeing or cross country skiing and you live in a really cold environment, then I'd consider buying one with a hood. For me, the comfort factor outweighed the desire for a hood.
I almost always wear a skullcap hat underneath my helmet, so a hood would be redundant. The only benefit, in my mind, is the neck warmth and protection, especially when raining, sleeting or snowing. Otherwise, it's excessive.
Here's the big problem though: Most of the highest quality softshell jackets, the ones that breathe well, have excellent ventilation, and warmth, also have hoods. It's one of the reasons I love Icebreaker's Teton so much–they give you the option to buy it with or without the hood.
Breathability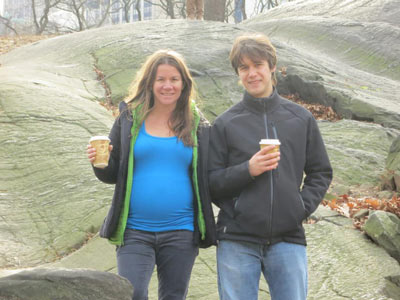 Looking Stylish in my Icebreaker in Central Park
The best softshell jackets keep you warm, cozy and breathe well. Unfortunately, there's no way to tell based on material and manufacturer specs how well a softshell will breathe. I find my Icebreaker breathes incredibly well. Allyson loves her Marmot and has never complained once about it not breathing well.
That said, we've found this general rule of thumb to be true: The less expensive the jacket, the more breathable it will be–but that's because it isn't as warm.
My first softshell in Colorado was the North Face Apex. It's a solid, breathable jacket that I wear for spring skiing (layered like crazy) and hiking. It breathes very well. But coziness? Warmth? Please. It killed some wind and looked cool. But it certainly didn't keep me warm.
The best thing to do here is to read reviews on REI and trust what they have to say. In the $100-200 range, you need to be careful. Most often, they will still be breathable, but will be far less warm and cozy (aka you will only use the jacket in 60-70 degree weather). But 99% of the time, in $200-300 softshell jackets, you won't be able to tell the difference in the jacket's breathability.
Here are some of the most highly rated softshell jackets that receive high marks for their breathability:
Water and Wind Resistance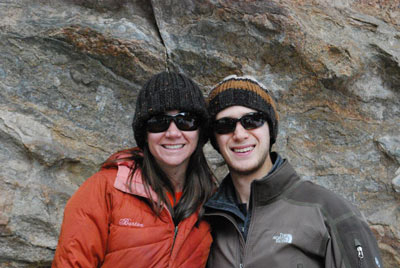 Allyson in a Down Jacket, Perry in a Softshell
Let's talk about wind resistance first. Even the best softshell jacket will more or less useless in heavy wind. If you're expecting gale like conditions, leave the softshell at home and take something more suitable for that weather (like a hardshell!).
All softshell jackets provide moderate wind resistance. Did you read that? Moderate. They don't excel in heavy winds, but they will keep you protected during moderate howls.
Next is water.
All softshells use a DWR coating. While this initially provides some water resistance, overtime the effectiveness goes away.
What all softshells don't have is seam sealed zippers. The Teton, my softshell jacket, and Allyson's Marmot both do. For water resistant zippers, you'll need to spend over $200–but it's well worth it, especially if you like to push the limits of your softshell.
Another excellent feature of my Icebreaker Teton is that it has shaped sleeve cuffs. This provides extra warmth and helps block the wind from running into your sleeves. At first I thought it was a little hokey, but it actually works!
My Favorite Softshell Jackets
So you think I know a little something, something about softshells? Cool. I do.
Here are my recommendations on the best softshell jackets currently on the market:
For Men – Icebreaker Teton – I own this softshell and can't live without it. It is incredibly warm because it uses merino wool for insulation, very water resistant thanks to seam sealed zippers, and looks sharp. I use it for hiking, camping, snowshoeing, spring skiing and for hanging around town.
Here's my full review of the Icebreaker Teton:
For Women – Mountain Hardwear Callisto – If you're looking for an inexpensive softshell, this perennial favorite receives almost only 5 star reviews. I recently interviewed a hiker about her jacket. The video is just below the last recommendation…
For Epic – Arc'teryx Gamma MX – Weighing only 18 ounces but providing more protection than a bomb proof shelter, this softshell jacket by Arc'teryx is salivated over by every outdoorsman and woman alive.
Overall, the best softshell jacket for you might be different for your neighbor. Like everything in outdoor gear, the most important elements are fit and use. If the jacket's too large, the protection it provides goes out the window. Too small and you lose your mobility.
Be sure to examine your needs before buying. If you got the cash, by one heavier, warmer jacket (like the Teton) and one lighter jacket (like the North Face Apex). Then you'll have the perfect jacket for colder weather, less strenuous activities and one for warmer weather, more strenuous adventures.
Overall, it's your call, but hopefully this buying guide helped point you in the right direction and gave you some things to consider.
Be sure to share on Facebook or Twitter!
Did This Article Help You?
Then help support us! If you're going to buy a softshell jacket (or anything, really), it'd be super awesome if you could follow one of our links to REI, Backcountry, Moosejaw, Amazon etc.
By following our link and then buying something, we get a small commission from the merchant. It doesn't impact your price whatsoever, but it helps keep this site so awesome.
Here are the collection of softshell jackets from our favorite outdoor gear stores:
More Hiking & Backpacking Equipment Information
Return home to Backpacking Equipment
Return back to
Glacier National Park Travel Guide