There are a few, hiking & backpacking equipment items a day hiker shouldn't leave base camp without.
First and foremost,
An Internal-Frame Day Pack
I suggest one with the capability to hold your camel back hydration system, or just buy a hydration backpack, as it makes drinking water a far easier task than drinking from a Nalgene.
Speaking of water, although there's a plethora of run-off streams that cross Glacier National Park's trails (not to mention lakes!), without a portable water filter you run the risk of catching Giardia. So get a filter. It's absolutely essential to your safety.
Glacier National Park, Montana, Yellowstone, Colorado & Rocky Mountains
---
In addition to a roomy, hydration backpack and a water filter, I'd suggest the following hiking gear:
rain jacket
lightweight fleece
hat
extra pair of socks (though pricey, I recommend SmartWool Socks)
first aid kit
and high-energy food.
All this clothing may seem excessive, the weather in Glacier can change on a dime and you want to be prepared with the right hiking and backpacking supplies.
Furthermore, some passes such as Siyeh are known for hurricane-like gusts. Trudging up a pass is hard enough work, the last thing you need is to be cold, uncomfortable and miserable.
Plus, after reaching the pass, you're going to want to relax with some food and soak up the majestic views surrounding you. Without a pack to hold the proper hiking gear, clothing and other supplies, you won't be able to enjoy the rewards of your hard work.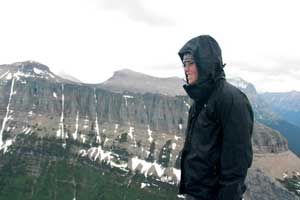 Staying warm atop Mt. Oberlin
Finally, and perhaps most important of all your backpacking equipment, is a good pair of hiking boots.
Trails are well-maintained in Glacier National Park, but flip-flops, crocs, sneakers, sandals and other shoes that lack ankle support may result in a fracture or twisted ankle.
Many trails hug the side of the mountain and without proper traction, you could easily slip on loose scree and tumble to a most unpleasant injury or death. Be sure to break in these boots ahead of time, as to lessen your chance of blisters.
More Backpacking Equipment Information
Stay hydrated: Keeping your body hydrated is essential for your safety and maintaining a healthy, hydration level is easy with a Hydration Backpack
Drink Safe Water: You cannot drink water straight from a lake or river, or you risk compromising your health from giardia. Learn about water purification methods and my suggestions on the best portable water filters on the market to keep your family healthy and safe.
Bear Safety: Glacier National Park is Grizzly Bear Habitat. Outside of proper knowledge on hiking & camping in grizzly bear territory, no defense has proven as effective as Bear Repellent
Eating Well: Having the appropriate Camping Utensils to meet your family's needs can make or break your Montana vacation. You may also consider bringing a camping stove.
Sleep Comfortably: Advice on choosing the best sleeping bag for your Montana vacation.
Dress Appropriately: Learn about the hiking clothes and hiking shorts you need to stay warm, dry, comfortable and healthy while hiking. Or if you're a backpacker, check out my guide on buying lightweight clothing
Softshell Jackets – These babies are expensive. Do you need a $100 jacket? A $300 one? Should you even own one? Find out here with the Internet's most detailed softshell jacket buying guide.
Bring Your Kids: Using a Kelty Child Carrier you can easily bring the newest members of your family into the great outdoors.