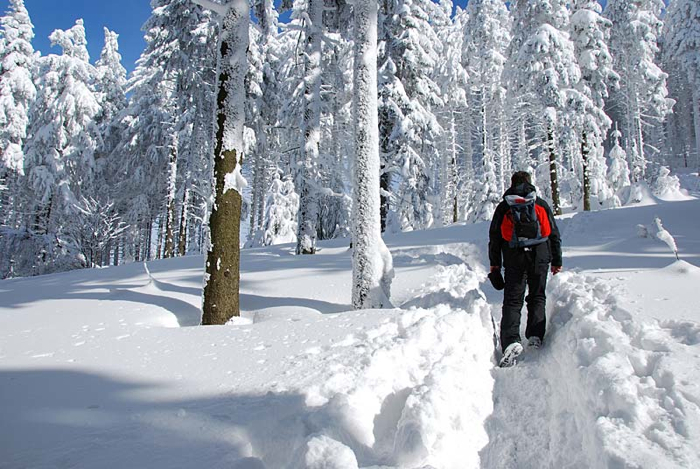 The hiking season should not end with summer.
Winter is a wonderful time to explore the — considerably less packed — trails around the country.
Obviously, winter hiking requires different gear than warmer months — the most important being footwear. Slipping on ice, frostbite and loss of circulation to your feet are all possibly scenarios when heading out in the snow, so finding the right pair of winter hiking boots is well worth the time and investment.
Finding The Right Pair Of Winter Hiking Boots
In general, winter hiking boots should be waterproof, insulated and — depending on your winter hiking plans — possibly snowshoe and crampon compatible.
The level of insulation, performance of the waterproof material, etc. all vary depending on your level of activities. Should you get a less-insulated but excellent waterproof boot? Or should you consider forfeiting the water proof performance for a warmer boot?
Whether you care about warmth, waterproof performance or weight — one of these pairs promises to carry you through snowy trails all winter long.
Warmest Hiking Boot
If you are planning to hike in sub-zero temperatures this winter, then you should invest in a pair of extra warm, well-insulated hiking boots.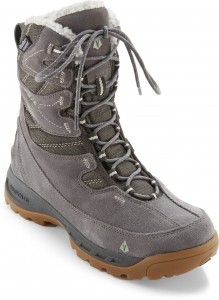 A good option for women is the the Vasque Pow Pow UltraDry Womens Winter Boots.
The boot's numerous insulating layers offer extra protection from the cold and elements. Waterproof membranes block rains and snow from seeping into the boot and block against sweat. Faux fur lining, backed with 400g of polyester fiber insulation traps heat without adding too much extra bulk.
The tread on the boots' rubber outsoles, meanwhile, provide excellent traction for slick conditions.
Additional Features:
Heel ledges work well for snowshoe heel straps
Tall waterproof suede leather uppers support ankles and shed snow and slush
Weight: 2 lbs. 11 oz.
Height: 9 in.
Get the Vasque Pow Pow UltraDry Women's Winter Boots at REI for $149.95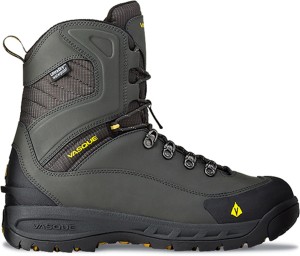 The Vasque Snowurban UltraDry Winter Boots are a solid option for men. With a comfort rating of -45°F, these boots promise to keep your toes toasty even on ultra cold hikes.
The boots stay so warm thanks to 400g of polyester fiber insulation and an insulated midsole. Waterproof 1.8mm coated leather uppers shed snow and slush, and rubber outsoles with versatile tread keep you from slipping around on ice and snow.
Additional Features:
Thermoplastic urethane shanks at midfoot enhance stability and support underfoot
Breathable, waterproof membranes block rain and keep sweat out
Weight: 3 lbs. 3 oz.
Height: 9 inches
Get the Vasque Snowurban UltraDry Winter Boots at REI for $160.
Best Waterproof Hiking Boot
If you are planning to tromp through swamps, or hike in particularly rainy areas this winter, then focus on the waterproof performance of your winter hiking boot.
A great option for men and women are Asolo boots with Gore-Tex protection.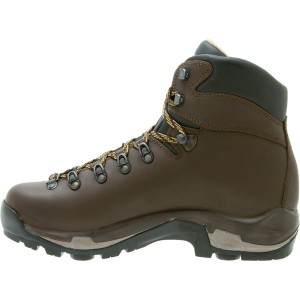 For men, the Asolo TPS 520 GV Men's Hiking Boot is a solid boot for wet weather.
The boot is protected by a full grain leather upper with Gore-Tex insert.
The waterproof performance, paired with a top-of-the-line Vibram sole for excellent traction, makes this a great option for rainy, winter hiking.
Additional Features: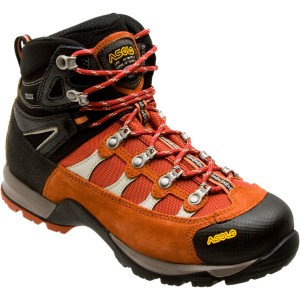 For women, the Asolo Stynger Gore-Tex Women's Hiking Boot is the best waterproof boot.
The boot's Gore-Tex lining protects your feet from moisture, while the Asolo Synchro sole keeps you from slipping on muddy hillsides. The boot's lacing system, which locks your heel in place to eliminate lift, offers even more protection while you are out on the trail.
Additional Features:
Lightest Weight Winter Hiking Boot
For some hikers, the weight of your shoe is still a top priority — even when facing winter conditions.
Thankfully, hiking boot advancements have allowed for impressive winter protection without the added weight.
Inov-8 footwear is a good example of a company making game-changing advancements in the shoe industry.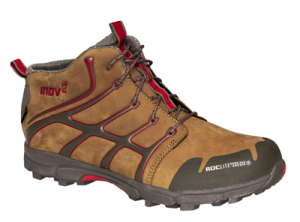 The Inov-8 Recolite 335 GTX Women's Hiking Boots are protected by GORE-TEX and feature a deep cleated sole for superb gripping.
Best of all, they are made of the lightweight leather that brings the weight to only 335 grams.
Additional Features: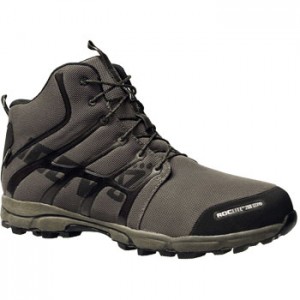 For men and women, the Inov-8 Recolite 286 GTX Unisex Hiking Boot is the top lightweight boot for winter.
Considered lightest GORE-TEX boot, the boot offers superior protection from rain and snow while still weight in at only 286 grams. A reinforced toe box and studded sole adds even more protection.
Additional Features:
Best Winter Hiking Boot Overall
If you need warmth, water proof protection and a relatively lightweight shoe, then the Columbia Bugaboot Plus II Omni-Heat Boot is the winter hiking boot for you.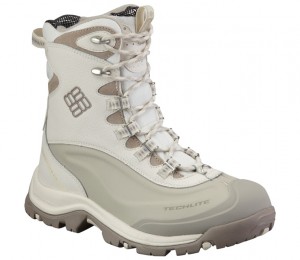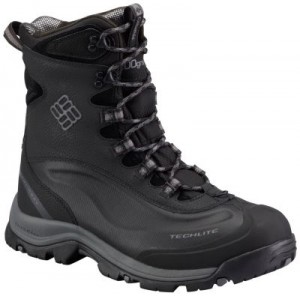 Fortified with 200 grams of Columbia's innovative Omni-Heat insulation, which uses a reflective lining to trap body heat, protected by a waterproof leather and weighing in at only 680 grams, this boot combines all of the best of winter hiking boots.
Available in a men's and women's version, this it the best of the best to prepare you for any type of winter weather you might encounter on the trails.
Additional Features:
So what do you think? Ready for some snowy winter hiking?