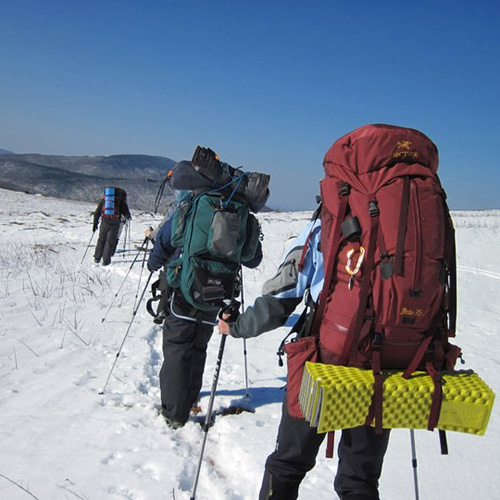 Winter backpacking in the Rocky Mountains can be the best backpacking of your life.
Planning for the colder weather, however, makes packing that much more complex.
Snow falls early and stays through the season on Rocky Mountain trails, so anticipate slick, wet conditions.
Choosing the right clothing, tents, boots, sleeping bags and packs to prepare for these conditions can be a challenge. Here is some gear to help you on your way.
Best Baselayer For Winter Backpacking
When selecting what clothes to pack for a winter trip try and focus mainly on what will keep you dry and warm.
Often people make the mistake of bulking up for long hikes then overheating once they get moving.
The best way to avoid this is to start with a solid sweat-wicking baselayer then adding additional layers from there.
In most cases, a long-sleeved, moisture-resistant baselayer is enough to insulate you once you start hiking. The Rocky Mountain sunshine beats down strong and hot — particularly at higher altitudes — and the worst you can do is sweat through your layers. Sweat quickly chills you.
Depending on the temperature and difficulty of hiking you might want to add another single insulating layer but in general one should be enough.
Once you are back at camp, you can add a down jacket or other layers to keep warm.
The Columbia Midweight Top Baselayer is a good shirt to start with.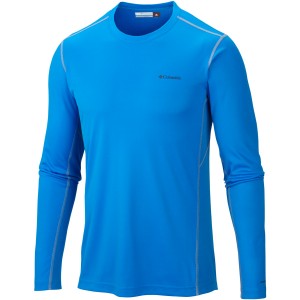 Lined with Columbia's Omni-Heat thermal reflective lining, and Omni-Wick moisture wicking technology, this midweight shirt is the perfect blend of insulation and moisture resistance. An added bonus is that it's antimicrobial.
Where to buy:
Best Winter Backpacking Hiking Boots
The right hiking boots are probably your most important piece of gear. Expect snowy, slick conditions on most Rocky Mountain trails so the boot needs to be both warm and sturdy.
They should also definitely be waterproof, have some layer of insulation and have sturdy tread on the bottom for snow and ice.
For women, Merrell Snowbound Mid Waterproof Winter Boots provide the necessary all-weather protection.
Polyurethane-coated leather uppers and antimicrobial polyester fleece lining provide waterproof protection and insulation.
Compression-molded EVA midsoles and a rugged rubber outsole, in turn, provide ample traction and stability. Get the Merrell Snowbound Mid Waterproof Women's Winter Hiking Boots for $110 from REI.
For men, the Merrell Glacier Shell Boots are a solid option for winter.
The boots combine synthetic polyester fiber insulation with waterproof protection in everything from the tongue of the shoe to the upper suede lining to keep the foot dry and warm.
Sticky rubber soles provide ample traction for slick conditions. The Merrell Glacier Shell boots are available at REI for $84.99.
For more info, check out our post on The Best Winter Hiking Boots.
Best Four Season Winter Backpacking Tent
That flimsy old tent your parents used in the 1980s may provide enough protection in the middle of the summer. In the winter, however, the Rocky Mountains become much more treacherous and you have to take extra care in finding the right shelter.
In general, you should look for a tent with wider diameter poles, which will provide more stability in wind and snow.
The shape of a four season tent should also allow for the snow to fall off the sides of the tent, rather than weigh down the middle. Winter tents also tend to have thicker walls to provide extra insulation from the cold. Double wall tents can get heavy, however, so take care in choosing one.
The final important consideration is the size of the tent. Anticipate that you will have quite a bit more gear with you when backpacking in the winter than summer. Because of this, you may a slightly bigger tent to store all your bulky winter gear.
For two people, we suggest trying the Black Diamond Skylight tent. You will be thankful for the added square footage once you pack in all your stuff.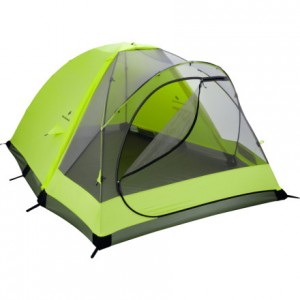 The tent is a hybrid single-wall and double wall. A fully double wall product might provide more insulation. However, weighing in at only 5lbs — half the size of some winter tents — it is a solid choice for backpacking.
The tent has added features, such as built-in gear vestibules for stormy weather, for winter conditions.
DAC Featherlite poles provide durable protection without too much added weight.
Additional Features
For more tent ideas, check out our Best Four-Season Tent guide.
Best Winter Backpacking Sleeping Bags
One of the trickiest, and most important, winter backpacking gear item to find is the right sleeping bag.
You will need a sleeping bag rated for temperatures of at least as low as 5°F. In most cases, winter nights in Colorado,Wyoming and other Rocky Mountain states get much colder and  you will need something even warmer.
The issue with low-temp sleeping bags is that they can quickly become heavy and bulky — the two things you want to avoid with backpacking. Get the lightest bag you can find without sacrificing too much insulation but anticipate some extra weight in your pack and plan accordingly.
As a general rule, winter sleeping bags need extra insulation, a thick draft collar, an insulated tube along the top of the bag to trap heat and a draft tube along the zipper.
A favorite bag among backpackers is the Valandre Expedition Odin 4 Degree Down Sleeping Bag.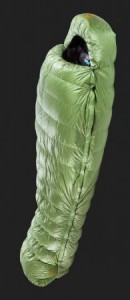 Insulated with 850+ of fine goose down provides warmth up to -5°F.  a Water resistant shell, in turn, protects from wind and snow.
The key to the bag's winter protection is the bag's hood, which features a static drawcord that cinches the hood tightly over your forehead to prevent warmth from escaping.
The bag's draft collar seals snuggly around the neck with a zipper on one shoulder and velcro on the other, which further traps warmth. The bag's quarter-length zipper also keeps out the cold thanks to an interlocking draft tube.
Additional Features:
For more tips on finding the right winter sleeping bag, check out our blog on the Best Seven Low Temp Sleeping Bags.
Best Backpack for Winter Backpacking
The final gear item for a winter backpacking trip is, of course, the backpack.
There are a few additional features that you will need in a winter pack than one for spring or summer.
As I have already pointed out, most of your gear will be heavier in the winter than in the summer. To account for this, you'll need a bigger pack — at least 4,000 cubic inches.
Depending on how hardcore of a winter backpacker you are, you may also need extra external loops to haul shovels, axes or even cross country skis.
A pack that includes all these features is the Gregory Baltoro 75 Pack.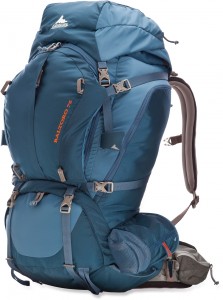 The 75-liter pack is spacious enough to carry the added weight from a heavier sleeping bag and tent and has all the amenitities you should look for in a backpacking pack.
The pack's suspension system features a soft, curved harness and hipbelt with foam padding and independently rotating load transfer panels on the hipbelt.
A thermomolded EVA back panel, with a grippy lumbar pad, keeps the pack properly positioned and effectively transfers load weight on the hips.
Additional features:
Hydration system compatible
Single aluminum stay helps prevent barreling and optimizes load transfer
Weight: 5 lbs
4,445 inches.
Gregory Baltoro 75 Pack available at REI for $250.
For more info on backpacks, check out our guide to the Best Ultralight Backpacks.
Have a great, and hopefully not frozen, backpacking trip this winter season! Keep us posted where you go! Rocky Mountain National park anyone?