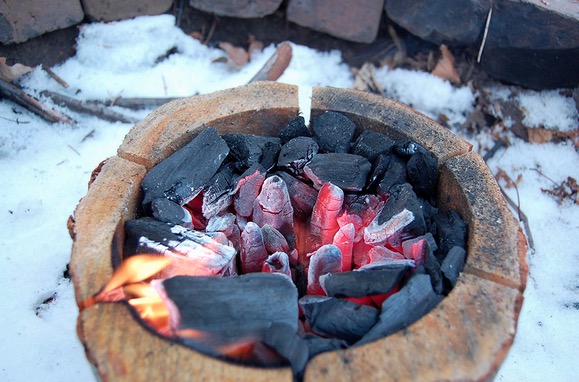 Burnie: The All Wood, Self-Burning Grill
A few weeks ago, when discussing some of the most interesting outdoor products that would be released this year, you might recall us mentioning the Burnie – a small, all wood, "campfire" grill that is made of 100% natural materials.
Well, if you do remember, and if you were excited to see this product in action, you're in luck – the Burnie is officially available to order this week, through the company's website.
The Burnie is an innovation that is both incredibly convenient for campers, and incredibly environmentally friendly.  Made of 100% natural Alder wood, the Burnie is completely self-contained, and necessitates no chemicals or accelerants.
To use the Burnie, you just simply light the wick that is in the center, and wait for it to light the surrounding charcoal, which does not need to be doused in lighter fluid to ignite. Once the charcoal gets going, the Burnie provides consistent, strong heat for two and a half hours, allowing you to cook anything from hot dogs and s'mores on a stick, to steaks and more (if you bring along a grate, pot, or other extras).
Check out the Burnie in action in the video below:

The technology behind the Burnie is based on the ancient Nordic practice of making radial cuts in a log or stump to allow oxygen to flow towards the center when a fire is lit, creating a strong, lasting fire. This technology may be antiquated, but it works exceptionally well in keeping the Burnie's center burning strong for hours on end.
While the Burnie might not be ideal for you if you're interested in ultralight backpacking – it would take up a fair deal of space in a pack – it is an ideal item for camping, whether out of a car or RV, or under the stars. For just $12.95, it is a much more convenient alternative to chopping down firewood, or bringing along a cumbersome grill, complete with charcoal and lighter fluid.
The Burnie is, of course, an item you will not need to pack up when you're leaving camp either – after you're done cooking, the Burnie will burn itself out, leaving nothing but natural, harmless wood and charcoal behind. Of course, if you have any wood left over after you're done using the Burnie, it can also serve as a nice piece to start your evening's campfire with.
Whether you're interested in using the Burnie for camping, or even just a fun backyard or beach get-together, this is a really cool product that is unlike anything else out there.
Say goodbye to chemicals and additives when cooking in the outdoors, and say hello to the age of the Burnie!
You can learn more about the Burnie here.