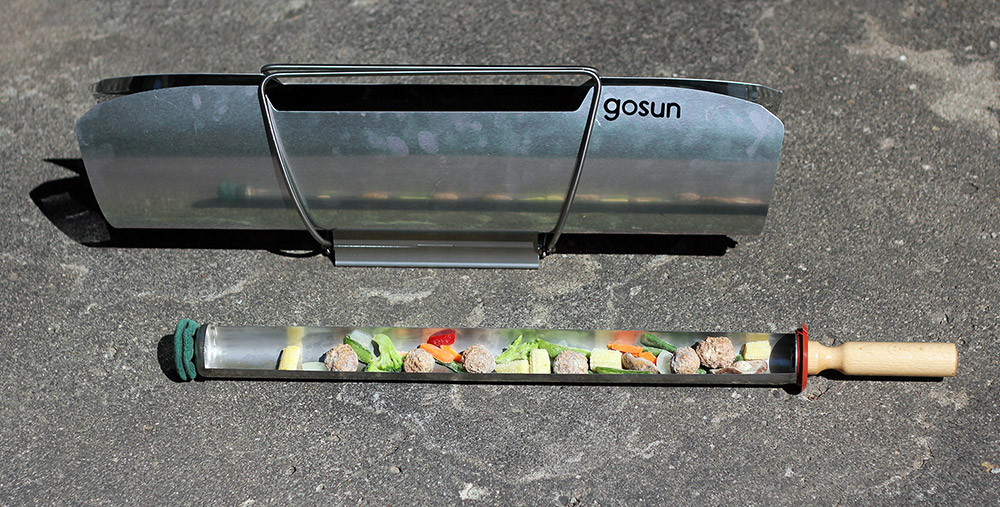 GoSun Solar Cooker
Cooking outdoors can be a hard thing to do. When you're backpacking or camping, bringing along a grill or stove can be great for ensuring you eat properly in the backcountry, but it can be very bad for conserving space and weight. Traditional camping grills necessitate charcoal, lighter fluid, and bulky pieces that are less than ideal to carry along when you're trekking around outdoors.
While we've mentioned several efficient alternatives to standard camping grills before, we have never encountered anything quite as awesome and innovative as the GoSun Solar Cooker. This incredible solar-powered stove – designed to be used anywhere there is sunlight – could easily revolutionize not only the way we eat when camping, but the way that millions of people around the world eat in general, while preventing deforestation. And that is part of GoSun's mission – to bring cheap, efficient ways to cook to scores of people who have never been able to have access to traditional cooking equipment like stoves and ovens, thereby reducing the need to cut down trees for firewood.
However, for the purposes of this site, we'll first and foremost on how the GoSun Solar Cooker can be an invaluable item for camping and backpacking enthusiasts. Weighing just 3.5 pounds, the GoSun Solar Cooker is an incredibly light piece of cooking equipment, and it requires no additional accessories to work. You have no need for batteries, chargers, charcoal, lighter fluid, wood, lighters, matches, or anything else with the GoSun. You just need the glass-and-aluminum components of the stove, and the power of the sun. It really is that simple.
The GoSun works by capturing over 90% of sunlight in its footprint, which consists of two aluminum reflectors, and then focusing that light energy into the "stove" area – a vacuum-sealed, two-layered glass tube that resides in the center of the GoSun's clamshell-like body. If there is sunlight, the GoSun Solar Cooker will begin to heat up, using parabolic reflection and the greenhouse effect to create heat. The tube can reach adjustable cooking temperatures between 200 and 550 degrees Fahrenheit, allowing you to prepare a surprisingly wide range of different culinary options.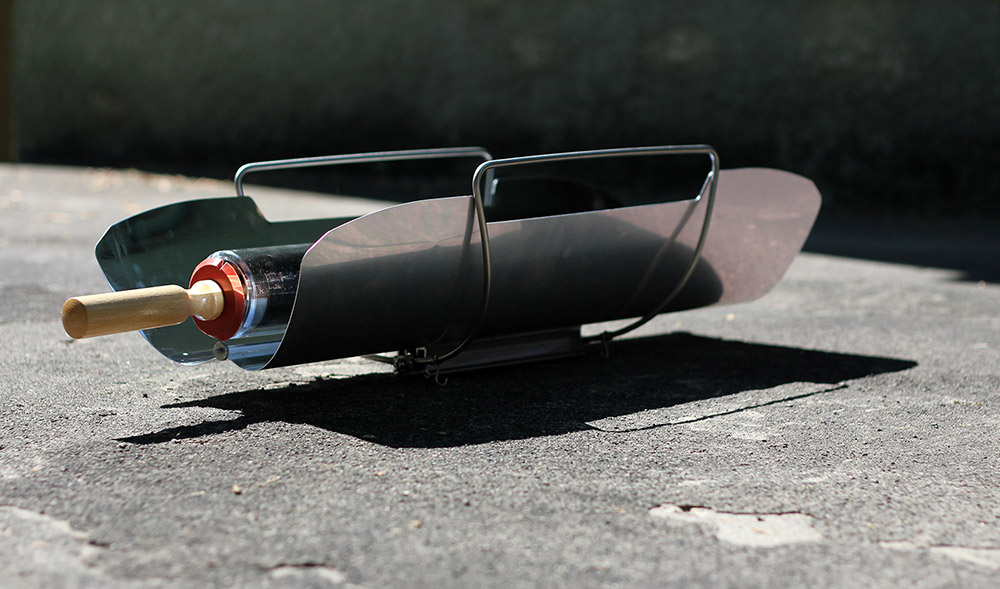 It doesn't matter whether you are in scorching summer heat in the desert or on an icy mountain peak in the middle of winter – if there is sunlight, you can cook food in the GoSun, period. You can tilt the reflectors at angles to catch as much sunlight as possible, so it isn't difficult to cook at any time during the daylight. The vacuum-sealing on the glass cooking tube further ensures that the cooking temperature will remain constant, no matter what the weather outside is like.
Cooking times in the GoSun can vary, depending on how intense the sunlight is, and the type of food you're preparing, but the average cook time is generally around twenty minutes. No matter what you want to cook, GoSun claims that their product can bake, boil, and fry just about anything – from veggies to meat and everything in between. In fact, the GoSun even comes with a GoSun Brew insert, which allows you to heat up to 14 ounces of liquid at a time as well (the stove can usually handle 3 pounds of food, for comparison).
If you wish to bring the GoSun on a camping trip, and need to carry it while hiking, fear not – the GoSun comes with handles, and it folds up in a way that protects the valuable glass tube from sustaining any damage. At just 3.5 pounds, it will hardly be a burden to hike with, too. At 24 x 5 x 8 inches, the GoSun could certainly fit in most large backpacks to boot.
The GoSun Solar Cooker will certainly make both you and the environment happier should you choose to bring it on your camping and backpacking excursions. Eliminating the need for any bulky extras, any firewood, or anything other than the sun, the GoSun leaves no footprints behind, and is certainly the cleanest, easiest way to cook when camping.
Still, the long-term vision of the GoSun is grandiose and exciting. The company hopes to be able to give out scores of free stoves to people in developing countries, allowing them to cook in an incredibly easy way while eliminating the overwhelming need for firewood in these areas. When firewood is phased out as the only means of cooking in poorer countries, it should, in turn, lead to a massive decrease in deforestation. GoSun wants to help the earth while simultaneously helping less fortunate citizens of the world, which is definitely an admirable mission that we can all get behind.
In any case, whether you're all about eco-friendly products and humanitarian missions or not, the GoSun Solar Cooker is an incredible, innovative product that is a total game changer for camping and backpacking.
You can buy the GoSun Solar Cooker here, and you should get your own as soon as possible. Cooking in the outdoors will never be the same!