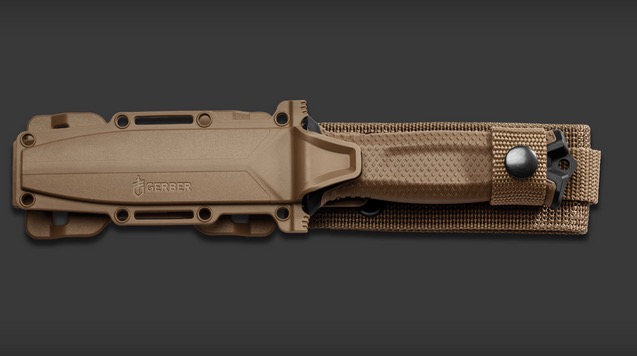 Gerber StrongArm Survival Knife
For any adventure outdoors, a survival knife is an important piece of equipment. Ideal for deterring predators, making fire, making shelter, hunting, and many, many other things, a quality survival knife can make life outdoors much easier.
We recently covered some of the best survival knives that money can buy, but in the wake of the release of Gerber's new StrongArm Survival Knife
, we'd like to amend that list to include this excellent new survival knife.
The Gerber StrongArm Survival Knife provides all of the features that you need out of a survival knife, all for the low price of $97 – although if you head to Amazon right now, it's currently on sale for just $54.80!
This versatile, durable fixed-blade knife is available in both fine-edge and serrated models, and comes with an adjustable sheath that is easy to mount anywhere – whether on your body or attached to your backpack. The Gerber StrongArm Survival Knife includes a ceramic-coated, 4.8-inch stainless steel blade, and a 5-inch diamond-textured, rubberized handle. All told, the knife is 9.8 inches long and weighs just 7.2 ounces (10.9 when in the sheath).

The knife's durable blade allows it to perform high-intensity tasks like cutting through trees for firewood with relative ease, and the ceramic coating ensures that the blade does not get damaged or dull even after repeated, arduous usage.
All in all, the Gerber StrongArm Survival Knife provides excellent bang for your buck, and has features that rival the best survival knives, for just a fraction of the cost. While it lacks multitool functionality, this knife will allow you to perform many essential outdoor tasks for years on end before wearing down. After taking this knife on a recent backpacking trip, I cannot recommend it any more highly.
The Gerber StrongArm Survival Knife is a great, lightweight survival knife that will serve its purpose, whether you use it for camping, backpacking, or any activity in between. Check it out on Amazon, where it is currently on sale, here!