Get a Birds Eye View of Glacier National Park
Hitching a ride with a Glacier National Park helicopter tour is the perfect way to see the whole park from a bird's eye view.
You get to see parts of Glacier that no one has ever stepped foot in before. It's like getting VIP access to one of nature's most gorgeous playgrounds.
Glacier National Park helicopter tours are also perfect for folks who don't have the ability to hike. For the elderly and those in wheelchairs, a heli-tour might be the only way to experience the beauty of Glacier.
It can be expensive to go on these tours, but the thrill from the ride and the sights to be seen more than make up for the steep price.
There are several helicopter touring companies that service Glacier visitors. The prices and services vary, so it's best to do your homework before making reservations with a helicopter tour outfit.
There's nothing like getting a bird's eye view of Glacier National Park on a heli-tour–the photos are unbelievable and the memories unforgettable.
Here are my choices on the top 3 heli touring companies. Please note: I have not been paid nor am I receiving any compensation for these reviews. It's just my experience, research and knowledge of the companies.
Glacier Heli Tours Review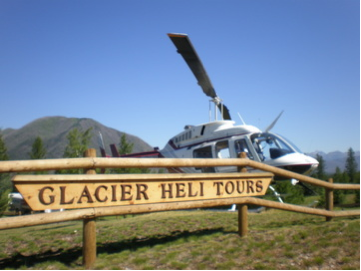 Glacier Heli Tours are operated by Minuteman Aviation, Inc., a company that's been running strong for more than 40 years. They offer "the experience of a lifetime" with their helicopter tours of Glacier National Park. There are two options available with this outfit: the half hour tour and full hour tour.
Half Hour Tour
This 30-minute jaunt offers an incomplete-but-gorgeous look at the park, with plenty of photo ops of glaciers and lakes as it flies a cross-section route through GNP.
One Hour Tour
The full Glacier Heli Tours experience starts off by cruising along the eastern side of the Continental Divide, all the way up to border of Canada. Then it heads back down on the other side of the Divide and back to West Glacier.
The Continental Divide is pretty epic and so is this tour.
Prices
Half Hour Tour — 1 Passenger: $500/person, 2 Passengers: $250/person, 3 Passengers $167/person, 4/5/6 Passengers: $125/person
One Hour Tour — 1 Passenger: $1,000/person, 2 Passengers: $500/person, 3 Passengers: $333/person, 4/5/6 Passengers: $250/person
Pros of Glacier Heli Tours
Headsets provided for listening to classical music and pilot narrations
Single-passenger tours available
Choice of helicopters: Jet Ranger (4 passengers) and Long Ranger (6 passengers)
Full refund with cancellation 24 hours in advance
Cons of Glacier Heli Tours
Glacier Heli Tours offers a variety of packages for single passengers and whole families to experience the sights of GNP.
Kruger Helicop-Tours Review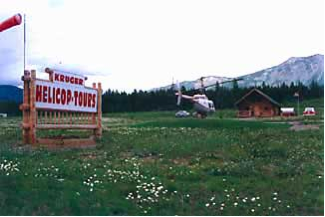 Kruger Helicop-Tours is one of the best outfits in the business, and they have the history to prove it. They've been offering their services for more than 30 years and have been flying for the Park Service in GNP for 24 years. Aside from giving visitors an unforgettable bird's eye view of Glacier, Kruger has also participated in over 100 mountain and river rescues. This is a company with a conscience, and their tours are just as "magnificent," "amazing" and "awesome" as all of their testimonials suggest.
Like Glacier Heli Tours, Kruger offers two different tours: half hour and one hour.
Half Hour Tour
This 30-minute tour takes passengers above five active glaciers: Harrison, Pumpbelly, Blackfoot, Jackson, and Sperry. You'll get to see Flathead River, Beaver Chief Falls, and plenty of towering peaks.
One Hour Tour
The one hour tour includes the viewing of 13 more glaciers and takes you up past the Canadian border and into Waterton National Park. One of the highlights of the expanded tour is passing over Iceberg Lake at just 2,000 feet in the air.
Prices
Half Hour Tour — 1 Passenger: $470/person, 2 Passengers: $235/person, 3 Passengers: $155/person, 4 Passengers: $120/person
One Hour Tour — 1 Passenger: $940/person, 2 Passengers: $470/person, 3 Passengers: $310/person, 4 Passengers: $235/person
Pros of Kruger Helicop-Tours
Highest safety record of local helicopter tour outfits
Super friendly and knowledgeable tour guide pilots
Return guests entitled to 5% discount
Longest-running scenic flight company in business
Cons of Kruger Helicop-Tours
No tours of more than 4 passengers
Very popular and often fully booked
Kruger is definitely one of the best in the business, but since that's a well-known fact, they're often too busy to fit you in. If you want to be guided by Kruger experts, be sure to make your reservations way, way, way in advance to get a seat.
Triple Creek Ranch Helicopter Tours Review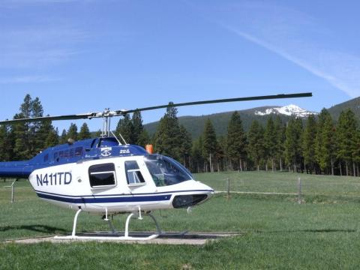 If a half hour or hour tour just isn't enough for you, check out the Triple Creek Ranch's Helicopter Tours. These are five-hour marathon tours that give you an unprecedented and truly comprehensive view of Glacier in all its glory.
The tour begins at the ranch's helipad in Elk Meadows and charts north along the Bitterroot Mountains. You'll head over downtown Missoula and on into the Rattlesnake Wilderness Area. On the way back, you'll stop for snacks in Kalispell and then head along the western shore of Flathead Lake and through the National Bison Range.
Triple Creek Ranch offers a variety of amenities along with helicopter tours, including cottages for the night, horseback riding, and gourmet meals. But it's the tour that's the real draw, giving you a full look at Glacier that lasts an whole magical day.
Prices
The 5-hour tour costs a flat rate of $5,500, servicing up to 4 passengers
Pros of Triple Creek Ranch Helicopter Tours
Comprehensive tour of Glacier, Flathead Lake, Rattlesnake Wilderness Area and more!
Triple Creek offer accommodations starting at $950 a night per couple (which includes meals and on-ranch activities)
Cons of Triple Creek Ranch Helicopter Tours
No shorter tours
Expensive outing
It may be expensive, but Triple Creek Ranch Helicopter Tours simply cannot be beat for their comprehensive views of one of the most gorgeous places on earth.
Seeing Glacier National Park by helicopter is an unforgettable experience. Whether you just want a quick, 30-minute jaunt or a day-long, 5-hour tour, these three outfits will show you a side of Glacier that you've never been able to see before.