About Iceberg Lake Trail
Trail Highlights – Fantastic views, gorgeous alpine lake, wildflowers, wildlife
Roundtrip Length – 9.7 miles
Elevation Gain – 1,275 feet
Peak Elevation – 6,160 feet
Parking Lot — Yes
Difficulty — Moderate
Region – Many Glacier
Availability of Water – Yes
The hike to Iceberg Lake is extremely popular and the trail can be quite crowded, so don't plan on having it all to yourself, especially in the summer months. The trail's popularity is due to the fact that despite an elevation gain of 1200 feet over the 4.8 mile trek to the lake, the trail moves at a gradual incline for the most part. There are a few steep places, but hikers in fair shape should find it relatively painless.
The majority of the trail passes through open terrain with spectacular views of the surrounding mountains and meadows and great opportunities for viewing wildlife. Because the lake lies in the shadow of Mount Wilbur it usually has big ice chunks floating in it – thus the name – often even at the end of summer.
Take note that the trail moves through a prime grizzly bear habitat and is often closed for public safety when bear activity poses an extreme hazard, so check with the ranger station before planning your hike. Follow the protocol for bear safety, making noise on the trail, especially as you come around a blind curve. Always carry bear spray for emergencies.
Hiking the Iceberg Lake Trail
The hike to Iceberg Lake begins at the Ptarmigan Trail, which starts at the cabins behind the Swiftcurrent Inn. There's parking at the trailhead, but only for a small number of cars, so you might have to find somewhere else to stash your vehicle. The road in front of the Swiftcurrent Inn is often a good bet.
After embarking on the Ptarmigan Trail you'll have a steep climb for about .1 mile. The trail then takes a turn to the northwest, passing through a lush valley with spectacular views of Altyn Peak and Mount Wilbur. Hikers in summer should see an abundance of wildflowers during this leg of the hike.
When you hit Ptarmigan Creek, you've reached the halfway point to Iceberg Lake. Shortly thereafter, you'll reach Ptarmigan Falls, which is a beautiful spot to take a break and hang out for a while.
A short time later, the trail intersects with the Ptarmigan Tunnel Trail, which climbs steeply up to the Ptarmigan Lake and the historic Ptarmigan Tunnel. Stay on the Iceberg Lake Trail, which turns southwest making a gradual climb along the Ptarmigan Wall. The view along here is impressive, with the towing cliffs of rock looming up next to the trail.
If you look to the east you'll see almost the entire Many Peaks section of the park, including the trail you just traversed. Ahead of you, Mount Wilbur and Iceberg Peak dominate the horizon. Bighorn sheep frequent this area, so keep your eyes peeled on the rock cliffs.
After about 2 miles, the trail rises steeply for a short time and you'll be rewarded with your first glimpse of the lake as you round a bend in the trail.
It's a spectacular sight with the towering peaks rising above it and the water glittering with big chunks of floating ice. From there you descend to the lake, with the trail traversing its south end.
Hikers will often take a dip into Iceberg Lake. However, this is incredibly dangerous. Weather in Glacier National Park is unpredictable. Even though it may be a hot, dry afternoon, a hail thunderstorm can roll in at anytime. By swimming in a frigid lake, you are increasing your risks of hypothermia. Considering you're a few miles out from any help, swimming in this lake can be life threatening.
I would highly recommend never swimming in any of Glacier's backcountry lakes, especially Iceberg Lake.
My Memories of Hiking Iceberg Lake
Iceberg Lake is unquestionably one of the most rewarding hikes in all of Glacier
Starting off in a forest, steadily gaining elevation through a valley, re-entering a forest, and emerging on a trail, hiking toward the mountains that form a bowl-like shape, enveloping the lake. It has it all.
I actually never got to hike Iceberg on my first summer working in Glacier. It wasn't until Allyson and I re-visited Glacier that I experienced this magical hike.
Few hikes in Glacier afford you everything from:
The ability to view grizzly bears
Hiking to an alpine lake
Hiking through varied terrain, such as forests, valleys and open meadows
An abundance of wildflowers
Iceberg Lake does.
When we hiked Iceberg Lake, we were afforded the opportunity to safely observe a grizzly bear from a few hundred yards away (check out these wildlife photographs I've taken while in Glacier… and also, be sure to read stories from our readers of their grizzly encounters).
Below I've also shared all the grizzly bear photos I took while observing a grizzly in Glacier.
Here's a very important warning: Because of the popularity of Iceberg Lake, many visitors hike the trail regardless of their ability or conditioning. It's important to remember though that this is a 9.7 mile hike (roundtrip). There isn't any water until you reach Iceberg.
I can't stress enough how important it is to bring a water filter with you for this hike. I'd recommend the Katadyn Hiker Pro
.
We witnessed dozens of hikers exhausted and dehydrated on the trail because they only brought a 16 ounce water bottle with them. 16 ounces of water on a 10 mile hike is not enough!.
Respect nature and understand the kind of hiking gear you need to bring on a 10 mile hike.
If most of your hikes in Glacier are moderate trails, such as Avalanche Lake or Hidden Lake, hiking Iceberg Lake is probably not a good idea.
If you'd like to read what our readers have to say about Iceberg Lake, you can check out their reviews of the trail here.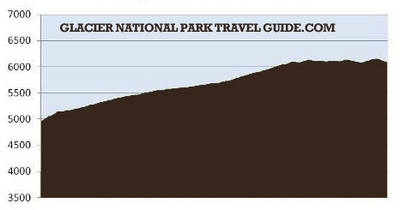 Iceberg Lake Elevation Profile
Additional Iceberg Lake Photos
Additional Glacier National Park Hiking Info
Check out other Glacier National Park hiking trails, or head back to the hikes in the Many Glacier area.
Return home to
Glacier National Park Travel Guide