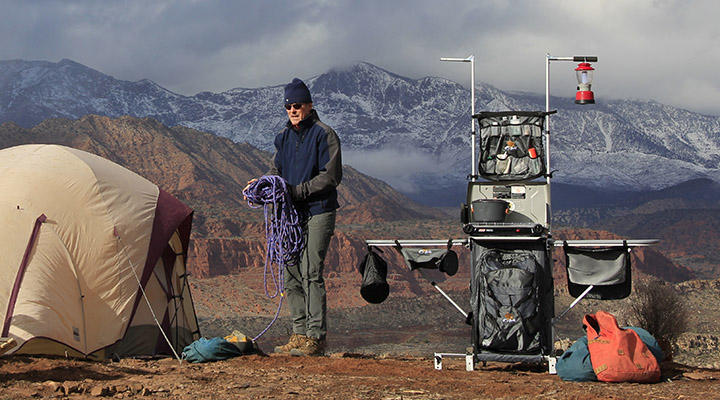 The Grub Hub is a total-kitchen campsite accessory that gives you the chance to do true gourmet cooking while camping. Become a gourmet camping chef today!
We've all had to make do in the area of campsite "cuisine"–it's just the way it is. We've learned to enjoy pre-packaged meals, weenies on a stick, and cans of easily-heated beans because there's just no way to transport an entire kitchen into the wilderness.
Or is there?
The Grub Hub is a new camping "accessory" that will let you savor more than just chili and macaroni–with its myriad amazing features, you can do some honest-to-goodness gourmet cookin'.
I got a first-hand look at it during Outdoor Retailer's Summer Market and let me tell you: If you buy one of these bad boys, your camping experience will be forever changed.
This brings luxury, gourmet cooking ability to any campsite, world-wide (if you are willing to haul it with you, that is).
The Grub Hub's Backstory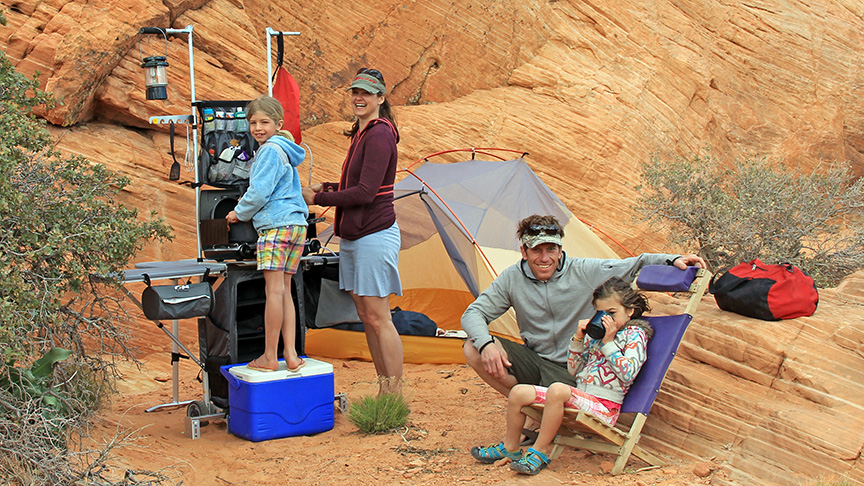 Joe and Patty Baughman came up with the idea for the Grub Hub during a 2004 family camping trip to Lake Powell. They got to their site, 60 miles up the lakefront, and realized that they'd forgotten to pack their kitchen gear. No tables, no utensils, no cookware, no nuthin'…
They made do with some self-carved spears and flavorless food, but the whole debacle helped Joe and Patty spawn the idea for an all-in-one portable campsite kitchen. One they would never forget to pack.
The Grub Hub wasn't made overnight, though. It took years of planning, experimenting, modeling, scrapping, rebuilding, and intensive designing. Then they had to find the courage and persistence and primal tenacity to wade their way through the murky, dangerous waters of the United State Patent Office.
One can only imagine the horrors that awaited them there…
But their perseverance finally paid off, and what was once merely a gleam in the eyes of a family still kicking themselves for forgetting their pots and pans, has become one of the coolest, most useful pieces of camp gear I've ever seen.
(For more on the Grub Hub's origin story, check out this message from Joe on their website.)
A Closer Look at the Grub Hub Camp Kitchen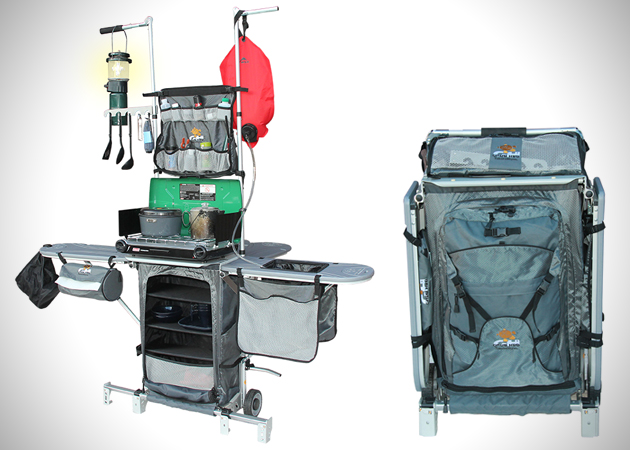 So what exactly does the Grub Hub do? What does it come with? What makes it so cool and useful and potentially revolutionary?
The Grub Hub is an incredibly tough and super mobile pack on wheels that unfolds into a kitchen–and it's a kitchen even bigger than some of my friends have at home.
Some of the Grub Hub's features :
Storage for all cooking gear (pots, pans, utensils, stove, grill, seasonings)
Aluminum table surface for just about any size of camp stove you bring
Side table for food prep
Back table for dining
Sink for washing and rinsing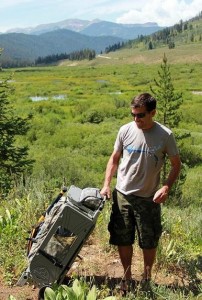 The Grub Hub's design is modular, allowing you to adjust height, width, and size effortlessly. The central piece can be raised to a decent height for hanging a lantern, making it so you don't skip a beat when cooking at night.
Other great features of the Grub Hub include:
A paper towel rack
Dish-drying bags
Stakes for stability in high winds
And plenty of places that let you hang pots and utensils for easy accessibility.
The whole shebang folds down to the size of a large suitcase and features rugged wheels for easy transport in a variety of terrains.
The ease of transport is a little subjective though. Personally, I haven't gotten a chance to try hauling it anywhere, nor did I get a good look at its wheels. This is the one major, POTENTIAL drawback of the Grub Hub: How easy is it to transport to a campsite?
If you are camping right next to your car, no biggie. But can you haul this a half mile to a campsite? That's the true test and unfortunately something I haven't been able to test.
Speaking of size, here's a gander at the Grub Hub's more technical specs:
Height — 36 inches
Width — 24 inches
Depth — 14 inches
Weight (when empty) –31 pounds
Weight (with average amount of gear) — approx. 45 pounds
Weight Capacity — 90 pounds
It's certainly not tiny, but how could it be when it offers so much storage, counter space, and dining room?
The Grub Hub vs. The Competition
Part of what makes me drool so much over the Grub Hub is that there's really nothing like it on the market right now–at least not the mainstream market.
Go searching for all-inclusive campsite kitchen gear and you generally come up with minimalist tables (like the REI Camp Kitchen), stackable bundles of pots/pans (like the GSI Outdoors Pinnacle Camper Cookset), or specialty utensil sets (like the MSR Alpine Kitchen Set).
You just can't find something like the Grub Hub.
The Grub Hub is the original total-kitchen campsite accessory.
The Bottom Line: Should You Buy the Grub Hub?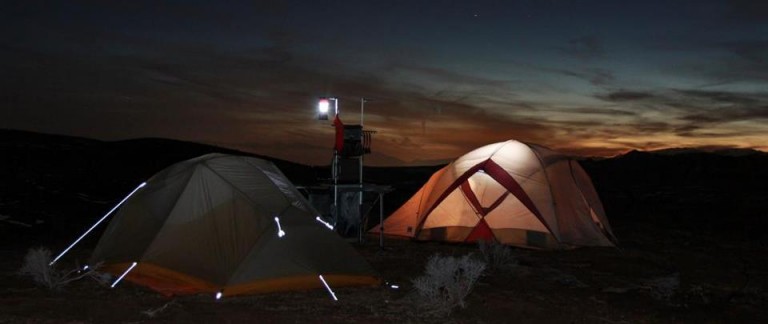 Obviously, I'm very happy with the Grub Hub and excited about test driving it in the backcountry. But does that mean I think everyone should get one?
Well, no. Not exactly.
While it does fold down to suitcase size, and while it does come with rugged wheels, and while it doesn't weigh nearly as much as you might think it would… it's still a pretty big, pretty heavy piece of gear.
If you're looking for something like this to use on car camping trips--and if you have some room in your vehicle for one–I'd say the Grub Hub is ABSOLUTELY worth your consideration.
But if you're hiking to your camping spot–and it's a hike more than a hundred yards or so–I'd say that the Grub Hub will just bog you down. No matter how awesome the final product is, you still have to get it to where you're going.
So, bottom line: Are you backpacking? Then look elsewhere. Are you car camping AND want to spend your annual bonus on a camp kitchen? Then you've found your brand new campsite kitchen!
Have you used the Grub Hub or know someone who has? What are your thoughts? If you don't have one, is this something you might like to use? I want to know if I'm the only one who's excited about this!