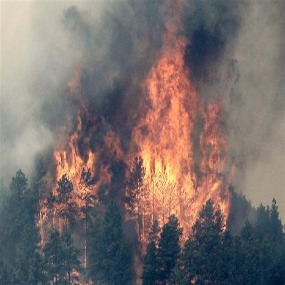 It's been HOT in Colorado these past few weeks.
There's a statewide fire ban, the mountains in Rocky Mountain Park are still aflame, while fires near Colorado Springs are destroying homes–again.
Once again, fires are causing trouble, clogging lungs and bringing added danger to outdoor enthusiasts (like this climber), even as they flock to this great state to play in our wilderness.
So, we thought it would be helpful to go over some safety tips for hiking and camping during fire season.
Top 6 Hiking & Camping Fire Safety Tips
1. Always check the weather conditions before you head out. Of course this is one of those things you should do any time you're going hiking or camping, but it doesn't hurt to mention it again. Be aware of what you are heading into, and prepare for the unexpected.
2. If there is a fire in your area, you're better off waiting until next weekend. Even if it's 100 miles away, the smoke and air quality will be very poor and make your hike miserable.
3.If there isn't a fire in your area, but the conditions are dry, hot and windy, be very careful if you build a fire. In most areas, park rangers will post the day's wildfire risk. Always keep fires as small as possible. Make sure to dig a fire pit and surround it with dirt or rocks (free of flammable materials like pine needles and leaves). Never leave a fire unattended, and make sure to douse it with water and stir the dirt before you go to bed or leave the area. Try touching the fire pit with your hand. If it's cool enough to touch and you've doused it with water, it should be safe to leave it. Wind can relight a fire quickly if it isn't put out well. If it's very windy (use your best judgment), just skip the fire entirely.
4.Bring your cell phone. I know the point for most of us going out into the woods is to get away from our devices and city life, but it's important to have a method of contacting someone for help if you end up in a dangerous situation.
5.Bring your survival and first-aid kits. Even on day hikes, you should always have your survival and first-aid kits with you. There was recently an incident in Glacier National Park where a hiker fell 200 feet on a snowbank during a day hike. She only had her day hiking gear with her and could have been in grave danger if she seriously injured herself (having a first aid kit with her would have significantly reduced her danger). Weather can change drastically from one moment to the next, especially in high altitudes, so it's best to be prepared. If you end up getting stuck in woods overnight and you weren't planning on it, your survival kit should have all the tools you'll need to stay safe until you can find your way home.
6.Tell someone where you're going. I generally will tell two or three people where I'm going just in case. That way if you don't show up back home on time, your friends or family can notify the rangers where you were last known to be.
Once You're Prepared, Get Outdoors!
The summer is one of the best times for hiking and camping. There's more opportunity to see wildlife and plants. And going up to a higher elevation is a great way to escape the heat. Just remember to plan for the unexpected, heed warnings and stay safe so you can keep exploring!
Photo by Zelie Pollon and Keith Coffman (Reuters)