While quality hiking shorts are not as vital to your health, safety and comfort as other hiking and backpacking equipment is, such as hiking shirts and boots, simply wearing cargo shorts won't cut it.
The reason is simple: cargo shorts don't have adequate moisture control. As you hike, you are bound to sweat. Without fast drying, breathable hiking shorts, the moisture will accumulate and can result in irritated skin and chafing.
While this won't ruin a short hike, the uncomfortableness can drag down morale on your vacation. If you are backpacking, chafing is one of the last things you want to deal with.
Buying the Best Hiking Shorts
After two seasons of hiking and backpacking, I finally decided to make the plunge and buy hiking shorts and it was worth every cent.
When purchasing shorts for hiking, you need to consider every aspect, including:
Fit – You want relatively loose fitting shorts that provide adequate space for maximizing comfortability when climbing over rocks, logs or trudging up a mountain pass. However, too loose is not recommended
Pockets – Storage space for items, such as tissues, wallet, camera, and GPS is necessary to avoid having to rummage through your pack every half-hour. Additionally, zippered pockets are essential to ensure ample protection for your valuables
Belt – I prefer built-in belts to cut down on weight (you can remove them, if you'd like, and they are lighter than generic belts)
Sun Protection – Hiking in Glacier National Park, or anywhere in the Rocky Mountains, is at an incredibly high altitude, thus requiring hiking apparel that provides protection from the sun's strong rays
Material – Nylon, wicking material is the best for comfort, weight and moisture reduction
Weight – Always look for the lightest weight material at the best price
Sporting hiking pants atop Mt. Washburn in Yellowstone National Park
The Best Hiking Shorts
When all is said and done, the best hiking shorts on the market are not shorts, but rather pants that convert to shorts.
This is for one simple reason: Weather. Montana & Rocky Mountain weather is unpredictable. Having hiking pants that easily convert to shorts allows you to be prepared for any situation.
Additionally, as an avid backpacker, I was able to cut down on weight by having both shorts and pants in one item. This allowed me to hike in shorts during the day and lounge around a campsite at night in pants.
Convertible hiking pants easily switch to shorts. All pants have extended side-leg zippers along with zippers at the mid-thigh. Simply unzipper both and slide them over your boot and wa-la! You are in shorts within seconds, never removing your boots.
The convertible hiking short/pant that I use and highly recommend is Mountain Hardwear Matterhorn Convertible Pant
. This is because: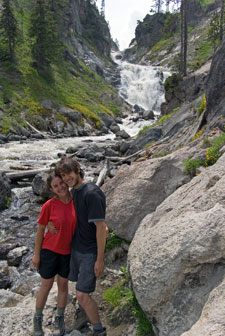 The same hiking apparel converted into hiking shorts at Mystic Falls in Yellowstone National Park
Enlarged Crotch Area – Providing additional, valuable room
100% Abrasion Resistant, Nylon – Meaning it's incredibly lightweight
Zippered Pocket – But not too many, which would add unnecessary, additional weight
Quick Drying – No fears of chafing or skin irritation
Learn more about the Mountain Hardwear Matterhorn Convertible Pant
Mountain Hardwear not your brand? That's totally fine. Plenty of other convertible, hiking pants exist. An excellent, slightly less expensive option is the Ex Officio Insect Shield Convertible Pant
.
Another one of the best convertible hiking pants available is the Columbia Sportswear Silver Ridge II Convertible Pants
. Using a patented, Dri-Lex fabric, this convertible hiking short keeps your legs temperature regulated while wicking off any moisture.
---
I personally recommend going through REI or Backcountry. They offer the widest array in selection and check every website out there, so you know you are getting the best priced gear available. Find Family Camping Gear at REI.com
More Hiking & Backpacking Equipment Information
Return home to Backpacking Equipment
Return back to
Glacier National Park Travel Guide