These hiking tips are common knowledge to seasoned hikers, but when I was first exploring Glacier National Park as a kid from New York, I certainly didn't know these.
Before beginning, a common link throughout is that of observation.
Glacier National Park's rugged and remote, so even on the most mild and easy day hikes, astute observation of your environment is necessary for your hiking safety.
Hiking Safety Tips & Wildlife
One of the most rewarding experiences can be viewing wildlife while on a trail in Glacier National Park. However, you must rememberthat no matter how tame the mountain goat or big horn sheep may seem, these are still wild animals.
While there are no poisonous snakes to worry about, plenty of animals can be just as dangerous if you forget they are wild animals, including: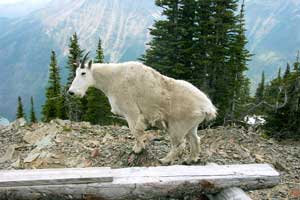 Mountain Goat in Glacier National Park
elk
moose
mountain goats
big horn sheep
mountain lions
black bears
and, of course, grizzly bears
Since all of Glacier National Park is grizzly country, you need to know specific hiking tips and safety for adventuring in grizzly bear habitat. Also, be sure you're aware on how to survive a grizzly bear attack.
Although rare, they do happen.
Unfortunately, safety is often the most overlooked aspect of a hiking trip. If you're going into the backcountry, be sure to be prepared for any backcountry emergency with these Hiking Safety Tips, so you can make it out alive when the unexpected happens.
Hiking Safety & Weather
Glacier National Park's weather can change on a dime. Your hiking safety is dependent upon being knowledgeable on what weather conditions in Glacier National Park are like.
Since the Continental Divide runs through the heart of the park, each half has distinct weather patterns.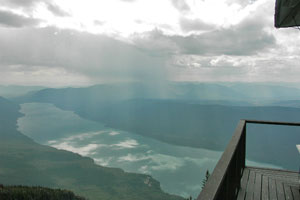 Montana's weather is famous
for afternoon rollers
On the eastern side, which includes:
the summer's typically warm and windy.
While on the western side, which includes:
the summer's wet and cooler.
As such, you should pack camping and backpacking equipment for all weather conditions. Even if you're car camping, come evening you'll be miserable without a pair of thermals.
Also, never begin hiking a trail where you'll be climbing a mountain pass in the early afternoon. Like Yellowstone, Glacier National Park is famous for its 'afternoon rollers'. The last thing you want is to be caught a few thousand feet up as a thunderstorm rocks the Montana mountains around you.
Hiking Tips Regarding Elevation
Be aware of your limitations. If you've never hiked before or are out of shape, don't be foolish and attempt a strenuous hike like Bear Mountain.
Although the views are tremendous, you'll be miserable while trudging up and down, could face blisters or shin splints and the rest of your Glacier National Park vacation could be ruined.
Also, are you coming from sea level? Adjusting to the base elevation of the park's going to be difficult enough, so a valuable hiking tip is to plan on restricting your hikes to moderate ones.
Additional Glacier National Park Hiking Info
Glacier Park Hiking – Return back to an overview on Glacier National Park Hiking
Or return back
Home