Fill & go. That's the Katadyn Exstream XR Purifier Bottle's
motto.
Waste no time treating water–the Katadyn Exstream Water Purifier purifies as you adventure.
The Katadyn Exstream (or Katadyn MyBottle, as it's now known) is not necessarily something you want to use as a primary water filter, but it is a great thing to have as a backup.
I don't personally have a Katadyn Exstream XR Purifier Bottle, but my girlfriend does, and she can't say enough great things about it.
She spent a summer in South America a few years ago, taking an Amazon River tour (am I jealous? You bet I am!), and had this little baby along with her.
My Girl's Experience With the Katadyn Exstream Water Purifier
She said that she never really trusted the Katadyn Exstream water purifier with the big river itself (and who could blame her with all those unknown diseases?), but whenever they stopped at a village or small town, she would use it for drinking water.
Having something like the Katadyn Exstream XR Purifier Bottle or Katadyn MyBottle is a really smart idea, especially if you're relying on a cheap filter as your primary water treatment device.
We've all heard (and some of us even experienced) the horror of having a filter break on a hike. So, with a backup like this Katadyn Exstream water purifier, you can rest easy when the worst happens.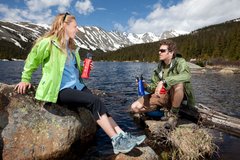 Katadyn MyBottle in action
Like I said, I technically don't own one of these personally, but I have a lot of firsthand experience with my girlfriend's (which is essentially the same as owning one)
Last summer we brought it on our 20 mile, single day hike in Glacier National Park (it was Gunsight Pass–most people do it in 2 days, we did it in less than one).
Having the Katadyn Exstream water purifier
with us allowed us to save time. A lot of time (psst. The Katadyn MyBottle Water Purifier is the same thing)
We just whipped it out, filled it up at Gunsight Lake, and continued on our way. When pressed for time on an extended day hike, we couldn't ask for a better option.
Not having to filter water two to three times with our Steripen saved us about an hour off our trip.
Major life-saver, considering we hiked from 6AM till 6PM and just barely caught the last hiker shuttle back to our car near Logan Pass.
Without it, we would have had to rely on our thumbs to hitchhike back–not what you want to do after a 20 mile day hike.
But for those of you who don't have one (and may not even know what one is), here's a little review of this great product, with some details and specs.
I recommend the Katadyn MyBottle Purifier (or Katadyn Exstream XR Purifier Bottle) to anyone looking for a secondary filter.
Here's why: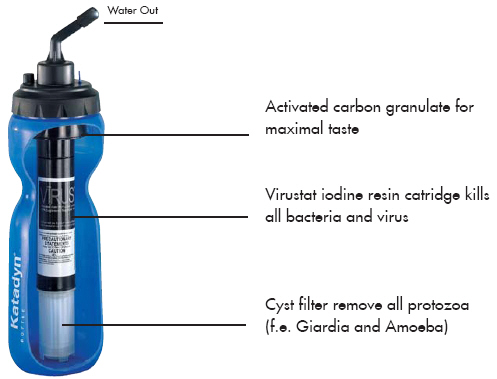 Katadyn Exstream XR Purifier Bottle Parts
The Good
The Katadyn Exstream water purifier is designed in the very same shape as a water bottle. Most backpacks, and even some hiking pants, have compartments made specifically for bottles, so portability isn't something to worry about with the Katadyn MyBottle Water Purifier.
Beyond the great aesthetics of the bottle, it actually does its job super well. As long as the filter is in good condition, when you're using this bottle, you never have to be worried about:
Giardia
Cryptosporidium
Viruses
Foul odors
Horrible taste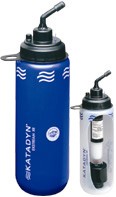 Katadyn Exstream Water Purifier
Both the new Katadyn MyBottle and the older, Katadyn Exstream XR Purifier Bottle has the absolute highest EPA safety rating for its category of filter, and uses three-stage virustat purification technology.
Yeah, yeah, yeah, that's all a bunch of techno mumbo-jumbo.
But here's the bottom line: it does what it says it does, keeping you as safe as possible.
After all the displacement of the filter and parts inside the bottle, there's still room for 28 ounces, which is pretty good.
The Katadyn Exstream XR Purifier Bottle does only last for 26 gallons, though, which is why you may only want to use it as a secondary source, especially for longer trips.
So, what's the damage?
Best Price
Not bad, I have to say. Not too bad at all.
The Katadyn Exstream XR Purifier Bottle isn't exactly cheap, but compared to the competition it's a good deal.
The list price for the Exstream can be up to $100, but I've seen it on various websites for under $50.
It seems to be on sale all over the place.
The replacements parts can be a bit pricy (about $30 for the virustat kit and $15 for the cyst filter), but there's good news to share.
You can buy the Katadyn MyBottle Purifier Kit
, which comes with everything you need to replace the gizmos and doodads of your Katadyn Exstream XR Purifier Bottle for under $35.
That, my friends, is a good deal.
Now, if you plan to use the Katadyn Exstream water purifier as your main source of filtered water, then you're going to end up paying out the nose for every 26 gallons or so.
That's why I highly recommend the Katadyn MyBottle as a secondary water filter.
Return from Katadyn Exstream XR Purifier Bottle to Katadyn Water Purifiers
Return from Katadyn Exstream Water Purifier to Glacier National Park Hiking