Hikers need a Katadyn water filter to purify drinking water. Read reviews of Katadyn Pocket Water Filters, Hiker Pro Microfilter, Guide, Vario & Exstream XR.
While alpine lake water in Glacier National Park, Colorado, California and elsewhere may appear pristine, harmful bacteria exists, so water must be treated before drinking.
Many portable water purifiers exist, however Katadyn has been trusted for decades by hikers and backpackers for making the best water filters.
Below you will find the most comprehensive listing of Katadyn water filter reviews so that you can decide on the best one for your vacation. It doesn't matter if you are going to Glacier National Park, Montana or the Grand Canyon–you need a treatment method for your drinking water and Katadyn filters work best.
Katadyn Water Filters
Reviews and Ratings
With so many pushy salesman and marketing copy infiltrating the web, it's hard to find honest reviews of hiking equipment. While some trust reviews on accredited websites, like REI, Backcountry, and Amazon, sometimes companies write reviews of their own products to increase sales.
I have extensive hiking and backpacking experience throughout Glacier National Park, the Appalachians, and Colorado, which is where I now call home.
I understand the needs of hikers and campers and will only write honest reviews of Katadyn water filters and purifiers.
The Katadyn Pocket water filter is the workhorse of Katadyn water filters. It's designed to be used, abused, and to be reliable 100% of the time.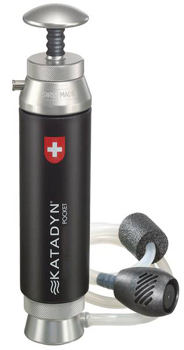 The Katadyn Pocket Water Filter
In fact, Katadyn Pocket Microfilters are designed for a lifetime of use.
The Katadyn Microfilter has been used without fail by both backpackers in California and our soldiers in Iraq and Afghanistan.
If you need a water purifier that will never break on you and remove all potential bacteria from any water, then the Pocket Filter by Katadyn is your best bet.
However, for lightweight backpackers that watch every ounce, this workhorse is too heavy (1 pound 3 ounces.
That said, other lightweight water treatment options by Katadyn exist that you'll find perfect for your backpacking needs.
Learn more about the Katadyn Pocket Filter.
One of the most popular water purifiers by Katadyn is the Hiker Pro. Years ago, this was my first water filtration system and it kept me safe while backpacking throughout Glacier National Park.
Being lightweight, easily cleanable, and needing less than 50 pump strokes per liter makes the Katadyn Hiker Pro water filter one of the best water filters on the market.
It's Katadyn's best selling water filter and for good reason–this baby is awesome!
However, it can take quite a long time to pump enough water for a large group. The Katadyn Hiker Pro Water Microfilter is best for groups of 2 people–any more and you'll be pumping water all afternoon instead of hiking.
Learn more about the Katadyn Hiker Pro
The Katadyn Guide Filter treats water quickly, efficiently, and requires less effort than other water purifiers.
While the Hiker Pro is designed for backcountry use, the Katadyn Guide Water Microfilter is the best base camp water filter.
It's capable of pumping up to a full quart every minute and will effectively treat your water.
Considering it weighs only 14 ounces, the Guide filter could effectively be used in the backcountry–however, the Hiker Pro by Katadyn is a more rugged, durable model designed for bumps and bruises in the backcountry while the Katadyn Guide is more delicate.
Learn more about the Katadyn Guide Water Filter
The Katadyn TRK Drip Gravidyn is designed for long-term water filtration at places like mountain ascent base camps, construction sites, camps, or homes without running water. It doesn't work very quickly, but it also doesn't require any physical pumping for the water to be cleaned.
One of the most unique Katadyn water filters is the Vario. It's so unique because it has two methods of use: you can use fast filtration (a high output system) and filter two quarts per minute, or use its second filter ('longer life mode') and receive one quart per minute.
Either way, it treats lots of drinking water for little effort thanks to dual-piston technology and is one of the most popular basecamp water purifiers.
Learn more about the Katadyn Vario Filter
Wow, is this cool! The Katadyn Exsream Water Purifier is a BPA free bottle that purifiers water without any effort!
It uses three filters to safely treat drinking water before it reaches your lips. All you need to do is fill it up, squeeze the bottle, and quench your thirst.
This solo hydration system is perfect for ultralight backpackers and hikers that hike huge days and don't like stopping to purify water.
Unfortunately, it's not a feasible way to purify water for more than one person. But who cares? It's so cool that I plan on buying one for next season!
Learn more about the Katadyn Exstream XR Purifier Bottle with a full review.
The Katadyn Expedition is a monster of a water filter.
This baby isn't for backcountry or family use. Instead, this is designed for humanitarian relief efforts and the military.
Still, it's one of the coolest Katadyn water filters ever made and worth reading about.
Not convinced? Fine. Don't learn about how the Katadyn Expedition filters out nuclear waste and debris
Katadyn Micropur Purification Tablets are the best backup water treatment option for hiking and backpacking.
Here's why I use Katadyn Water Purification Tablets
Return home from
Katadyn Water Filter to Glacier National Park Travel Guide