The Katadyn Guide water filter is a portable microfilter for treating drinking water while hiking–but should you buy one? Read an honest review here.
This is a top quality water filter to have and use if you get it as a Christmas, Hanukkah, Birthday, or Whatever Day gift.
But if you're in the market to buy your own microfilter, I would say that you could probably do better than this water treatment device as far as price and performance are concerned.
Sure, it's cheap as far as water filters go (about $80 the last time I looked), but it also seems to be pretty cheaply made, too.
Don't get me wrong, though. The Katadyn Guide filter
appears to be an okay product, and a lot of people do like it, but I would just prefer to shop around before making the plunge and picking this one up–wouldn't you?
What it basically comes down to is that the Pros and Cons weigh pretty evenly.
Is that a bad thing?
No. Not at all.
But if I'm going to lay down some serious cash (at my age, anything over $40 is serious cash, believe me!) I want to know that it's going to be totally worth it.
And I'm not sure that this one is worth it.
Katadyn Guide Water Filter
Reviews and Ratings
I'm going to take a closer look at the positives and negatives of this Katadyn water filter and then maybe we can come to some sort of conclusion together.
Because right now, I have to be honest: I'm sitting on the fence with this one, just about to tip over to the 'Not Interested' side.
Katadyn Guide Water Filter Review: Benefits
The first (and probably most important) thing is that when the Katadyn Guide water filter works, which it almost always does, it works well. It's completely up to par on industry standards, keeping out all sorts of nasty little things like: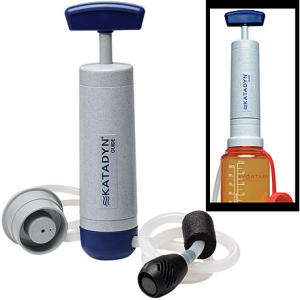 The Katadyn Guide Water Filter
99.9999% of Klebsiella terrigena bacteria
99.9% of Giardia
99.9% of Cryptosproidium
99.9% of other Protozoan cysts
You don't want to be spending any time with this nasty bacteria, trust me.
But while keeping these bad boys at bay is a plus, it's also pretty much mandatory of all water filters.
So, let's move on.
According to the label, this Katadyn water filter
can pump up to one liter every minute (assuming you can pump 36 times in a minute). This is a pretty good rate of filtering, especially if you're purifying dirty water for a large group of people.
Another important factor when it comes to water filters is their portability. This is a major plus for the Katadyn Guide Pro Microwater filter. It's super lightweight and fairly small for the amount of water it can clean in such a short amount of time.
Did you hear that ultralight backpacking enthusiasts? This is one of the best backpacking, pump water filters out there (it weighs only 14 ounces). Compared to the SteriPen though, it's quite heavy (but you get what you pay for here).
It's essential that your water filter doesn't take up all the room in your pack, and this Katadyn water filter is relatively minimalistic. You can toss this baby in the top compartment of your ultralight backpack and still have plenty of room for energy bars and lunch.
One more Pro: the filter's hose is a lengthy 36″. This is great for getting water from hard to reach places.
Katadyn Guide Filter Review: The Cons
I took a peek at the instruction manual in a local sporting goods store, and it is kind of confusing. I could follow it okay, because I have a lot of experience with water filters, but somebody just starting out might find the directions a bit vague.
According to many consumer reviews, the filter also gets clogged super easily, which means that you have to replace it more often or clean it out manually. This makes for a very hard time pumping, which would severely lower the rate of speed at which you could clean water.
It also makes this water filter more expensive, as you need to frequently replace the cartridge.
Speaking of the filter itself, it is only good for 200 gallons (compare that to the Katadyn Pocket Microfilter which is good for 13,000 gallons), and then you have to spend another $45 dollars to buy a Katadyn Guide replacement filter.
It also seems that the replacement filter is getting harder and harder to find these days. That's a big con.
I also don't really travel with that many people. It's mostly just me and my girlfriend, and maybe another couple sometimes, so I don't need a filter that can produce gallons of water that quickly.
So, what do you think? Do you want to risk the money and buy this for treating your water?
If you want to know what I think, I say no way. Because you're not just buying a water filter, you're buying a spending plan that costs you $45 for every 200 gallons you use.
Instead, check out other Katadyn water filter reviews (in particular, read about the Katadyn Hiker Pro, which is a newer, lighter, more durable, portable water filter).
Return from Katadyn Guide Water Filter to Katadyn Water Filters
Return from Katadyn Water Filters to
Glacier National Park Lodging and Hiking Guide