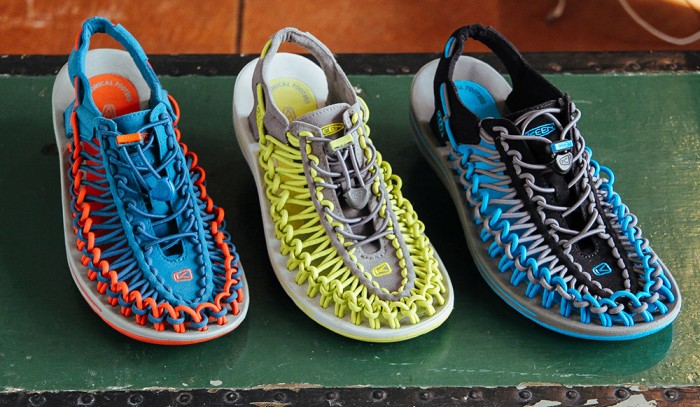 Keen UNEEK Sandals
If you're looking for shoes that are something a little bit different, something a little bit fun, and something a little bit, well, unique, you should definitely check out Keen Footwear's new UNEEK sandals. These brand new, lightweight kicks are unlike anything else on the market right now, and they can be worn during any number of outdoor activities all summer long.
These multi-sport "sandals" are something of a cross between sandals and regular shoes, prompting Keen to just stick to calling them "open-air footwear." Made using techniques that are vastly different from typical shoe construction methods, and comprised of materials that you won't find in any other shoes, the UNEEK sandals truly live up to their name.
Coming in at just 10.9 ounces, these ultralight sport sandals are made of dual, 3mm, water-resistant cords, which are tied to a polyurethane midsole. The cords are similar to bungee cords, and bend and flex as you walk, giving you excellent flexibility and support, and providing a cozy fit for your feet whether you're in the water, on the trail, or just walking down the block.
And yes, you can do all of those things and more while wearing your Keen UNEEK Sandals. Despite the lightweight construction the shoes are very durable and will hold up adequately if you are running, hiking, swimming, and more.
Check the UNEEK sandals out in the video below!

These shoes will adapt to your feet in a way that will make them yours and keep them comfortable for as long as you own them. The freedom of movement allowed by the cord structure makes them perfect for a wide range of activities.
What's more, the UNEEK Sandals feature non-marking rubber soles which will cushion your feet from the impact of outdoor activities, and the metatomical footbeds with microfiber footbed covers will contour to your foot after wearing the shoes just a few times. These features serve to give you excellent support and stability, even while your toes feel the cool summer breeze.
The UNEEK Sandals are a perfect shoe to explore outdoors this summer, and they are available for just $100. Learn more about the Keen UNEEK Sandals and maybe even get your own pair here!
Let your feet fully experience the great outdoors this summer with these fun, comfortable shoes. Your toes will have never been happier in the Keen UNEEK Sandals!
Where to Buy
Help support Glacier National Park Travel Guide by purchasing the Keen UNEEK Sandals through one of our partners: