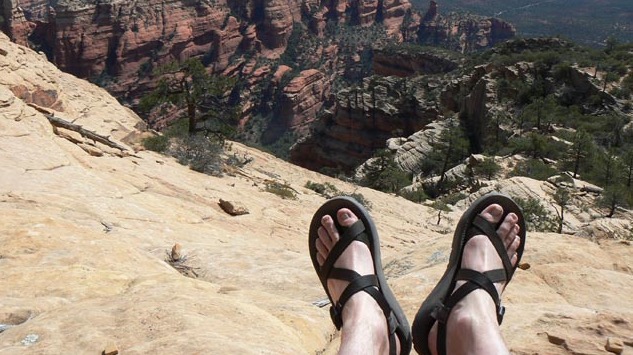 5 Best Hiking and Camping Sandals
While not recommended for grueling hikes or multi-day backpacking trips, when you're in the outdoors in the summertime, there are plenty of great reasons to wear a pair of sandals. All winter long, you've subjected your feet to being trapped in hiking boots, and by the time summer rolls around, your feet can use a well-deserved airing out when the terrain allows it.
Whether for hiking or just for wearing around camp, every outdoor enthusiast should have a pair of quality, durable sandals to bring along on summertime adventures.
When buying a pair of sandals for camping or hiking, you want to get something a little bit different than the flip flops you'd wear to the beach. Camping can expose your feet to a lot more punishment than white sand, so you should shop for a pair of sandals that protect you adequately. You should get sandals that give excellent support to the entirety of your foot (not like flip-flops), and you should make sure that the shoes have at least some protection from debris and stubbing your toe on rocks.
The ideal backcountry sandals should look more like an open-air shoe than minimalist flip-flops, as there is nothing worse than hiking with pebbles tumbling into your shoe and jabbing the bottom of your foot.
For a detailed explanation of how to choose the best hiking sandals, you can read our instruction guide here and educate yourself!
In my experience, the five pairs of sandals below consistently get the job done, whether camping or hiking. If you need a pair of outdoor sandals, these should be your first choices!
Keen Newport H2 Sandals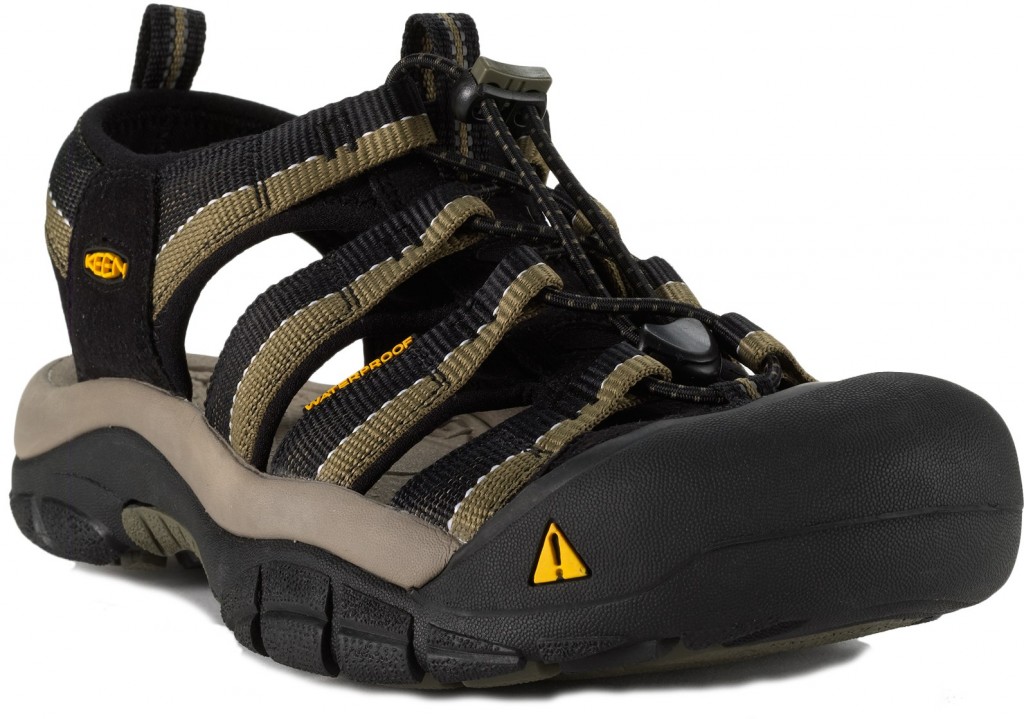 The Newport H2 Sandals from Keen are at the lower end of the protection spectrum for hiking sandals, but they can still work for more leisurely hikes, and they are an absolute dream to wear around your campsite for some open-air comfort. I have reviewed the Newport H2 Sandals in detail here, but they're definitely worth mentioning again in this space.
The Newport H2 Sandals weight 1 pound, 2 ounces, and your feet definitely notice the light weight in a pair of sandals that still protects pretty well. These sandals have durable, rubber soles that are equipped with reliable, knife-cut siping that makes traction fantastic, even on wet surfaces.
Keen is one of the finest outdoor outfitters when it comes to versatile, lightweight footwear, and the Newport H2 Sandals are no different. These sandals will make your life around camp a whole lot more comfortable, and they can easily handle non-technical hikes without making your feet any worse for wear. Check out the Keen Newport H2 Sandals here!
Chaco Outcross Evo 1 Water Shoes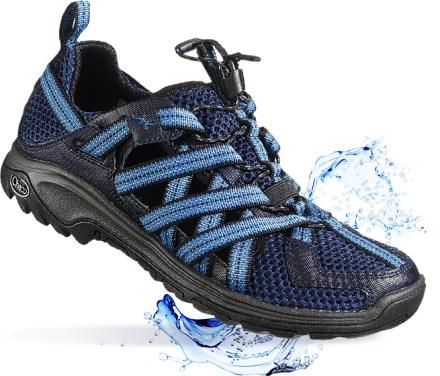 Yes, the Chaco Outcross Evo 1 Water Shoes are designed for use in water, but don't let the name fool you – these amphibious shoes excel on land every bit as much as in the water.
Featuring breathable mesh and webbing on the top part of the shoe, and protective toe bumpers on the bottom, the Chaco Outcross Evo 1 Water Shoes can go from the lake to the mountain and back again, keeping your feet feeling fantastic the entire time.
The Chaco Outcross Evo 1 Water Shoes are designed for hiking every bit as much as water sports, as the durable soles and toe protection afforded by the shoe's design ensure that no rock – pebble or boulder – will get the best of your feet. Breathable mesh also allows your feet to stay cool at all times, which is great for a shoe that is not totally open to the air.
If you want versatile sandals that you can take both on the boat and into the backcountry, the Chaco Outcross Evo 1 Water Shoes are for you! Learn more about these shoes here!
Teva Kimtah Sandals
Teva is a very trusted name when it comes to sandals and outdoor footwear in general, and the Teva Kimtah Sandals are another great shoe from the company.
The Teva Kimtah Sandals are also intended for water sports primarily, but double as durable hiking and camping sandals as well. Made with soles composed of rugged Spider 365 Rubber, the Kimtah sandals will hold up through a great deal of abuse. The sandals also feature rubber toe bumpers to ensure that no rocks or other debris hurt your digits.
With drawcord closure and a collapsible heel, the Kimtah sandals are easy to slip in and out of, and they adjust to provide a snug fit to any foot. These sandals are some of the most comfortable I've tested, and are a personal favorite, whether I'm doing some light hiking or just hanging at the park.
See more details on the Teva Kimtah Sandals here.
Keen Uneek Sandals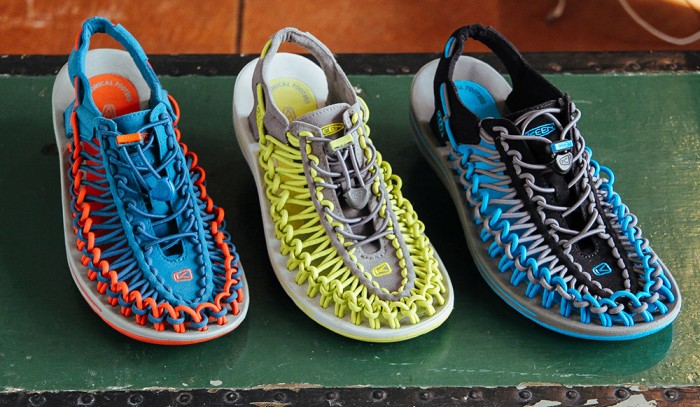 I have already written at length about the Keen Uneek sandals both here and here, but hey, they deserve another mention for being so…unique. The Keen Uneek Sandals are truly unlike any other outdoor shoe you can find right now, and even with their quirky design, they function so well that they deserve mention as one of the best pairs of hiking sandals you can find today.
Weighing just 10.9 ounces, these ultralight sport sandals are made of dual, 3mm, water-resistant cords, which are tied to a polyurethane midsole. The cords are similar to bungee cords, and bend and flex as you walk, giving you excellent flexibility and support, and providing a cozy fit for your feet whether you're in the water, on the trail, or just walking down the block. The tightly-webbed cords also serve to protect your toes from bruises and debris.
Keen Uneek Sandals also mold to the specific shape of your feet, making them a perfect fit all the time, every time. The soles of the shoes are durable enough to handle everything from river bottoms to trails and the terrain in between.
For a truly comfortable, unique experience, check out the Keen Uneek Sandals here!
Sperry Top-Sider Voyager Sandals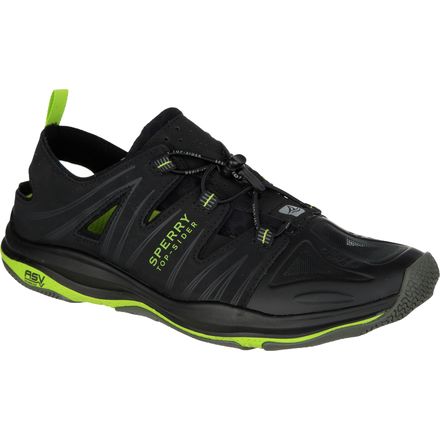 Sperry is a very prestigious brand in the world of footwear, with their line of boating shoes earning worldwide renown for quite some time now. However, when you think of Sperry, you usually do not think of camping and hiking. That can all change with the brand new Sperry Top-Sider Voyager Sandals, which are designed not for boating, but for the drier parts of the great outdoors.
These shoes are made for the trail, not the sea, and they succeed in their intended use. The Sperry Top-Sider Voyager Sandals uses a cushioned EVA footbed and wave-adaptive siping to create an ultra comfortable shoe that absorbs and dampens shock, making it excellent for hiking.
The Sperry Top-Sider Voyager Sandals also have Sperry's unmatched comfort; the product of years of high-quality shoemaking. These shoes are great for hanging out around camp and heading out on the trail, and they will not disappoint outdoorsmen of all persuasions.