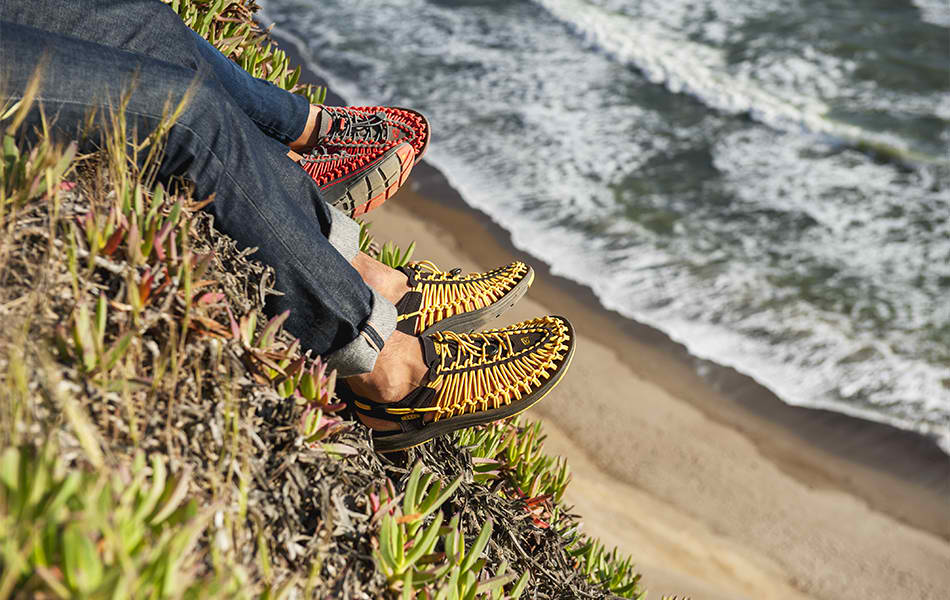 I'd like to throw some serious kudos to the brilliant minds over at Keen Footwear, a truly innovative company that recently released a bizarrely cool sports sandal: The Uneek.
When I first laid eyes on these peculiar kicks, I must admit they seemed outlandish, with their spider web of neon paracords. But don't get hung up on first impressions!  Beside the fact that these shoes are super light and airy, they fit perfectly! The cords hug my foot and keep secure throughout all of my dedicated wanderings.
I'd recommend Keen Uneek sandals for walking along the beach, hiking up a mountain, frolicking around downtown, and romping over slippery river rocks. Versatile, durable, and distinct, the Uneek fits its name as snugly as it fits my foot.
RELATED: Best Hiking Sandals: Detailed Reviews and Ratings
Keen Uneek: What's So Unique?

This crazy cool shoe takes paracord fashion to a whole new level! Keen designed the Uneek using just two parachute cords and a lightweight base.
Two polyester cords are threaded through a polyurethane sole, and molded around the foot for a very comfy fit. One long cord forms the web that keeps your foot safe and sound, while the second cord acts as laces that give you the best individual fit. So it fits every foot!
The sole is designed to match the contours of a human foot, and I love to wiggle my toes on the soft and supportive microfiber footbed. Most sandals might cause a trip and tumble while hiking, but the Uneek outsole has razor siping and non-marking rubber to ensure high traction and secure footing on any terrain.
This paracord footwear is definitely a new species of sport sandal- and I love it!
DON'T MISS THIS: Keen Newport H2 Video Review
When and where can I wear these sandals?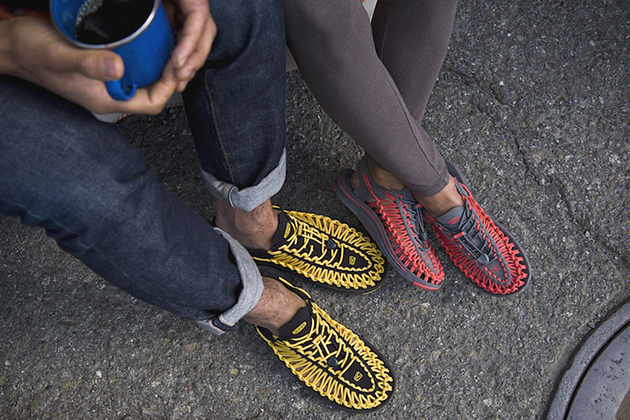 The Keen Uneek sandals are so light that it's easy to bring them pretty much everywhere, exploring the outdoors or beating down the city pavement.
The sole is lighter and thinner than most running shoes, but its contours provide good arch support for hiking, biking, and wandering.
While I definitely do not recommend these shoes for winter sports, they are great for adventure sports and water play. Swimming, crossing slippery rocks, and protecting your feet from pointy, submerged objects is easy with Uneek. It hugs the foot tightly despite strong currents- no more getting water logged!
Keep in mind that if they get wet and dirty, Keen recommends hand washing this shoe in cold water and soap instead of the washing machine.
Is Uneek my best option for a sport sandal?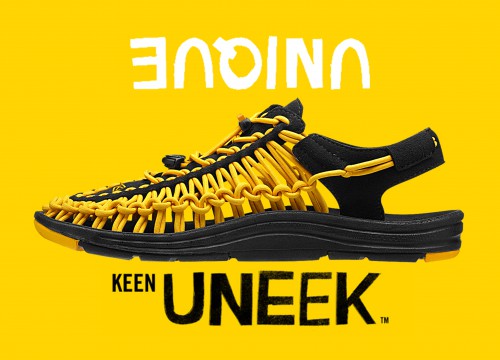 It certainly fits the bill! The free-moving cord junctions allow the Uneek to adapt and flex with the shape of any foot, and you just can't beat that genius design.
Other sandals that call themselves "breathable" often force the toes to clench and grip in an effort to keep the shoe on (I know I've suffered a few sore toes) and this could trigger tendinitis and result in rupturing tendons. Yikes! Sandals that sacrifice a breezy design for stability are often way too heavy and suffocating, but Uneek stays perfectly breathable and firmly in place all day.
Keen Uneek technology is totally state-of-the-art, a bold move for footwear.
Highly adaptive and bizarrely charming, Keen's Uneek is a sweet step forward for all of us world travelers. Hikers, bikers, swimmers, and lollygaggers alike agree that Uneek is simply- for lack of a more perfect word- unique!
Where to Buy
Help support Glacier National Park Travel Guide by purchasing the Keen Uneek's through one of our partners, which carry the Keen Uneek: