I've bought two lightweight tripods: one for my dSLR and one for my point & shoot. Learn what I liked & disliked about the two ultralight tripods I've owned
Photography in the outdoors is an unbeatable creative pastime. It's also a heavy pastime. If you're looking to cut back on the ounces, get your hands on a lightweight backpacking tripod.
I love shooting photographs in the backcountry. I've gone from DSLR without a tripod, to DSLR with a heavy tripod, to P&S without a tripod, to P&S with a lightweight tripod, to DSLR with a lightweight tripod.
And let me tell you: DSLR with a lightweight backpacking tripod is the way to go. Here's why:
Benefits of Lightweight Tripods for Backpacking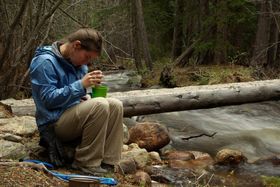 A picture taken with my dSLR and tripod
The benefits of choosing a lightweight camera tripod over a larger, heavier one are pretty self-evident. After all, lighter is better.
Taking shots of the wild is an awesome activity, but it can also be an exhausting one. The amount of gear you have to carry with you along the trails is pretty extensive–especially if you want to work at the professional level.
Any way you can cut back on weight is for the best.
Tripods are important if you want to capture nature at its purest, stillest, most uninterrupted state. It provides solid ground where no solid ground may be available.
In the past I've been forced to make do with heavy tripods slung over my back. I haven't been able to hike as far. I've been getting sore necks and shoulders.
Well, those days are gone. Now I carry along a super lightweight tripod that will treats me right without weighing me down.
Best Lightweight Tripod for a DSLR Camera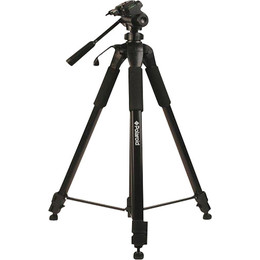 The Polaroid PLTRI 72 Tripod
A point and shoot camera can take pretty decent photos these days–the technology for compact shooters is evolving almost every single day–but nothing compares to the color, clarity, and precision of a DSLR camera.
That's the advantage of this far-more-expensive device. One distinct disadvantage is its weight.
The cameras themselves are much heavier than your basic pocket shooters, so the tripods have to be heavier in order to support that weight, while providing excellent panning and tilting capabilities at the same time.
All that aside, though, you can still find a great DSLR tripod that weighs much less than average. Enter the:
Polaroid PLTRI72 Lightweight Tripod Review
I bought this baby before last summer and I couldn't be happier! This incredible tripod is tough enough to easily support twenty pounds up top, more than enough for your standard DSLR camera.
It's made of aluminum, too, which gives it a weight of just 3.83 pounds. If you're new to the game, just know that this is much lighter than the average big-boy tripod.
Other great features of this Polaroid pod include:
Geared center column with adjustable height between 26″ and 72″
3-way pan head for unlimited angle shooting
Base and pan head bubbles for double-checking that the pod's perfectly level
Learn more about the Polaroid PLTRI72 Tripod
Best Lightweight Tripod for a Point & Shoot Camera
We don't need to get into a pros-versus-cons debate about whether to use point and shoot cameras or big-time DSLR cameras. Chances are, if you've come here, you already know which you most prefer.
But I will say this: one of the advantages of a point and shoot camera is that they're much smaller than DSLRs. They are smaller, and much, much lighter, making them easier to cart around with you all day.
When I took a break from lugging my Pentax K10D
into the wilderness, I pocketed my ultralight Canon PowerShot S100
. Before too long though, I added a tripod to the mix.
Here's what I got:
Pedco UltraPod Lightweight Camera Tripod Review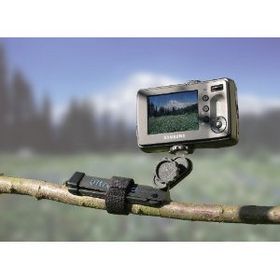 The Pedco UltraPod Tripod
This is a masterpiece of portability. Not only is Pedco a trusted brand in the tripod industry–crafting a great variety of different pod sizes, shapes, styles, and uses–but you absolutely cannot beat the weight of this UltraPod. How much is it, you ask?
TWO OUNCES!
How's that for incredible?
Beyond the amazing portability of this thing–there's no way you'll ever feel this dragging you down on a hike–it also features:
Fold-out legs with vinyl anti-slip feet
Removable Velcro strap for easy attachment to trees and other objects
Fold-up design transforms it into a four-inch unit for easy packing
But perhaps the best feature–aside from the "weight", of course–is the ball and socket mount that allows you to angle your camera any which way you please.
Overall, this is about as perfect as you can possibly get when it comes to lightweight backpacking tripods for P&S cameras.
Learn more about the Pedco UltraPod Lightweight Camera Tripod
Hike back from lightweight tripods to ultralight backpacking gear.
Or head on back to Glacier National Park.