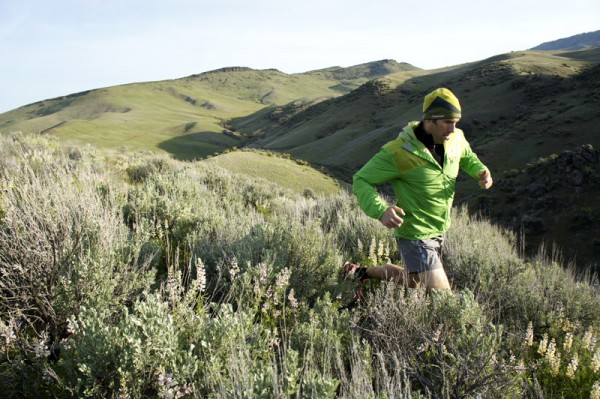 Wind shell jackets usually offer great protection in the spring and summer months when storms threaten to roll in and disrupt your hiking or jogging. The problem is that they generally aren't so good at walking the oh-so-fine line between waterproof and breathable, oftentimes sacrificing one for the other. Which can certainly be uncomfortable for you.
Enter Outdoor Research with the solution: the Helium Hybrid Jacket. Using high-tech materials, this light shell is able to keep you dry from both the elements and your own body-produced humidity.
The Helium Hybrid is a super versatile jacket perfect for a variety of activities during the warmer six months of the year. It even comes in useful during the colder, wetter months, too. Bottom line: it's worth checking out.
Helium Hybrid Jacket: Design and Features
As a rule, wind shell jackets are very lightweight, so at just 5.7 ounces, the Helium Hybrid Jacket fits well in that category. What separates it from the competition is its terrifically versatile design.
The Helium Hybrid is made from Pertex Shield+ fabric on the shoulder and the hood, offering unprecedented breathability and water-resistance. This makes it a fantastic shell to wear on warm days when the dark clouds look like they might be rolling in to spoil your fun.
The seams of the Helium Hybrid are both sewn and taped for excellent sealing, which keeps the inclement weather from soaking your inner layers. A water-repelling finish also works well to keep you dry.
With two shock cords, the hood is also one of the comfiest out there when cinched in a tunnel around your face. This dual-cord design allows for perfect concealment from wind and rain, leaving just your face exposed.
The cuffs of the Helium Hybrid also feature elastic to keep out the weather, but it's a comfortable closure that allows you to roll up your sleeves when the sun peeks back out from behind those clouds.
All in all, this is a very comfortable, very dry, very protective wind shell jacket. And it's not like you have to stow it away during the cooler, wetter months, either, as it makes for a fantastic mid-layer.
Select Specs:
Weight — 5.7 ounces
Materials –Pertex Shield+, 100% nylon, 3D shoulders and hood, ripstop fabric body
Fit — Trim
Zipper — Full body
Storage — Chest pocket (is also a stuff sack)
Hood — Halo closure
Helium Hybrid Jacket: Who It's For
This new Outdoor Research wind shell jacket is great for anyone who needs a barrier between them and the wind and rain while they're doing warm weather hiking or jogging. It's probably a must-have for folks in the northwest, but it's certainly a must-consider for people in the Glacier/Rocky Mountain area, too.
Going on a short excursion or run on the trails? Worried about getting a little wet? The Helium Hybrid seems like a great solution.
Here's a brief video from the Outdoor Research team that highlights more of the Helium Hybrid's features and advantages:
Where to Buy