About Scenic Point Trail
Trail Highlights — Waterfalls, valley views, mountain tundra, lake vista, white forest, and amazing panoramic sightseeing
Roundtrip Length — 6.2 miles
Elevation Gain — 2,242 feet
Peak Elevation — 7,522 feet
Parking Lot — Large, but often crowded
Difficulty — Moderate
Region — Two Medicine
Availability of Water — Yes
Two Medicine is a beautiful and oftentimes vacant region of Glacier National Park, but there may be no more amazing views to be had than at the end of the Scenic Point Trail.
Because it's such a rewarding hike, it's also one of the more crowded places in the region (still, because it's in the Two Medicine area, the hike won't be nearly as crowded as any of the moderately popular hikes near Many Glacier). If there are guided tours going on, you'll have a hard time finding parking. But if you're lucky enough to get up there when there aren't any tours scheduled, you may be hiking in something close to solitude. Either way, the end view is one hundred percent worth it.
Starting just over half a mile from the end of the road that leads to Two Medicine Lake, the Scenic Point Trail is actually better than 10 miles long, winding its way all the way over to East Glacier, but the trek you want to take is just to the scenic overlook, which is a mere 3.1 miles.
The first half-mile is really easy going. It's a mostly flat-level hike to Appistoki Falls. This first leg is mostly through a forested landscape, so you have the opportunity to see a variety of wildlife and plants. Birds are here aplenty, but if you're real lucky you might see something a bit bigger.
At that half-mile point you'll hit the side trail for Appistoki Falls. I absolutely recommend taking that trip. It's only about a hundred yards out of your way, and while it may not be the grandest waterfall you'll ever see in your life, it is definitely worth your time to investigate.
Back on the main trail, the ground is going to get a little steeper from here on out as you move ever onward towards your destination. After Appistoki Falls, you'll emerge from the forest and enter some wide-open country, which is pretty much how it will be for the rest of your trip to Scenic Point.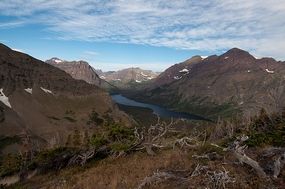 Mountain Goats are common along the Hidden Lake Trail
One mile or so from the trailhead, you'll get to travel briefly through a ghostly forest made up of dead white-bark pine trees, killed off from a fungal disease 100 years ago. The chalk-white trunks of the dead trees make for some really fantastic pics.
The next 1.5 to 2 miles will be pretty steep hiking. Here you'll be making your way up the side of a mountain on more than a dozen switchbacks. Yes, it may be a bit of a workout, but the view you get while panting is just extraordinary. From the switchbacks you'll be treated with wide views of the Appistoki Valley and the Appistoki Basin. Look to the west at the grandeur of Appistoki Peak (8,164 feet) or to the south at the even grander Mt. Henry (8,847 feet). But there are even better views in store for you if you keep on keeping on.
After about two miles of switch-backing, you'll finally hit the ridge that'll take you over to the real Scenic Point. From this ridge, you'll be granted a god's-eye view of the valley thus far. Looking out to the east, you'll see prairie land that seems to stretch out to infinity. The trail gets a bit steep (and then super steep) here again, while you traverse a mountainside. Depending on the season, you may have some snow or ice to contend with at this point.
If you push ahead, atop the mountainside is a great expanse of plateau. There's plenty of grass and rocks, but with the wind as fierce as it is, you won't be seeing any trees up here. This plateau is your final destination. There are several marked points on this rolling terrain, the highest being the true Scenic Point. From here, you can see…just about everything. You'll be witness to almost the entirety of the Two Medicine Valley, including: Two Medicine Lake, Lower Two Medicine Lake, Upper Two Medicine Lake, mountains, plains, national forests and wildernesses, and towns that are nearly 90 miles away.
Scenic Point, it seems, is named after an understatement: this view is more than simply scenic. It is… divine.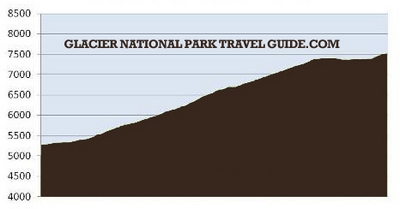 Scenic Point Elevation Profile
Additional Glacier National Park Hiking Info
Check out other Glacier National Park hiking trails, or head back to the hikes in the Two Medicine area.
Return home to
Glacier National Park Travel Guide