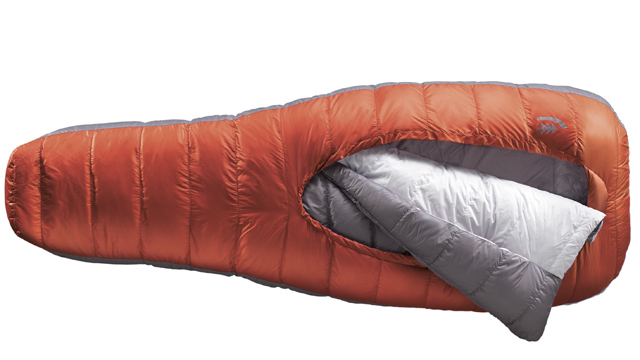 Getting a zipper stuck, with its teeth mangled in the material around it, may not be the worst thing about certain sleeping bags, but it's definitely up there. With Sierra Designs' new Backcountry Bed, that won't even be an issue.
Why? Because it has no zipper.
Sierra Designs, a leading manufacturer of camping gear, and a company whose products I not-so-secretly love, is about to unleash a revolutionary campsite sleeping bag.
But is the bag as good as all the publicity and hype make it out to be? That's a question worth some investigation.
NOTE: This is the first article of many documenting the new gear we saw at Outdoor Retailer Summer 2013 market. We've been swamped since getting back, testing out loads of gear and got behind on our articles. Expect to see tons of articles in the next 2 weeks on OR 2013 and all the gear we saw!
A Closer Look at the Details of the Sierra Designs Backcountry Bed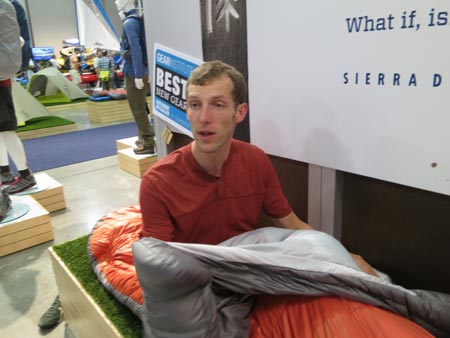 First off, I'd like to thank the Sierra Designs team for letting me film this video of them going over the Backcountry Bed at Outdoor Retailer's 2013 Summer Show.
This video gives the best impression of this revolutionary sleeping bag, straight from Sierra Designs:
Sorry for the crazy background noise. Did my best to optimize the volume in iMovie but it's still hard to hear.
That video helps. It helps A LOT. But before we "yay" or "nay" this decidedly novel sleeping bag, let's take a moment to gawk at its specs.
There will be 8 models to choose from when this bad boy hits the shelves in January 2014:
2-Season 600-fill Regular and Regular Women's
2-Season 800-fill Regular and Regular Women's
3-Season 600-fill Regular and Regular Women's
3-Season 800-fill Regular and Regular Women's
For the sake of my sanity and yours, let's just look at the spec rundown of one of the eight models. I choose… the 3-season 800-fill Regular, mostly because that's probably the one I'm going to buy myself for my next birthday.
Weight — 2 pounds, 7 ounces
Weight of Fill — 20 ounces
Length Fit — 6 feet
Length Stuffed — 15 inches
Diameter Stuffed — 8 inches
It's obviously not the smallest or lightest bag in the world, but that's not the point. It's not meant to be an ultralight sleeping bag. It's meant to revolutionize the sleeping bag industry.
Backcountry Bed's Fantastic Features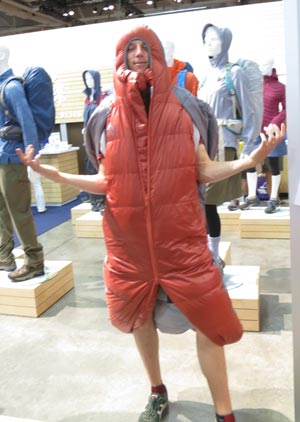 First off, let's talk more about this zipless business.
In lieu of those sometimes-uncomfortable and always-annoying metal teeth closures, the Backcountry Bed features an oval opening with a versatile comforter integrated into the bag's design that allows for maximum warmth in cool weather (by maneuvering it from side pockets to seal the opening) and comfortable coolness in warm weather (by laying open the comforter all together).
Aside from this super innovative approach (I mean, geez, these guys just reinvented the dang sleeping bag!), there are other cool features to ogle:
Integrated pad sleeve maintains the bag's shape and stability
Dridown hydrophobic down insulation for extreme comfort and moisture defense
Insulated arm pockets
Ergonomically crafted footbox
Side-wall baffle design to limit migration
None of this stuff is as ground-breaking as the zipperless design, but when added together, the sum is much greater than its parts.
My Final Word
In short? This bag looks fantastic. It has an incredible design that actually works and a comfort level that may even surpass the real bed in my own room.
And the biggest drawback, the price, isn't even that terrible. There are a lot of bags out there with this kind of luxury level that would cost you several hundred dollars. And an arm. And a leg.
But the Backcountry Bed is listed at just $249.95. Granted, that's probably way too steep an amount for most of us to spend impulsively, but this isn't one of those kinds of purchases. This is a bag/bed that will pay you back dividends of warmth, comfort, versatility and portability. I'd say that's a good investment.
So what's my final word? In January of 2014, when the Sierra Designs Backcountry Bed goes on sale, come back here, click on this link and buy the sucker. Immediately.
Where to Buy:
The Sierra Designs Backcountry Bed isn't on sale yet. If you'd like to support us AND buy Sierra Designs gear, you can go to these great stores to buy Sierra Designs gear: