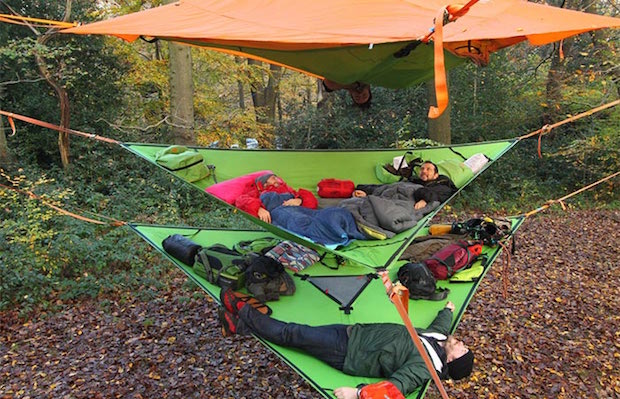 Tentsile Tents and Hammocks
If you're looking for a new way to camp that will make things just a little more fun and exciting, you should check out the wide range of products offered by one unique outdoor gear purveyor – Tentsile Ltd. This company redefines what camping should be, opting for sleeping structures and living quarters up in the trees instead of on the ground.
With Tentsile's intriguing hammock/tent hybrids, campers can form some sort of futuristic, mini-societies in the trees while out in the wild. In addition to being really freakin' cool, camping the Tentsile way has plenty of benefits. For instance, you won't have to worry about insects infiltrating your food and certain animals disrupting your camp when your camp in perched several feet up in the air.
With the Tentsile Stingray Tree Tent, Vista Tree Tent, and Trillium Hammock, you and your backcountry buddies can also create an awesome airborne community on your next camping trip. Learn more about these awesome products below!
Tenstsile Stingray Tree Tent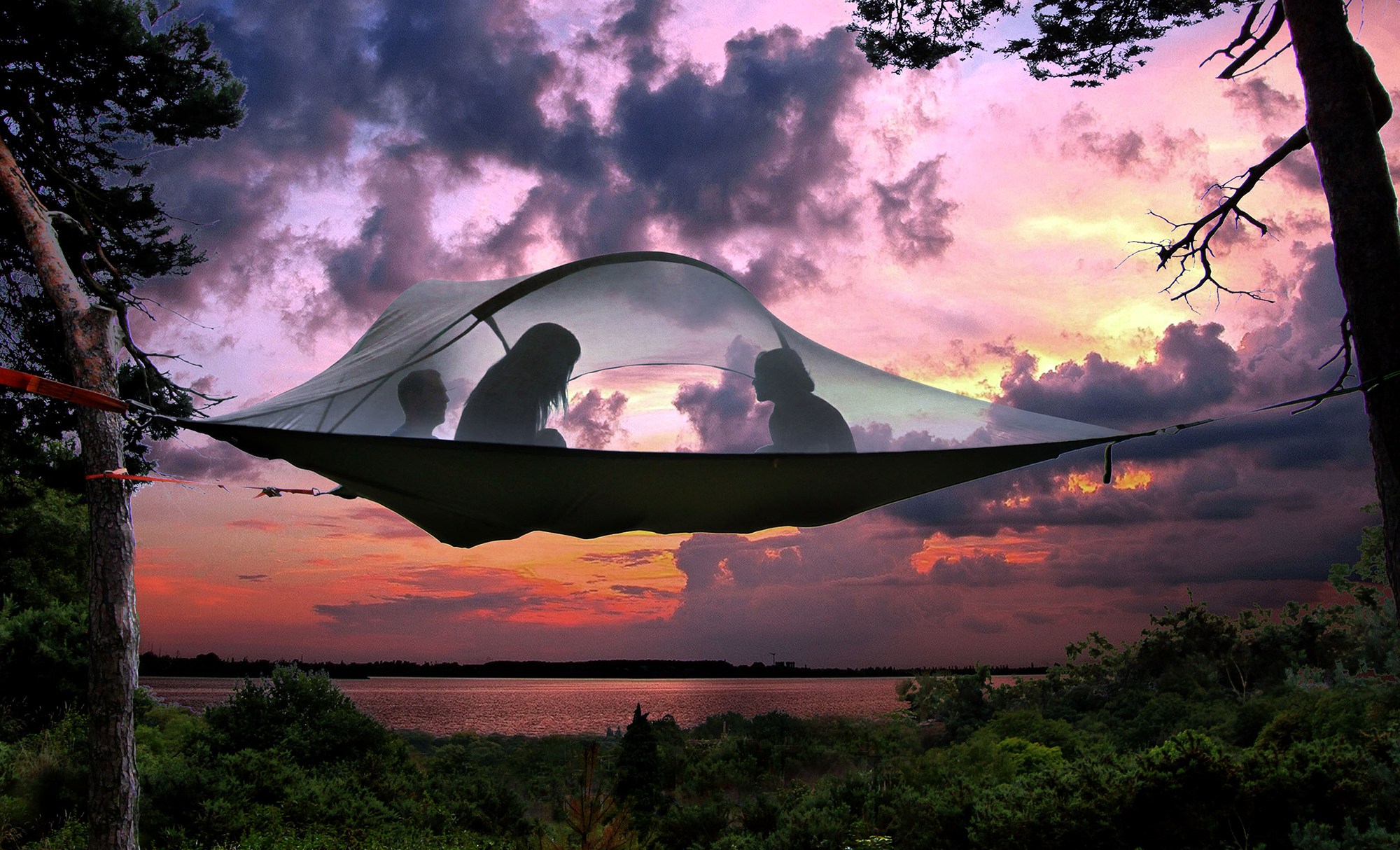 The Tentsile Stingray Tree Tent is an incredibly cool innovation in the world of tents and hammocks. Walking the line between tent and hammock, the Stingray Tree Tent is a tent-like shelter that is suspended above the ground, as high as you would like it.
The Stingray is equipped with three separate hammocks in its tent shell, allowing you to rest and relax in your own space, while still having the benefits of an external shelter, such as protection from insects and the elements.
Without a doubt, the Stingray allows you to sleep more comfortably than you usually would in a confined space on the cold, hard ground. Plus, did we mention how epically cool it is hanging out in a tent that's actually…hanging?
You can purchase your very own Stingray Tree Tent at REI here!
Tentsile Vista Tree Tent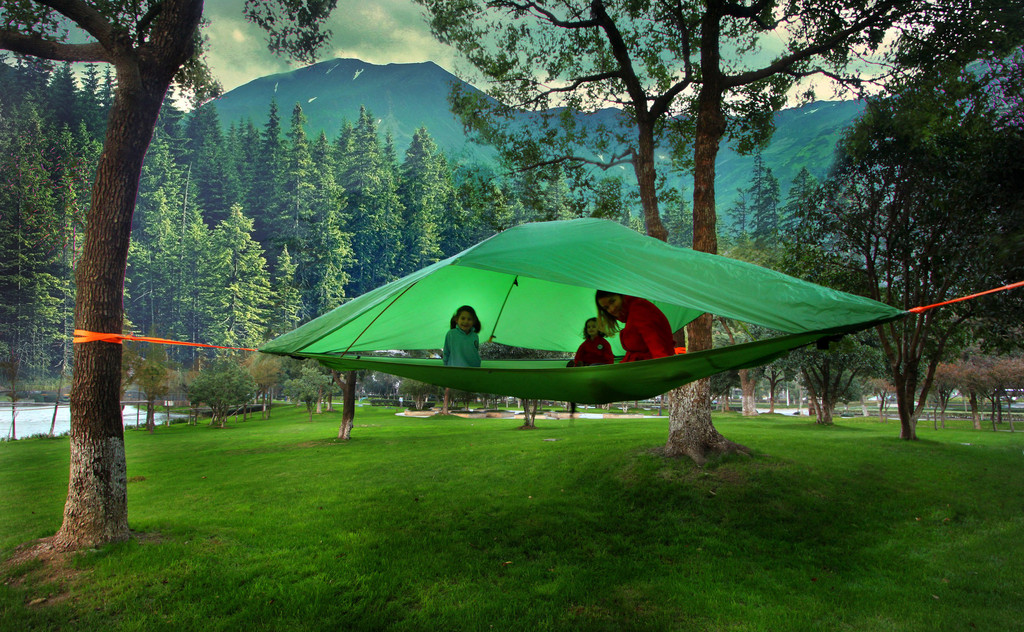 The Tentsile Vista Tree Tent is Tentsile's more flexible, more adjustable tree tent, and can function like a tent or like a giant hammock, based on your own personal preference.
The Vista Tree Tent has a spacious 3-person hammock comprising its "floor," and a detachable "roof," complete with a rainfly, should you want to have a little bit more of an enclosed environment. Unlike the Stingray, the Vista does not completely seal, so it is not an ideal option for more adverse weather conditions.
However, with a rainfly and a bug screen, the Vista will still protect you in many of the same ways a traditional tent would. What's more, the "roof" of the tent has its own tethers, so if you want your roof far above you, you can do that too. With the Vista, you can make a multi-level living space when combined with the Trillium. Learn more about the Vista here.
Tentsile Trillium Hammock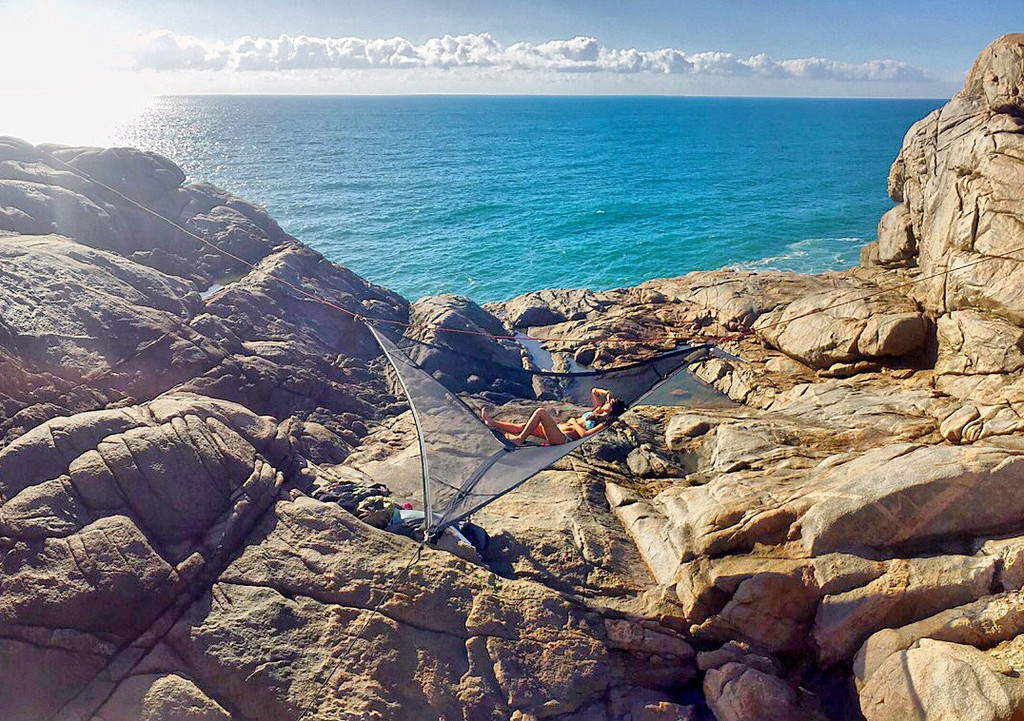 The Tentsile Trillium Hammock is much more hammock than tent, as it is essentially an oversized, hammock-platform that can accommodate up to three people.
Using the Tentsile Trillium in conjunction with the company's tree tents, you can build multi-level, hanging "structures" as your base camp. The Trillium platforms can be used to separate layers and hold gear, or as sleeping platforms in their own right.
If you want to go with a multi-level project, you can even get Tentsile ladders to connect the "floors" of your new outdoor, suspended home. The Trillium is the solution to tying together all of the different levels in your tree community! Learn more about it here!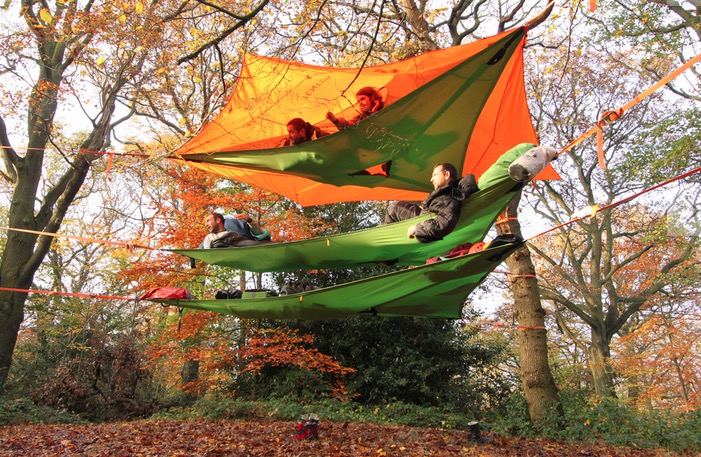 All told, the Tentsile line of products are unlike anything else you can find on the market right now. These innovative tent-hammock hybrids will make your base in the outdoors way cooler than you've ever imagined, while providing benefits as well.
If you're worried about the prospect of sleeping high above the ground and falling, you should know that all Tentsile products are made of extremely durable nylon, and secured via seatbelt material. These babies aren't going anywhere.
So, spice up your life with a little bit of Tentsile this summer! We guarantee you will not regret it.