You cannot get around it: ultralight backpacking means purchasing titanium cookware.
Quite simply, titanium pans weigh less than aluminum camping pans, conduct heat better and will last longer.
Bottom line: even if you are not an ultralight backpacker, it pays to invest in titanium cookware.
But honestly, titanium camping utensils are comparable in price to aluminum camping utensils.
For example, let's compare two different models of camping cookware: MSR's Aluminum Cookware and Snowpeak's Titanium Pans.
The MSR Quick 2 System Cookset
is aluminum, costs 100 bucks and has a combined weight of 15.9 ounces.
On the other hand, we have the Snow Peak Titanium Multi Compact Cookset
. Benefits include: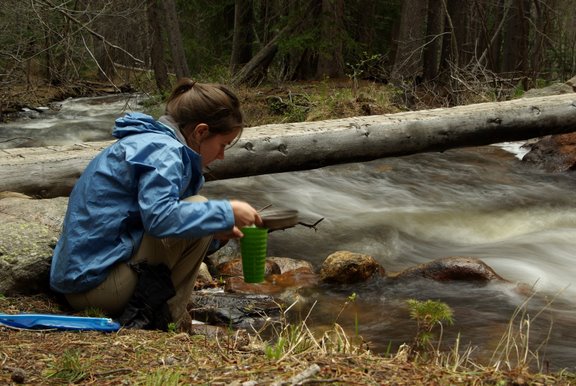 Allyson using a titanium pan
to pour water into our water purifier
4 pieces of cookware that weigh a combined 11.6 ounces. Yes, you read that right. 11.6 ounces
Titanium is stronger and more durable, meaning it won't dent easily and will last longer
Rounded bottom edges improve heating efficiency and cleaning ability
All this for only 5 dollars more!
. Yup. 5 bucks more gives you 2 additional titanium pans, which are more efficient AND weigh less.
But, I'm getting ahead of myself here. Let's get back to the basics of titanium cookware…
Benefits of Titanium Cookware
So, what is titanium, you ask (and why are titanium pans the best ultralight backpacking/camping utensil)? Good question.
Titanium is the strongest metal in terms of strength relative to weight. This means that it is both ultralightweight for backpacking and titanium pans are more durable than any other camping utensils.
In addition to durability, titanium pans have other advantages: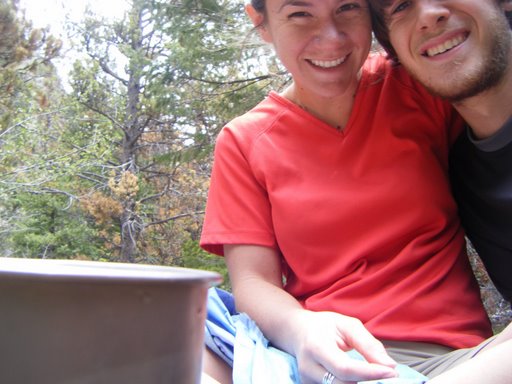 Cooking with our titanium cookware
Heat Conduction – Titanium camping pans are quick heating, meaning you carry less gas with you into the backcountry
Nonstick – Titanium pans are naturally nonstick, so after a long day of hiking you won't dread cleaning up dinner
Warp Resistant – Aluminum cookware warps and dents easily–titanium pots and pans don't
Bottom line, whether or not you are interested in ultralight backpacking, titanium cookware is the way to go when purchasing camping utensils.
Best Titanium Cookware and Pans
Now, it's time to share my reviews of titanium pans designed for backpacking and camping.
I already suggested the Snow Peak Titanium Multi Compact Cookset
. In my opinion, that is the best when it come to purchasing a full set of camping utensils.
However, to be perfectly honest, you probably don't need ALL the pots and pans that come with the Multi Compact Cookset.
In my ultralight backpacking experiences, usually one or two pieces of cookware suffice.
Then again, I only go backpacking with Allyson, my girlfriend. If you are like me and generally only backpack with one other person, then the best titanium pans to purchase are the Snow Peak Titanium Mini Solo Cookset
.
You save yourself 15 bucks and cut down the weight to 5.5 ounces. However, if you camp with a family or are expecting one, then you may be better off with the multi compact cookset.
---
If you are indecisive about how many pieces of titanium cookware would best suit your ultralight backpacking needs, why not try the Snow Peak 3 Piece Titanium Cook Set
?
You can never go wrong with the middle of the road… especially when the middle of the road costs less than both other options.
More Ultralight Backpacking Gear Information
New to ultralight backpacking? Then start here.
Return home to
Glacier National Park Travel Guide