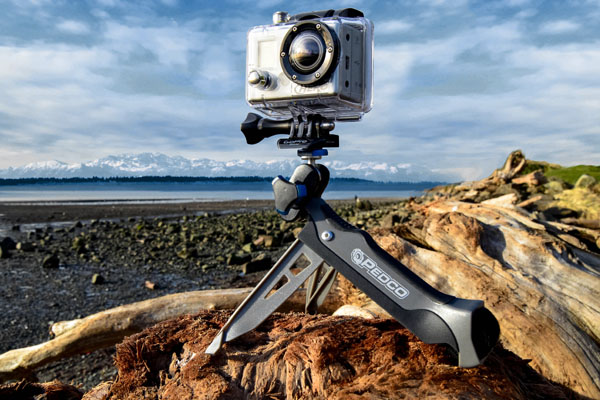 Snapping that perfect photo while trekking around the Rockies is impossible without the right equipment. The UltraPod GO mobile tripod from Pedco is definitely the right equipment. It's a super portable, easy-to-use, awesomely versatile accessory that'll ensure you get the shot of your dreams, no matter what you're aiming at.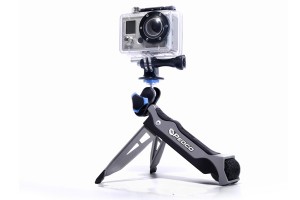 The UltraPod GO has the features a professional photog looks for, but it's user-friendly enough for any of us laypeople to use, too. It's compatible with a huge variety of cameras, as long as they weigh 1lb or less and have a 1/4-20 female thread–which just so happens to describe most digital cameras sold today.
RELATED: What Are the Best Ultralight Tripods?
And this mobile tripod is just about as mobile as mobile can be. The GO weighs in at 2 measly ounces (57g) and folds up to an easily packable 6″ x 1.5″ size. But even though the legs fold up–usually a telltale sign of weak appendages–they are fantastically durable and sturdy.
Some other awesome features of the UltraPod GO include:
Pistol grip for easy hand-held use
Aluminum ball and socket rotation for supreme adjustability
13″ PowerStrap mounting system for securing your cam to tree branches and bridge railings.
Everything about the UltraPod GO is designed for ease-of-use, high-portability and precision shooting. Experts and amateurs alike fawn over the UltraPod GO's wicked versatility.
Personally, I'd be willing to pay at least $25-30 for a mobile tripod with specs like these. Maybe even a few bucks more. But believe it or not, the UltraPod GO is available for half that. You can currently find it at REI for $14.95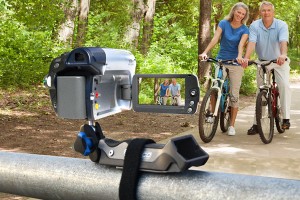 There are some other brands/models out there, competing with the UltraPod GO for top spot in the mobile tripod market, but nothing comes close to the GO in terms of affordability, versatility, and durability.
Sunpak's Spider Leg tripod is very compact and only costs a couple of bucks, but the construction is cheap and adjustability is terrible. You're almost better off not using any tripod at all in this case.
Joby's GorillaPod is a bit more like the UltraPod GO with its bendy legs and ability to cling to poles and branches.
But you can't get the same precision with it that you find with the GO. The GorillaPod also has no pistol grip, no strap, can only support an 11-ounce camera (remember: the UltraPod GO can hold 16oz), and costs $5 more. So, really, there's no competition here–UltraPod GO is clearly on top.
Both newbie photogs and professional artists will find the UltraPod GO a worthy investment. When you're hiking through the Rockies, you don't always have nice flat surfaces for your tripods. With the GO's easily-adjustable legs and PowerStrap, that won't ever be an issue–you can set it up anywhere. Its polycarbonate and rubber construction is very durable, too, so you can carry it with you all year long, no matter the weather.
Where to Buy:
Most online retailers don't carry the UltraPod Go. I've only been able to find it at REI.com and their corporate site.