The yellow wildflowers scattered across Glacier National Park and the Rocky Mountains are some of the most distinct and beautiful.
They can be spotted and identified anywhere in the park, from the high elevation meadows at Logan Pass to alongside backcountry hiking trails.
Below you will find images and descriptions of common, yellow wildflowers within Glacier National Park. This guide can be used for wildflower identification following a trip, or during your Montana vacation, if you choose to print it out for easy identification.
Identify a Yellow Wildflower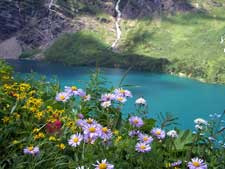 Yellow and purple wildflowers are abundant along Gunsight Pass trail in Glacier National Park
Wildflowers depicted in this guide are:
Glacier Lily
Yellow Columbine
Yellow Violet
Round-leaved Alumroot
Glacier Lily–
Erythronium gradiflorum
The yellow petals of glacier lilies, a wildflower loved by all, bloom at the lower elevations in late April and higher locations around June, just as the snow melts. They have six yellow petals that curve upward toward the sky.
These are perhaps my favorite flower in Glacier National Park and it's because you can eat them!! They taste like delicate water and are delicious.
Glacier Lilies provide food for much of the park's wildlife. Deer, mountain goat, elk, and grizzly bears eat the bulbs while ground squirrels store them for the harsh winter ahead.
Native American tribes also ate them, boiling or drying them out to save for winter meals.
Interesting Fact: Glacier Lilies grow in abundance on the first leg of the Siyeh Pass trail, one of Glacier National Park's best day hikes.
** Please note, some members of the lily family are poisonous and the Adventure Guide to Glacier National Park neither endorses nor encourages consumption of Glacier Lilies for food or medicinal purposes **
Yellow Columbine–
Aquilegia chrysantha
Yellow Columbines are one of the rarest golden wildflowers in Glacier National Park. They can grow in a wide range of elevations, from 3,000 to 10,000 feet, and are most often spotted in moist, forested areas and alongside creeks.
Yellow Columbines will grow to approximately four feet tall. Identification tips for this yellow wildflower are:
Dark, green leaves
Thin stem
Five petaled, bright yellow, flower that grow up to three inches wide
Five white spurs grow behind the flower
Interesting Fact: Native Americans used miniscule amounts of the root as a treatment for ulcers–however, it is highly toxic and consumption can be fatal.
Yellow Violets–
Viola nuttallii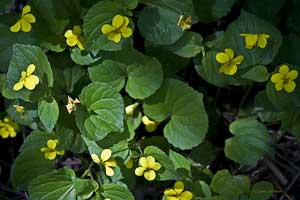 Yellow Violets are one of Glacier's most abundant wildflowers
Photo by Lynn Suckow
Even though the genus name is Viola (violet), the only purple on this yellow wildflower are the stripes on its petals. The flowers bloom on the leaves making the plant approximately four inches tall.
These wildflowers can commonly be spotted and identified throughout Glacier National Park along dry prairies past St. Mary Lake, meadows along Logan Pass, and woodlands near Lake McDonald Lodge.
Interesting Fact: Leaves and flowers of Yellow Violets are edible and contain large quantities of vitamins C and A.
Round Leaved Alumroot–
Heuchera micrantha
Truth be told, I find the round leaved alumroot to be one of the most boring yellow wildflower that grows in Glacier National Park. However, it had numerous benefits to Native Americans, which is why I am included it in this guide.
Interesting Fact:Native Americans used this wildflower as a diarrhea remedy, to create a solution that was used to bathe sore feet, and to treat wounds and sores.
More Wildflower Identification Information
Return back to Wildflower Identification
Purple Wild Flowers – Learn identification tips for Purple Wild Flowers
Orange Wildflowers – Though rare, orange wildflowers do exist. Learn how to identify an orange wildflower
Indian Paintbrush – All about identifying the Indian Paintbrush Wildflower, one of Glacier National Park's more magnificent flowers.
Or return home from Yellow wildflower identification to the Glacier National Park Travel Guide