The process of buying a new backpacking water filter is much more complex than you might think. You could just go into your local REI and pick up the first model that you see, but you'd be doing yourself a disservice.
All water filters are different–in size, in shape, in weight, in ability, and in style. There are pump handle filters and pen purifiers. There are ultra-lightweight filters and ultra-productive purifiers. There are filters that take out bacteria, protozoa, viruses, and some that remove all three.
The point is, as I'm always preaching, you need to do your homework and know your needs before buying a filter.
Do some soul-searching about your needs as a backpacker and then compare the top-rated water filters that fit the bill.
In the end, the decision will be yours; I just hope to give you the tools necessary to make the right decision.
Choosing a The Right Backpacking Water Purifier
There are a number of considerations to keep in mind when choosing a purifier for use in the backcountry, Here are the four that I think are the most important: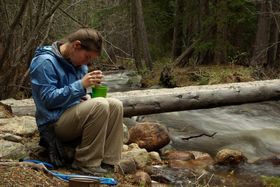 Allyson is using our SteriPen while backpacking
Portability — Size and weight are incredibly important factors. How will the filter fit in your pack? Will it weigh you down? If you're an ultralight backpacker, you'll need to sacrifice the speed of purifying for weight. Even if you're a more traditional hiker, you still want to be very aware of how much your purifier weighs and how much space it will take up in your backpack.
Output — How fast can the filter produce clean water? This is an important question to ask, because you need to know how long it will take you to purify an ounce, a liter, or a gallon of water. Most pump filters are capable of producing around 0.85 liters per minute. Also, generally, the heavier the filter, the faster the output.
Removal Abilities — What can the purifier do? What kinds of nasty, stomach-turning bugs can it terminate? Most water filters worth their salt can take care of bacteria and protozoa, including giardia and cryptosporidia. Some of the more expensive models can remove viruses, too, though this isn't as common (nor necessary).
Type — Believe it or not, there are several different types of water purifier available. The most common is the pump action model (I owned a Katadyn for years), but many backpackers these days are buying SteriPENs, which use ultraviolet light rays to decontaminate gallons of water (I also own a SteriPEN and love how little it weighs, but hate how slowly it purifies).
Are there other purchasing factors to keep in mind? Sure. The exploration of price is always a necessary evil, as is the amount of exertion necessary to pump water (after backpacking 10-12 miles, pumping water sure can be a pain!).
But if you pay close attention to these four factors, we believe you'll be on your way to choosing the best backpacking water filter for your needs and style.
Top 3 Best Backpacking Water Purifiers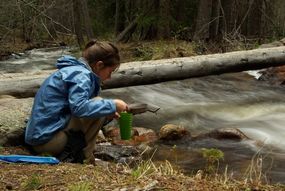 The SteriPen is slow, with a lot of prep work, but very effective
Once you've become clear about what you need from a water purifier, then it's time to choose the right model. This can be hard, considering how many good brands there are out there, but certainly not impossible.
To give you a good place to start, here's a look at three of the bestselling and top-rated backpacking water filters available today.
I've chosen two purifiers/filters I own, as well as one that I don't. The three I'm examining here are:
Katadyn Pocket Water Filter Review
Katadyn is the Cadillac of the water filter world–their products are among the very best in the entire world.
The Pocket Water Filter is one of the bestselling water purifying products on the market, even though it's much more expensive than MSR or SteriPEN models.
It's featured in the company's "Endurance" series: a lineup of filters designed to last a long, long time. It has excellent filtering properties, purifying down to 0.2 microns and removing bacteria and protozoa.
It does weigh 20 ounces, which is far more than the ultralight purifiers.
But if you don't mind the added burden, you'll enjoy one of the best water purifiers available today–and it comes with a 20 year warranty.
Some of the Katadyn Pocket Filter's other great features include:
Ultra comfortable grip for pump handle
Two abrasive cleaning pads for ceramic filter
Silver-impregnated filter to hinder growth of bacteria inside
You can learn more about Katadyn Water Filters on my page about them here.
Where to Buy
You can find the Pocket Filter at the following online stores:
Return to the top of this page
SteriPEN Adventurer Opti Water Purifier
Winner of Backpacker's 2011 Editor's Choice Award, the SteriPEN is a wand-like purifier that you put into the water, instead of putting the water into it.
The SteriPEN is ultra-lightweight and can be used anywhere in the world. The output for the SteriPEN Adventurer is an amazing 32 fluid ounces per 90 seconds of usage. Many backpackers swear by the SteriPEN, calling it the most user-friendly and effective purifier product on the market.
One of the only drawbacks of the SteriPEN is that it doesn't work well with cloudy or muddy water, since you aren't running liquid through it, but rather sticking it into the liquid.
The way around this is by pouring stream water through a filter (comes with the SteriPEN) and then filtering it from there.
This adds a LOT of time and is a major pain. But if you don't do this, you'll be drinking rocks and dirt.
This is major drawback to the SteriPEN and has led me to start backpacking with my Katadyn more often.
On the flipside, some of the SteriPEN's other great features include:
Ultraviolet light rays sterilize the water better than any pump filter
Water tight seal to protect integrated electronics
Ultralight backpacking water purifier
Where to Buy
You can find the SteriPen at the following online stores:
Return to the top of this page
MSR MiniWorks EX Water Filter Review
MSR is the manufacturer of some of the best camping gear on the market, and this water filter is the bestselling model of its kind available today.
Part of the reason for that is its extreme usability–there's no learning curve for this water filter. The other part is its affordability. As compared to the Katadyn Pocket filter, the $90 price tag for the MiniWorks EX is miniscule.
Although I don't own the MSR MiniWorks, I've backpacked with friends that own it and read the reviews: people love this baby!
The EX features a ceramic/carbon Marathon element which is used to remove bacteria and protozoa like giardia. The element is also capable of removing bad tastes and smells from water that can be caused by organisms and pesticides.
Some of the MiniWorks EX's other great features include:
AirSpring Accumulator for faster filtration speeds
Threads allow it to screw directly onto a Nalgene water bottle
Easily disassembled construction allows for easy cleaning and storage
Where to Buy
You can find the MiniWorks EX at the following online stores:
That's all, folks! You can head on home, or back to my page on ultralight backpacking gear.