The Highline Trail is one of Glacier National Park's best hikes. Take a scenic, photo tour and learn why The Highline hiking trail is so popular.
The photos below will take you on a tour of this hiking trail from start to finish.
Highlights include: Logan Pass parking lot, wildflower images, towering mountains, Granite Park Chalet, Heaven's Peak, Going to the Sun Road, and plenty of breathtaking mountain photos in-between.
While not difficult, the Highline requires basic hiking gear.
Glacier National Park weather is unpredictable and a mountain storm can roll in at a moment's notice. Without adequate equipment, you risk hypothermia, dehydration, and other serious injuries.
Do YOU Have a Favorite Glacier National Park Hike?
That said, the Highline hike in Glacier National Park is gorgeous, full of wildlife like mountain goats, big horn sheep, and marmots, and typically devoid of grizzly bears (if you're terrified of running into a grizzly, this is one of the best Glacier National Park hikes for you).
About The Highline Hiking Trail
Length: 7.6 miles
Trailhead: Logan Pass
Popularity: High–you won't escape the crowds here
Weather: Very windy
Availability of Water: Streams are in the beginning, pass Granite Park Chalet you won't find much water
Max Elevation: 7,440 feet
<hr="50″>
Highline Trail Photographs
Here are the best photographs of the Highline Trail in Glacier National Park. The photo tour begins at Logan Pass and takes you on a detailed tour of one of Glacier National Park's best hiking trails for families.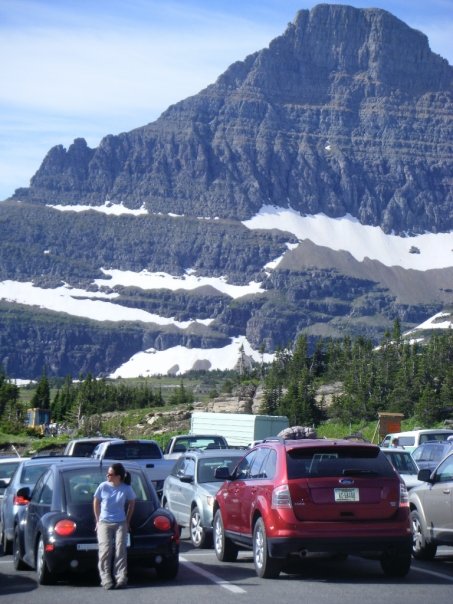 Logan Pass Parking Lot
Either park your car at Logan Pass parking lot or take the hiker shuttle up. The parking lot fills up early, so if you plan to drive get there no later than 8:30.
Also, stock up on water here. There's potable water up the hill from the visitor's center.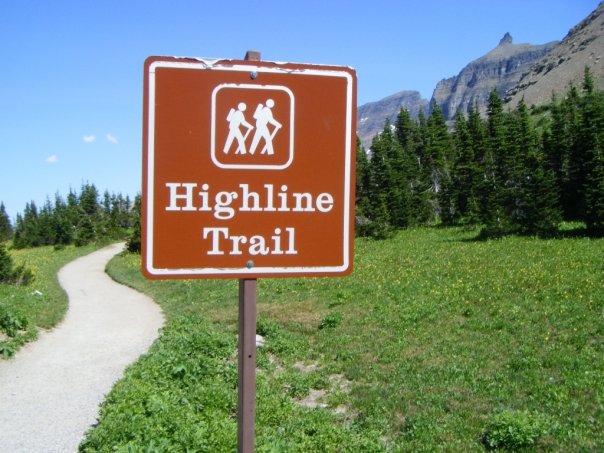 The Beginning of the Highline Trail
Across the street from Logan Pass parking lot is the beginning of Glacier National Park's Highline Trail. Here is the sign welcoming you to one of the best Glacier hikes.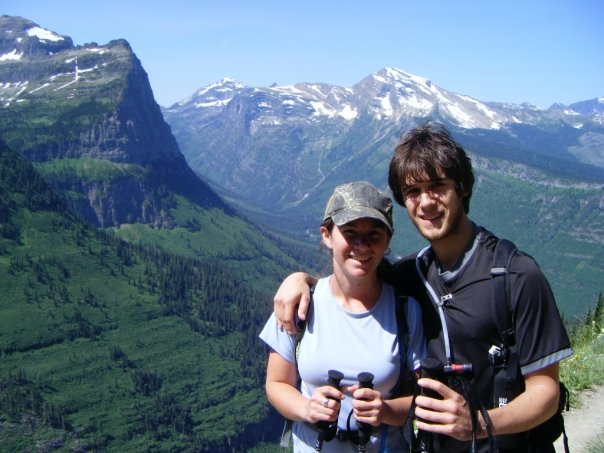 Less than a mile into hiking the Highline Trail
Glacier National Park visitors know about this trail before coming and so it gets very crowded. Luckily, that means plenty of people to take pictures for you while hiking along.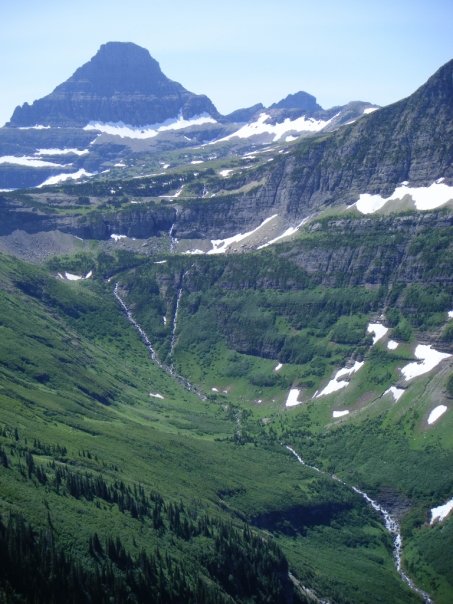 Along the Highline Trial in Glacier National Park
The views are gorgeous at every turn!
The mountain in the distance is Mt. Reynolds, the same mountain towering over the parking lot at Logan Pass (see two pictures up).
This photo was taken about two miles into the hike.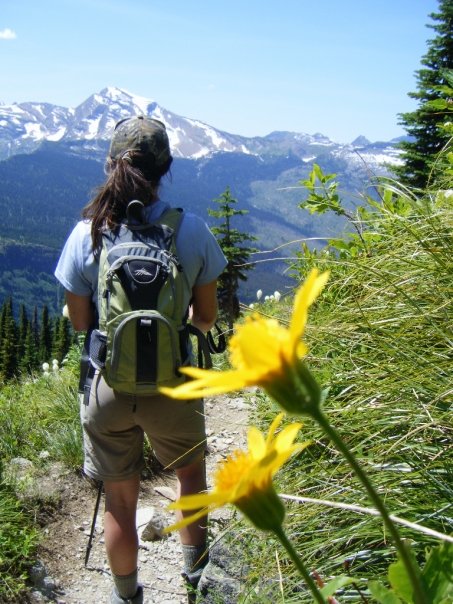 Yellow wildflowers along the trail
Wildflowers are abundant throughout the hike. They make for a great foreground in any Glacier National Park picture.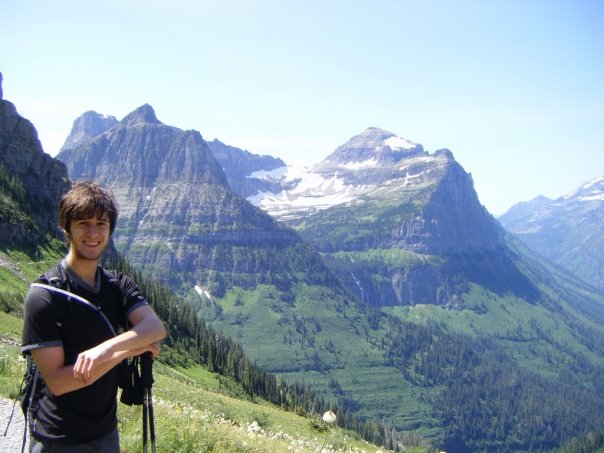 Posing with hiking poles on Highline Trail
Allyson thought it was about time that she took a photo of me. This is nearing the mountain pass you climb on the Highline Trail.
Boy, were we glad to have purchased hiking poles before coming to Glacier. They made the hikes so much easier, especially the Highline Trail, which had some pretty steep drop offs and boulders to navigate over.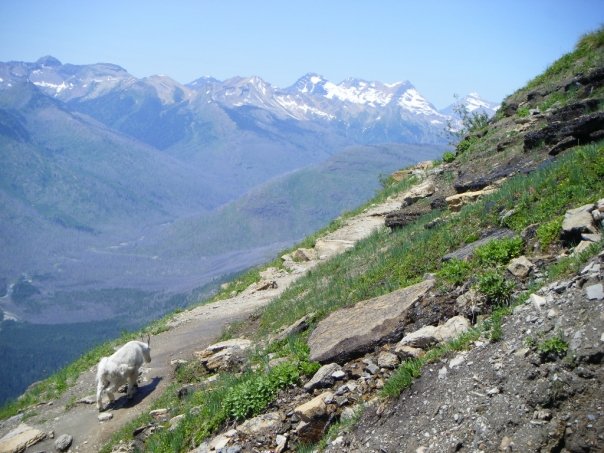 Images of Mountain Goats
Mountain goats are everywhere along the Highline in Glacier National Park. If you hope to take mountain goat pics, this is the Glacier hike to do!
Of all the images of mountain goats that I've taken, this ranks as #1. It was taken before approaching ranite Park Chalet. This ol' fella blocked our path for a good amount of time and severely limited our speed. Oh, well. Too bad we didn't have anything pretty to look at.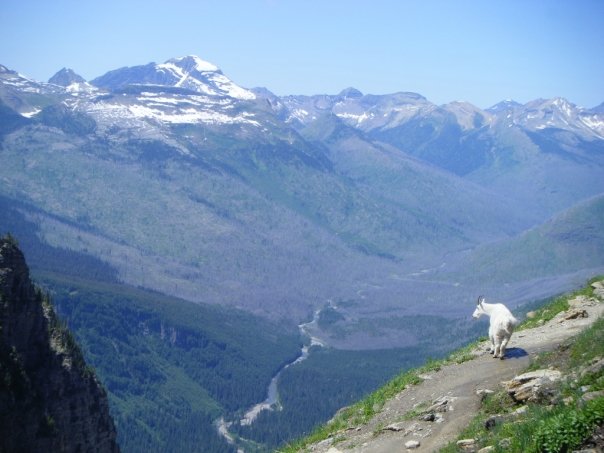 Mountain Goat pauses for picture
He really wasn't in a rush. Guess he hated the view as much as we did 😉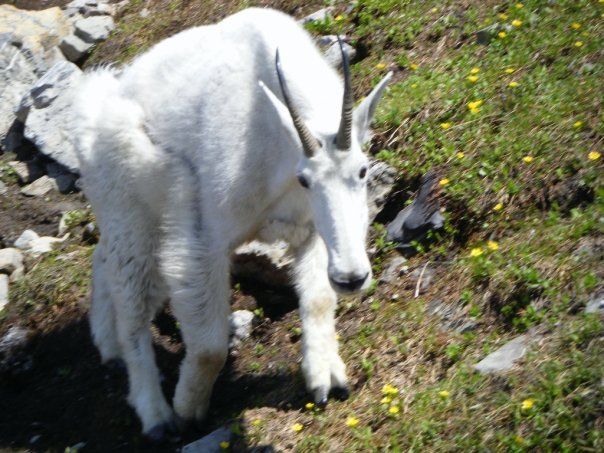 Got too close for this mountain goat photo
Even though nobody's ever been gored by a mountain goat, it doesn't mean these creatures aren't dangerous if provoked.
We definitely got too close for comfort when taking this mountain goat photo.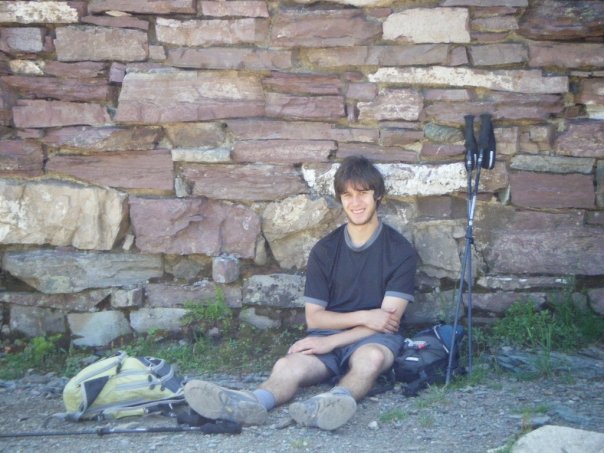 Resting at Granite Park Chalet
About 2/3 of the way through is Granite Park Chalet. Some visitors choose to spend an evening at the Chalet, which must be an amazing experience.
Being broke, my girlfriend and I were never able to do this–but it does make a nice backrest after a few miles of hiking.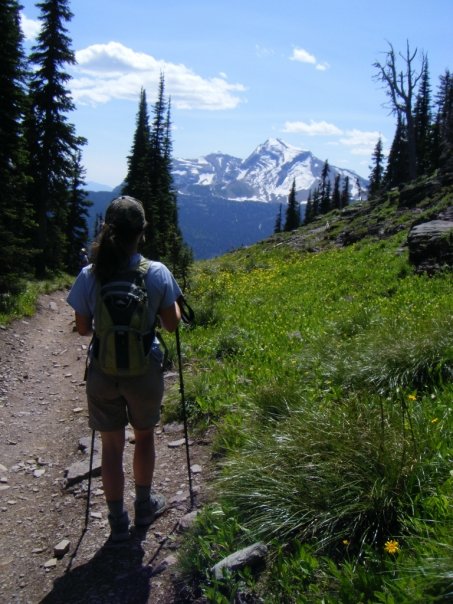 Perfect views of Heaven's Peak along Highline Trail
After Granite Park Chalet, hikers are afforded amazing views of Heaven's Peak. If this mountain doesn't take your breath away, then I don't know what will!
After you lose sight of Heaven's Peak, hikers descend into a valley and approach Going to the Sun Road. This used to be a heavily forested area, but fires burnt the vegetation away.
For the entire section of the hike, you stare at dead trees. Making matters worse, without leaves the trees provide no shade. Not an enjoyable section of The Highline Trail, but not something that should discourage you from hiking it.
Do YOU Have a Favorite Glacier National Park Hike?
Additional Glacier National Park Pictures and Photos
Glacier National Park Photos – Return back to the 10 best photos of Glacier National Park
Return home from
The Highline Trail to Glacier National Park, Montana Guide