Appropriate hiking clothes are necessary for your comfort and protection in the rapidly changing weather patterns of Glacier and the rest of the Rocky Mountains.
Failure to dress and pack appropriately for your adventure can result in illness and grumpiness that can ruin a camping or backpacking vacation.
Many brands claim to have the best hiking clothing, but all their tags restate the same, generic material worded differently.
Before purchasing hiking clothes, you need to know what material to look for, the ratio of materials and find a hiking shirt or pants best suited to your needs and budget.
Why You Need a Hiking Shirt
Having a quality hiking shirt is the most important piece of clothing for hiking and backpacking. Everything else (pants & shorts, zippered thermals etc.) is just a luxury.
The reasoning is simple:
While hiking, you sweat–primarily on your chest, back and underarms
If temperatures drop and you are covered in sweat or your shirt is sopping wet from absorbing sweat, you can easily develop hypothermia
A quality hiking shirt diverts the sweat, keeping you dry and comfortable
The bottom line is that without a quick drying, sweat absorbing hiking shirt you are compromising your health and safety.
Hiking Clothes – What To Look For
There are so many brands on the market, each claiming to be the best. For this reason, you need to learn about the materials and what to look for in order to meet your hiking and backpacking demands. Here is what to look for when purchasing hiking clothes: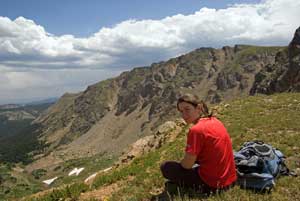 Allyson atop a Colorado mountain pass in quality, hiking clothing
Material – 100% polyster is the lightest, best material for hiking clothing
Moisture Wicking – Diverts perspiration from your skin to the shirt, which is fast drying for ultimate comfort
Fit – Purchase a close fitting shirt to promote moisture wicking efficiency
UV Protection – Hiking at high altitudes means you're closer to the sun, so you need a shirt that provides adequate protection from ultra-violet rays
A shirt that provides all this and more is the Mountain Hardwear Wicked T
.
In my opinion, it is the best hiking shirt on the market and priced to meet the most modest of budgets. I personally own this shirt and will never wear any other shirt regardless of the hike duration.
Learn more about the Mountain Hardwear Wicked T
Discount Outdoor Clothing
Since hiking and backpacking clothes need to meet greater demands, they are priced higher. However, this doesn't mean you should wear cotton and avoid investing an extra 20-30 bucks.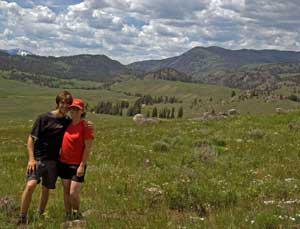 Allyson & I in Yellowstone sporting discount, hiking clothes
There are options for finding discount outdoor clothing & apparel–you just need to know where to look:
Outlet Stores – You can find sick deals online for discount outdoor clothing.
One-Deal-At-A-Time Websites – My favorite of these is Steep & Cheap, which offers quality outdoor apparel for insanely cheap prices
Bizrate – Bizrate compares prices of from across the web so you know you are getting the best deal possible.
Craigslist – If you live in outdoor towns, like my home, Boulder, CO, you can find great deals on used outdoor equipment
More Backpacking Equipment Information
Return home to Backpacking Equipment
If you're interested in hiking clothing, then check out this page on convertible hiking shorts. I love being able to change from pants to shorts in a heartbeat!
Return back to
Glacier National Park Travel Guide