The Katadyn Expedition water filter pumps out enough water to quench an army's thirst.
Learn why this is the best Katadyn base camp water filter.
Katadyn Expedition Water Filter Overview
Okay, let's get this out of the way right now, the Katadyn Expedition water filter is not for the solo, duo, or even family hiking trip.
This is a beast of a water filter that is mostly used by the government, the military, and a lot of humanitarian relief organizations.
If you are looking for a portable water filter to use on your vacation to Glacier National Park, Yosemite, or Rainier, then check out these other Katadyn Water Filters
If you are looking, however, for a water filter that can spout super clean water faster than a broken fire hydrant for a group of dozens, then you need to get a Katadyn Expedition water filter
right now!
Seriously, this machine is beautiful.
(If I had the money, I might even consider keeping one at my apartment to use for all my hydro needs, just because it is that cool.)
Okay, now we got that out of the way, I have to assume that you are either in the market to pick up something like this Katadyn base camp water filter for your little army…
…or…
…you want to know what has got me so excited about a nearly $2,000 water filter that I could never own even in my wildest (and richest) dreams.
Either way, listen to this:
Why Everyone Should Want this Katadyn Base Camp Water Filter
This little guy (which, at 12 pounds, isn't so little at all) is a hard worker.
You can pump up to one gallon a minute with this Katadyn water filter. That's awesome. And awe-inspiring.
Also, depending on the quality of the water you are pumping (you know, assuming you aren't trying to decontaminate toxic sludge or raw sewage), you can pump up to 26,000 gallons of water before having to replace anything.
Do you mind if I say that again?
26,000 gallons of water can be treated before buying a replacement filter.
Wow.
Bear in mind again, this isn't for the individual hiker. This is a base camp filter designed for those that need to hydrate a very large group of people. In which case 26,000 gallons might not be quite as much as I'm gaping over, but still…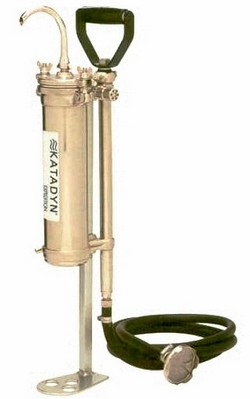 The Katadyn Guide Water Filter
The Katadyn Guide makes 200 gallons, while the Expedition makes 26,000.
It also effectively treats water of all this terrible bacteria, disease and other gunk:
Bacteria
Protozoa
Cysts
Parasites
Algae
Pollen
Fungi
Asbestos fibers
Nuclear explosion debris
Invisible dust particles
Large suspended particles
Sediment
Did you catch the part about the nuclear explosion debris? How cool is that?
Okay, the Expedition water filter
isn't for everyone, I think we've already established that.
And this Katadyn base camp water filter costs just under$2,000. So the chances of you or I picking one of these guys up is slim to none (with scale falling heavily toward none).
But…
If I needed a filter of this design and capacity, I would pick up the Katadyn Expedition water filter in a heartbeat.
Maybe even half a heartbeat.
Katadyn Expedition Water Filter: The Sweet Specs
Just take a look at these righteous specifications:
One gallon per minute output
Service life up to 26,000 gallons
Weight: 12 pounds
Height: 23″
Comes with carrying case
Silver-impregnated ceramic element filter
Field-cleanable 0.2 micron depth
Intake hose length: 79″
Lifetime warranty
It's enough to make you want to start your own army or relief organization, isn't it?
Return from Katadyn Expedition Water Filter to Katadyn Water Filter Reviews
Return from Portable Water Filters to Glacier National Park Hiking