About Mount Brown Lookout Trail
Trail Highlights – Mind-blowing views, plentiful wildlife, cascading waterfalls.
Roundtrip Length – 10.1 miles
Elevation Gain – 4,250 feet
Peak Elevation – 7,487 feet
Parking Lot — Yes
Difficulty – Strenuous
Region – Lake McDonald
Availability of Water – No
As you can see by the elevation gain on the hike to Mount Brown Lookout (bottom of the article), it's not for the faint of heart or weak of leg. It's an uphill trek pretty much from the get-go all the way to the top, at which point your labor is rewarded with one of the most mind-blowing panoramas in the park – or anywhere for that matter.
But be forewarned: If you don't have the endurance to make it to the top, you won't be rewarded at all. The entire trek up is heavily forested, making for zero views until the summit. But boy, oh boy, is that summit somethin' special.
Hiking to Mount Brown Lookout
The hike starts at the Sperry Chalet Trailhead across the street from the Lake McDonald Lodge on Going-to-the-Sun-Road. After a very brief spell, you'll pass the horse path, at which point the trail morphs into the Gunsight Pass Trail.
This is where the trail begins to climb as you trek through old growth cedar, hemlock, spruce and fir as you continue to ascend. This is a heavily travelled trail, both on horseback and foot, so be prepared to share it with other.
At 1.6 miles into the hike, you'll reach the Mt. Brown Trail junction, at which point you'll have gained almost 1,000 feet in elevation. This is where you take a left onto the Mt. Brown Trail and begin climbing steeply, gaining another 900 or so feet in elevation over the next .75 miles. No wonder your legs are complaining! Don't despair, this is the steepest part of the hike.
At this point, you likely won't encounter many other hikers. Everyone else has either continued on toward Sperry Chalet or turned around. At this point, it's just you and the other brave souls.
At 2.5 miles from the trailhead, you'll begin passing through thick stands of huckleberry bushes. This is prime grizzly bear habitat, especially in July and August when the bears are feeding on ripe berries. Make lots of noise to warn the bears of your approach. Remember, a surprised bear is often an angry bear, so you want to give them lots of time to move out of your way. Always carry bear spray, just in case you come in close contact.
You'll continue to climb and the tree cover will begin to thin out, giving you some nice vistas at this point. At 3.9 miles, you'll reach a bend and get the first truly eye-popping views of the day, with Lake McDonald, Fish Lake and a panorama of mountains laid out in the distance.
At roughly 4.2 miles you'll get another nice panorama to the north, with a great view of Heaven's Peak and Mt. Brown. Another .5 miles of uphill trek and you'll reach a ridge, at which point the trail levels out until you get to the tower about .25 miles away. It's perched on a rocky ledge on the southwest ridge of Mt. Brown, with the summit rising another 1,000 feet above you.
Now, I know I rushed through these last 1.5 miles, but trust me: This hike is anything but easy. It is 5 miles, straight up hill, at the most intense gradient of any hike I've ever done, from Colorado to Montana to California to Switzerland. It's tough.
From this lofty spot, you're treated to awesome panoramic vistas of glittering Lake McDonald in the valley below, Sperry Glacier to the east and Heaven's Peak, Mount Vaught and McPartland Mountain to the north.
My Experiences Hiking Mt. Brown Lookout
When I worked in Glacier, I worked at Jammer Joe's. So everyday I'd walk to work and see Mount Brown presiding over my place of employment. It didn't look as intimidating from the lower elevations. Just another forested mountain. In fact, pretty dull compared to the jagged mountain tops that guard Lake McDonald.
I tried hiking Mount Brown twice. The first time weather deterred my hiking partner and I. The second, I made it up just in time to hide out under the lookout tower and hunker down as a storm passed over. It allowed me to take breathtaking photos of storm clouds rolling in over Lake McDonald.
On that trip, I actually hiked it all by myself and brought a can of Moose Drool Brown Ale with me to drink at the summit. Man, was that rewarding!
Also at the summit was a mountain goat that calls the summit his home. He's accustomed to humans fawning over him and even poses for photos. Still, remember that mountain goats are wild animals and all wildlife (especially Glacier's wildlife) needs to be respected.
Even though mountain goats generally don't cause any harm, if they are with their young, they can be very aggressive and intimidating.
All in all, I loved my hike up Mount Brown. But I wouldn't do it again. Why, you ask? Simple — It is one helluva tough climb. And now that I'm almost a decade older, I don't think my knees could stand it!
Mount Brown Lookout Trail Elevation Profile & Photos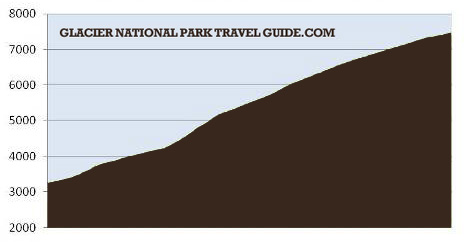 Mount Brown Lookout Elevation Profile
Additional Glacier National Park Hiking Info
Check out other Glacier National Park hiking trails, or head back to the hikes in the Lake McDonald Lodge area.
Return home to
Glacier National Park Travel Guide