It doesn't matter how much you spend on a sleeping bag – If you camp without a sleeping bag pad, you risk a night of unpleasantness and ruining your vacation by getting sick as the ground sucks away your body heat.
You can clear the best campsite, but without a mattress between you and the ground, your body will lose heat through the night and you are likely to catch a cold.
But who wants to spend an hour clearing a campsite anyway?
With a sleeping bag pad, you do not need to worry about rocks or sticks poking through and grinding against your back as you desperately try regaining energy for the next day's adventures.
For ultralight backpackers who worry over every ounce, technological advances have made sleeping bag pads lightweight and durable. What's more is that it will keep your down sleeping bag from getting wet through the night and ruining its usefulness.
Advantages of Sleeping Bag Pads
Here is the straight up, honest truth: no serious camper or backpacker plans a vacation without a sleeping mattress in their arsenal of backpacking equipment.
Getting sick is just not worth it.
And there are numerous ways you can get sick without a mattress below you:
Loss of body heat – Even camping in the desert requires a pad as the ground gets cold through the night and sucks your body heat
Bad night sleep – A pad provides an extra layer between your body and any objects on the ground, such as rocks and sticks, allowing you a decent night's sleep
Sleeping bag gets wet – Down sleeping bags become useless when wet – a sleeping bag mattress between your bag and the ground prevents your sleeping bag from getting wet through the night
Thermarest Mattress Pads
Unquestionably, Thermarest constructs the best sleeping bag pads on the market. They offer consumers an array of options to best meet their needs: from ultralight mattress pads to heavier ones designed for front country camping that provide ultimate comfort.
Below are recommendations for the best Thermarest mattress pads available for every type of outdoor use.
Thermarest Prolite Plus
The Therm-a-Rest ProLite Plus
offers hikers and backpackers unrivaled freedom in nature. Using patented technology, this Thermarest pad compacts into nearly-nothing and weighs a mere 16 ounces.
No other sleeping bag pad allows you to trek faster and further.
Advantages of the Thermarest ProLite Plus include: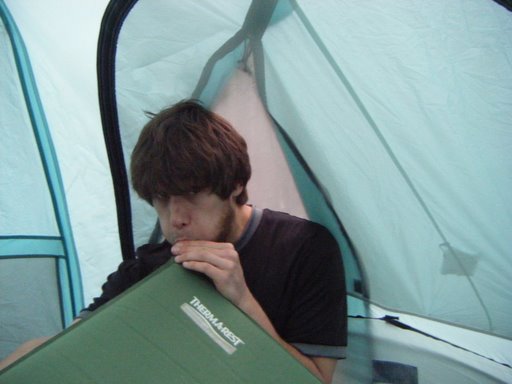 Blowing up my thermarest prolite mattress pad
Ultralight – Thermarest has incorporated innovative, new material to reduce this mattress pad's weight by 25%
Compact – A tapered, ergonomic design allows you to roll this baby up into a tiny ball
Nonslip – The bottom is equipped with grip-dots to keep it snug and secure beneath you while slumbering
Year-round Use – This Thermarest mattress pad is usable through 4 seasons
Lifetime warranty – Don't be afraid to get dirty with this, as Thermarest provides a lifetime warranty
Learn more about the Therm-a-Rest ProLite Plus
---
Thermarest Trail Pro
One of the most versatile Thermarest mattress pads is the Therm-a-Rest Trail Pro

. Designed to be both lightweight, rugged, and durable, this is the perfect sleeping bag pad for outdoor enthusiasts who enjoy mild backpacking trips and frontcountry camping.
Advantages of the Thermarest Trail Pro include:
Lightweight – This Thermarest pad weighs in at a mere 2 pounds
Thickness – Don't worry about comfort – at 2 inches thick, you have all the protection needed
Puncture Resistant – Using a Toughskin design makes this air mattress sleeping bag pad resistant to all sharp objects that may puncture it
Learn more about the Therm-a-Rest Trail Pro
---
Therm-a-Rest Luxury Map Sleeping Pad
For those that enjoy returning to a frontcountry campsite after an afternoon of day hikes, no sleeping bag pad is better than the
Advantages of the Thermarest Luxury Map Sleeping Pad include:
Durability – This Thermarest mattress pad is thick and durable to withstand any external pressures
Lifetime Warranty – Don't worry if the kids beat it up – if it gets punctured, get a new one for free!
Comfort, Comfort, Comfort – Therm-a-Rest explicitly states that this is for campers who want to sleep in total comfort. Buy this, and you'll never crave a hotel bed when in the woods
Learn more about the Therm-a-Rest Luxury Map Sleeping Pad
More Sleeping Bag Information
Best Sleeping Bag: Don't let cold weather or wet nights ruin your vacation — learn how to pick the Best Sleeping Bag for you
Return back to
Glacier National Park Travel Guide