Determining the best sleeping bag for your Montana vacation is key to your happiness.
While it's possible to find bargain, discounted sleeping bags, if you purchase a cheap sleeping bag from Wal-mart, you're guaranteed nights of cold and misery.
Don't fail to invest in a quality sleeping bag or you risk compromising your entire vacation, as a quality night of sleep is essential to enjoying everything Glacier National Park has to offer.
Updated With the Latest & Greatest on June, 2013
What constitutes the best sleeping bag for your family vacation depends on what kind of activities you are going to partake in:
Planning to camp in the front country everynight? A basic, cold weather sleeping bag will suffice
Is It Best to Buy a Down or Synthetic Sleeping Bag?
The most important choice you make in purchasing a sleeping bag is its material. You have two options: Down or Synthetic. Each offers advantages and has its downsides.
The benefits of a down sleeping bag are: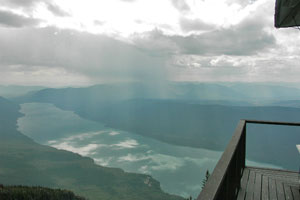 Montana weather can be unpredictable–even front country camping requires a sleeping bag with a 32 degree temperature rating
Being compact, lightweight and warm, makes a down sleeping bag an indispensable piece of backpacking equipment
However, if it gets wet, you're in trouble. The down material absorbs water and it's difficult for it to dry.
While Montana's weather in areas around Lake McDonald Lodge and Bowman Lake can be similar to rainforest conditions and downpour in the afternoon, Many Glacier Lodge and Two Medicine offer drier climates (and better backpacking trails).
If you're planning for leisurely front-country camping, a synthetic material bag is the way to go. The benefits of a synthetic sleeping bag are:
It's cheaper
Your sleeping bag won't be useless if it gets wet
While synthetically insulated sleeping bags are heavier than down, they're the less expensive option for front country camping. Also, being less expensive and the ability to stay dry makes synthetic sleeping bags a perfect option for your kid's sleeping bag.
Best Overall Sleeping Bag
Rocky Mountain weather is bi-polar and you need to be prepared for winter conditions in summer. While compact sleeping bags that can endure winter conditions are necessary, you also need a sleeping pad to preserve your body heat. Without a sleeping pad, the ground will just absorb your body heat.
I think the best, all-around sleeping bag for any activity in the Rockies is the GoLite Z Series
.
It's a 10 degree down sleeping bag that has a custom, mummy designed shape that provides more wiggle room than a typical mummy sleeping bag. And with 850 goose-down fill, you are bound to stay warm through those cold nights.
It's ideal for front country camping and as a backpacking sleeping bag.
Compare Prices
Update as of June, 2013 – The GoLite Z-Series is only available to purchase at GoLite.com. Due to its immense popularity, it's got a very long wait and backorder time. If you're interested in buying the best sleeping bag out there, I'd recommend hopping over to GoLite and getting on their waiting list (typically 1-2 months long).
Don't want to wait that long? I don't blame you! Here are my picks on the best down and best synthetic sleeping bags!
RELATED: Check Out How the GoLite Z Compares Against Outside Magazine's Favorite 2013 Sleeping Bag 
Best Down Sleeping Bag – The Nemo Nocturne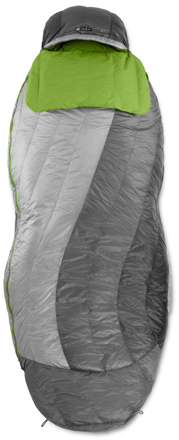 As far as I'm concerned, Nemo is revolutionizing the sleeping bag manufacturing business. With the Nocturne, they've upped the ante in terms of comfort, design and warmth.
Say goodbye to the classic Mummy bag: With the Nocturne's spoon shape–wide shoulders, tapered waist and flared knees–you're able to move naturally and comfortably in your sleep. You won't feel like a wrapped and trapped mummy in this sack.
The Nemo Nocturne has so many unbeatable features that there's just no way any other model out there can beat it for top spot in the down category.
With freer nighttime movement (spoon shape), unbelievable comfort (duck down fill) and an amount of water resistance unheard of in this style of sleeping bag, the Nemo Nocturne is the absolute king of down bags.
Select Specs
Shell Material – Ripstop nylon
Lining Material – Nylon
Insulation – 700 fill duck down
Temperature Rating – 15 degrees (F) & 30 degrees (F)
Stuff Size – 14.5″ x 9″ (15F); 13.5″ x 8.5″ (30F)
Weight – 3 lbs, 3 oz (15F); 2 lbs, 2 oz (30F)
Best Features
Obviously the spoon-shape design is a huge advantage for the Nocturne. As is the fluffy-cloud-like comfort of lying atop a 700 fill duck down insulation. But there are more benefits of choosing the Nocturne.
The Nocturne maintains loft in wet weather more than any other down bag out there. This has long been the biggest drawback to choosing down over synthetic, and while this model isn't 100% waterproof by any means, it'll keep you pretty darn dry.
Another awesome feature of the Nemo Nocturne is the bag's Blanket Fold. This little guy is found in the hood and keeps you extra dry when wrapped around your neck by providing protection against sneaky drafts of cold nighttime air.
Worst Qualities
Even though the Nocturne is amazingly water-resistant, it's still a down bag. This means that no matter what kind of nanotechnology Nemo uses, the Nocturne will never be perfectly waterproof. I'd recommend it for drier climates, which is why it's perfect for Rocky Mountain adventures.
It's also not the smallest bag in the world. With a pack size of 14″ by 9″ (with the 15F model), it's going to take up a bit of room in your pack.
And, of course, the price is steep. Like Everest steep. You're looking at dropping around $400 for this bad boy. But, as with any top quality product, the benefits usually make up for every penny. In this case, that's absolutely true.
Where to Buy
I'd recommend snagging the Nocturne at one of these awesome outdoor stores:
Best Synthetic Sleeping Bag – The North Face Cat's Meow

When it comes to outdoor gear, there ain't much out there that can beat The North Face's wares. For example: the Cat's Meow sleeping bag is by far the best, most well-rounded, synthetic sleeping bag on the market.
My word of choice when describing this lightweight sack is cozy. You'll be sleeping tight and sound in any of the 3 seasons the Cat's Meow is designed for.
The Climashield Prism synthetic insulation is light and compressible for easy hauling and keeps you snug as a bug in a rug with its warmth containment.
The North Face no longer has to prove their dominance in the camping gear department–we all know they're one of the bests–but they continue to do so anyway by creating amazing products like the Cat's Meow.
Select Specs
Shell Material – Polyester and nylon
Lining Material – Nylon taffeta
Insulation – Climashield Prism Synthetic
Temperature Rating – 20 degrees (F)
Stuff Size – 17″ x 8″ (Regular); 17″ x 8″ (Regular)
Weight – 2 lbs, 10 oz (Regular); 2 lbs, 12 oz (Long)
Best Features
The super cozy and comfortable Climashield Prism synthetic insulation is a feature that'll make your friends jealous.
Other awesome features of the Cat's Meow include the insulated Heat Trap baffle around the chest, snag-free zippers, pockets at shoulder-level for glasses and other important goodies, and a vaulted footbox that keeps your toesies warm and comfy.
The best feature of The North Face Cat's Meow though is its unbeatable price. How much would you expect to pay for such an incredible bag? I bet you're thinking of a number much higher than $189… And if so, you'd be wrong.
Worst Qualities
The insulation is fantastic, but it'll never be as comfy as a down bag.
Unlike the spoon-shape design of the Nemo Nocturne, the Cat's Meow doesn't flare out around the knees. It's a fairly constrictive mummy-wrap for your legs in this bag.
It's a pretty big bag, too. While the weight isn't a concern (just a little over 2 pounds), the dimensions of the stuff size are much bigger than competing models.
Where to Buy
I'd recommend buying the Cat's Meow from one of these retailers:
More Sleeping Bag Information
Top 5 Sleeping Bags: Sleeping Bag Reviews of the best sleeping bag models.
Store it right: Proper sleeping bag storage is vital to ensuring the longevity of your newly purchased sleeping bag.
Backpacking Sleeping Bags: For overnight wilderness adventures, you need an Ultralight Sleeping Bag
Kid Sleeping Bags: Don't have your child get sick in a hand-me-down sleeping bag. Reviews of the best youth sleeping bags and why your boy or girl needs one.
Stay healthy: Even with the best sleeping bag separating you from the ground, you still need additional protection to guarantee your health. Get it with a sleeping bag pad
Discount Sleeping Bags: Learn tips and secrets for finding a cheap sleeping bag on the internet.
Sleep next to a warm body: If you plan to only car camp, consider purchasing double sleeping bags.
Compress Your Sleeping Bag: The best way to save room and cut down on weight in your backpack is with compact sleeping bags
Taking Your Dog: Interested in taking your dog camping? Read my advice on hiking with your dog and find a dog sleeping bag to keep your canine warm.
Return back to
best sleeping bag guide to Glacier National Park Travel Guide