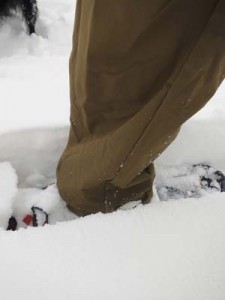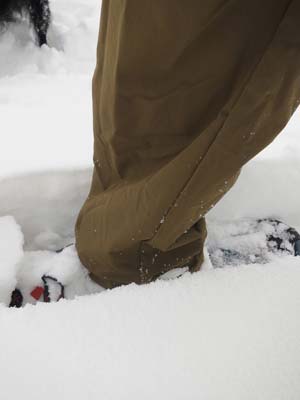 Over the last 3 weeks, I've hiked over 30 miles in the Stio Men's Crester Pants, an all-purpose softshell pants designed for epic outdoor adventures.
Living in Colorado, 3 weeks in April can mean a blizzard, torrential downpours, 80 degree days, and wind gusts of 30-50 miles per hour.
And I had the pleasure of all of the above as my testing environment for these hiking pants (although to call them hiking pants is a disservice to all they actually are… more on that later).
Disclaimer: Stio
was kind enough to send me a pair of Crester pants to review. The pants are not mine to keep and I'm sending them back to Stio after I finish writing this review. In no way whatsoever did their donation influence this review. Everything written below is my honest assessment of these pants and the review would have been the same had I purchased it myself.
Making the most epic piece of outdoor gear, whether it's clothing, a tent, backpack or bear repellent, is a tall order.
Imagine: thousands of outdoorsmen and women, all with unique needs, all prefer a specific sport in the outdoors. Some are kayakers. Others backpackers. Some are skiers and others teleskiers and some are split boarders. How on Earth do you develop a product?
Some outdoor companies tend to go narrow and niche, developing the most epic, ultralight backpack for hiking the PCT (like the ultralight backpacks listed here).
Others try to combine the best of all worlds, like creating a wood burning backpacking stove that uses the heat to generate power to a solar panel so you can charge your electronics (like the BioLite Wood Burning CampStove).
Then you have Stio. And their Crester Pants.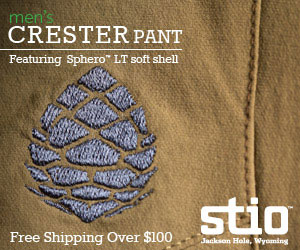 Table of Contents
My Stio Men's Crester Pants Review
With the Crester, Stio decided to design the best, all-around outdoor pants for anyone, in any sport. And, I gotta admit: I think they did it.
These are all-purpose, soft shell pants that uses Stio's proprietary fabric that, in their words, '… is super durable, wicks moisture, dries quickly and needs little maintenance…'.
While I can't attest to the durability or maintenance, I can say that they wicked away blizzard condition snow, kept me cool on a 10 mile jog and weren't even damp after hiking 3 miles in a blizzard.
Stio even encourages you to use them while rock climbing, backpacking, hiking or kayaking (or some other boating sport). They understand that they created the best pair of outdoor pants out there. A pair of pants for the multi-talented. For the outdoorsmen and women who, with a backpack full of climbing gear, ride their bike to the trailhead, hike 5 miles in and then lead climb a 5.10.
Considering they live in Jackson Hole, they must be pretty epic. And they designed their gear to be the same.
OK. Let's get down to business.
Features
Ultra Stretchy Fabric
Stio uses a proprietary fabric on these pants that gives them an unbelievable amount of stretchiness. Really, this picture can't even due it justice.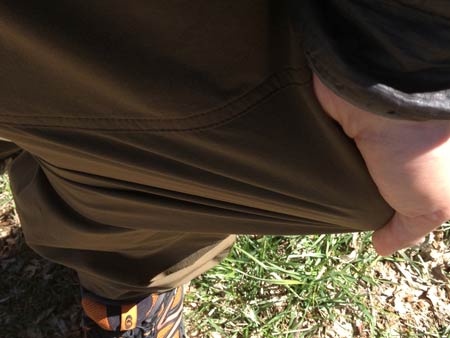 Ultra Mesh Pockets
These pants use mesh pockets that are feather light. Seriously. I bet if you cut them out and put them on a scale with a feather, the feather would be heavier. Apparently  they also drain water really well. While I used them in a blizzard, I never jumped into a river with them. Too cold to test that theory out.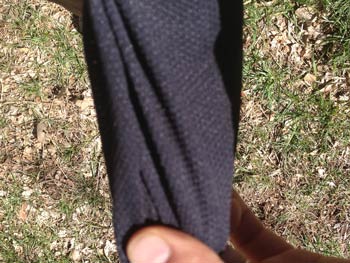 Double Snap Buttons and Elastic Band
One thing I absolutely hate about the hiking pants I've used is how crappy the button is. There have been so many occasions where I've been hiking and the button has snapped out.
I'm sure a lot of you out there are saying that I should lay off the Nachos, but I think equal blame needs to be placed on the buttons. After testing out tens of thousands of dollars worth of gear, it's clear that many manufacturers skimp on areas that people rarely notice when purchasing. Like buttons.
With the Crester pants, Stio once again went in the opposite direction and are using two buttons: One interior button that you thread and one snap button. Both feel of very high quality (for a button). I never once had the pants unbutton on me in the 30+ miles I used them.
These pants also use an elastic band around the waist that will probably grow well with, umm, you… as you age. And enjoy more ice cream.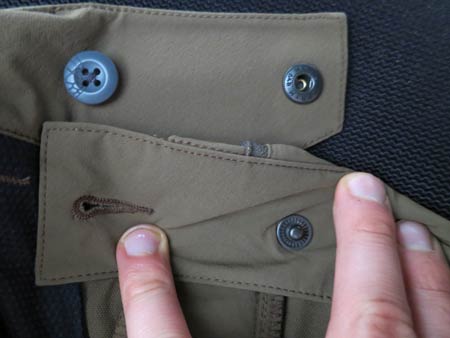 Water Resistant Zippers
Now, I'm not 100% sure about the logic behind this. There is a flap that closes over the back pocket zippers. I believe it's to reduce the risk of moisture entering your pockets.
At first, I found it aggravating. I had a more difficult time accessing my wallet and anything else I put in there. After a week, I didn't even notice it. Is it necessary? Does it provide any function besides stylistic? I don't know. But it does look stylish.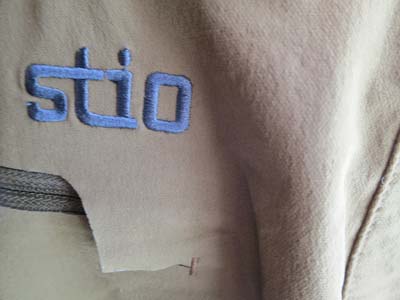 Conditions I Tested Them In
Running in 50 Degree Weather
The first time I wore the Stio Crester pants, I decided to go for a 10 mile run with my dog. The conditions over the first few miles was pleasant enough. Felt like a perfect Spring day in Colorado.
Well, halfway through our run the weather changed. Just like Glacier's weather, the weather in Colorado can change on a dime. We started getting gusts of 30+ MPH winds. Took my breath away and nearly knocked me over a few times.
We sorta sissied out on the rest of the run.
BUT — Here's the good thing: These pants were champs. I wasn't wearing a baselayer. Just these guys. And I wasn't cold at all. Didn't feel the wind gnawing at my legs. In fact, I was kinda warm. And considering I had built up a sweat from my run already, these pants must have done a great job wicking away the moisture. If not, I would have frozen like a popsicle.

Snowshoeing Through a Blizzard
Out of nowhere, Colorado got dumped on. Over 2 days, we got close to 3 feet of snow. It was epic. And perfect conditions to test out epic pants.
Here's a photo of Lennon, our dog, to give you an idea of how the snow was falling: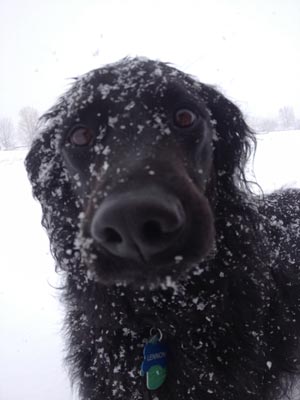 Needless to say, it was dumping.
And once again, these pants held up like champs.
We snowshoed through a wide open field nearby our house. Winds howled. Snow mixed with freezing rain and bit at my face. At one point, my dog stopped running around and would only follow in my footsteps.
And how were my legs? Perfect. Really, truly perfect.
They were warm. I had plenty of mobility to lift my leg and snowshoe and lumber on to the next step. And when I got home, they were barely wet.
That's what I found most impressive: It was as if I was never outside. My snow pants that I ski in would be more wet than these pants were in those conditions. It was amazing and caught me by surprise.
Here are some photos of me using the Stio Crester soft shell pants through a blizzard: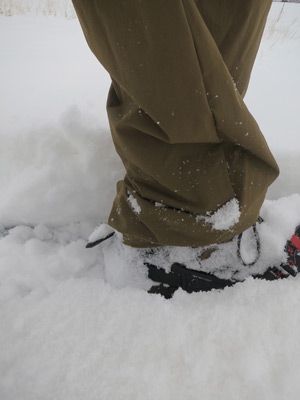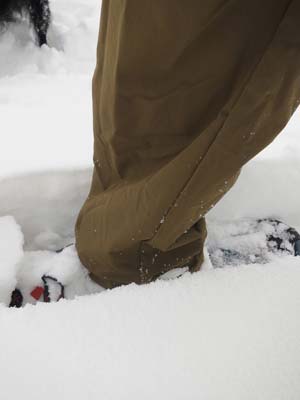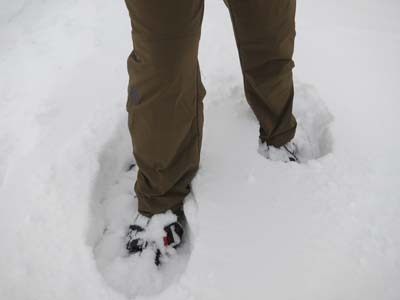 Mild Day Hike
After putting these pants to the test in a blizzard and on a 10 mile run, the mild day hike was pretty mild. They held up as I expected them to: totally fine.
But really, any pair of pants would have been fine. I would have loved to try these out on a backpacking trip in the summer, but alas, no such luck.
Final Thoughts on the Stio Crester Soft Shell Pants
Love 'em. Absolutely, hands down love these pants.
However, there are a few things I'm not sold on.
First, the sizing is odd. I ordered the right size and the pants came down very low on my shoes. It actually scared me to run in them at first as I thought the pants were going to snag below my shoe and potentially trip me (learn my standards for picking the best hiking shoes).
That photo doesn't really do the sizing issue justice.
Initially I thought it was just because I have a strange body type. But then I went to their site and I noticed that in the male model photo, the pants go all the way down to the bottom of his ankle, too. And he's in hiking sandals (learn more about my tips on buying hiking sandals).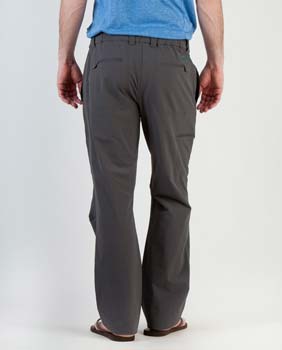 I find that odd. Really odd.
I should note that they fit totally fine with my hiking boots. But these are supposed to be all-purpose pants. And the sizing issue makes me question how all-purpose they can be. Again, I didn't have any issues. I was just concerned.
The other issue I have is another issue of design: These are not convertible into shorts. WHY? Why, oh why, oh why, Stio, did you design the best outdoor pants I've ever used, but failed to give me the option to convert them into shorts?
I could never go backpacking without wearing a pair of convertible hiking pants (Learn more about how I buy hiking pants and shorts).
Is it a deal breaker? No. The other features are too phenomenal. But I would have loved the option to convert these pants into shorts in a flash. Unfortunately, the only way to do that is with a knife.
The final issue: Price. At $109, these are not cheap. Then again, no good outdoor clothing is cheap. But 109 bucks for a pair of soft shell, multi-purpose outdoor pants? Eek. Hard to swallow.
Should You Buy?
If you are an epic Weekend Warrior that is out hiking, climbing, running, skiing, cycling, backpacking etc. every single weekend, then yes, I'd recommend buying them. They will be your go-to pants for 4 seasons, regardless of the weather.
However, if you typically stick to one or two outdoor sports and only do them a handful of times a year, you're better off buying a cheaper pair of hiking pants, like the REI Sahara's. I own them and they do a great job.
Will I buy the Stio Cresters? Probably. And I'll love every minute of them.
Where to Buy:
Hey! Wanna help me out?
Glacier National Park Travel Guide runs off of your support. By following one of my links to REI, Backcountry, Amazon etc. and then purchasing your outdoor gear, I get a small commission.
It doesn't cost you a penny more. But it helps put food on the table for my family and keep this site and the community humming along.
—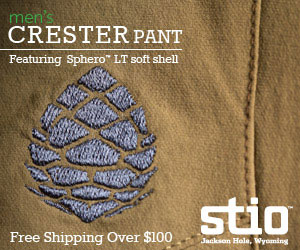 The Stio Crester soft shell pants are only available at Stio.com.
However, if you'd like to support me, you can follow one of my links to these outdoor retailers before purchasing your outdoor gear:
What are your thoughts? Do you have a pair of hiking pants that you love?
Share your thoughts in the comments below!