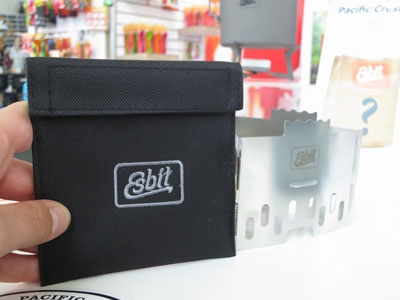 There are so many best things about camping and hiking that it's insane to point a finger at just one of them and say: "That's it!"
But when it comes to ultralight, solid fuel backpacking stoves, Esbit has a firm grasp on the 'best' title. Not that there aren't other worthy models, but from what I saw at Outdoor Retailer's 2013 Show, Esbit far and away blows out the competition.
Esbit has a line of ultra-portable, super easy-to-use camp stoves that will aid in your quest for simple campsite cuisine without cramping your style or taking up too much space in your pack. They can even be used as emergency stoves.
RELATED: Learn More About the Best Backpacking Stoves
If you've never heard of the practical magic of Esbit and their cookware offerings, now's a great time to get acquainted!
The Ins & Outs of Esbit Solid Fuel Stoves
Esbit is an interesting thing. It's an acronym that translates from German into "Erich Schumms Fuel in Tablets" (in German, "fuel" is "Brennstoff", so it really is Esbit and not Esfit). This refers to a solid fuel source shaped like tablets or capsules that can be used to create a fire.
Like Q-tips and Kleenex, the term Esbit is a colloquialism that refers both to a specific brand name and the style of camp stove fuel.
There are lots of pluses and minuses to using Esbit over other fuel sources when you hit the trails.
Pros:
Very lightweight = high portability
Very affordable
Extremely easy to use
Cons:
Not a very strong source of heat
Burns at one heat level, so not much subtlety in cooking
Susceptible to high winds and moisture
In the not-so-distant past–and still sometimes today–many Esbit solid fuel sources were somewhat toxic, with the combustion of chemicals creating formaldehyde, ammonia, nitrogen oxide, and/or hydrogen cyanide.
Fortunately, there are plenty of Esbit products out there (including the ones mentioned below!) that are completely non-toxic, clean-burning options.
RELATED: Learn More About Alcohol Stoves
Most stove mechanisms for Esbit fuel sources (and the Esbit-created products I'm about to introduce you to), take up inches in your pack. That's right. INCHES.
Some fold up into small shapes, while others are made to accommodate small pans, and they're all effortless to cart around.
As mentioned, they only burn at one heat. If you just want to boil water, you're all set. But if you want to boil and simmer, you're out of luck. It's not a very strong heat, either, but for the low price and ultralight weight of carrying them around, that's a worthy sacrifice.
There aren't a huge number of Esbit products out there, but there are at least three worth a closer look.
Esbit Pocket Stove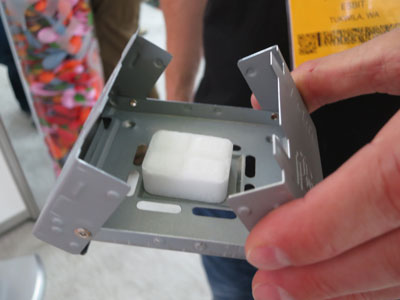 These can serve as either emergency stoves for your car or your backpack, or as your go-to ultralight backpacking stove.
They're already super compact when open and ready for cooking, but when it's time to go, they fold down to an even smaller size, definitely earning their "pocket" name.
RELATED: Watch a Video Review of the Jetboil Flash Cooking System

The Esbit Pocket Stove features a two-position design, letting you use a direct flame for high-heat cooking or an indirect flame for a lower heat setting, though you can't adjust the positions while the fuel is burning.
And check out how compact this backpacking stove is: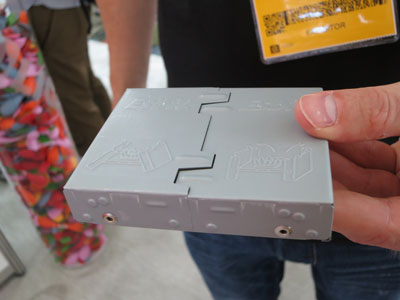 Now do you get why it's called the Esbit POCKET Stove?
This model comes with 6 capsules, super light and easily packable.
Weight — 3.25 oz
Size — 4″ by 3″ by 0.75″
Burn Time — approx. 12 minutes/capsule
Automatic Ignition? — No
Price — $14.95
Where to Buy:
You can buy the Esbit Pocket Stove AND help support us by following one of these links before shopping:
Esbit Titanium Folding Stove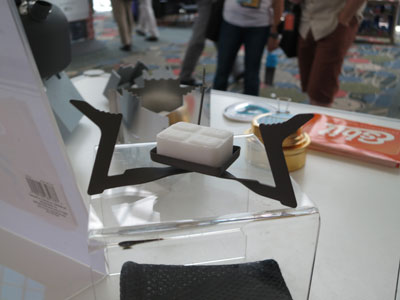 Even simpler and lighter than the Pocket Stove (is that possible??? Yes!), the Esbit Titanium Folding Stove is the perfect cooking apparatus for the packer who not only counts every single ounce, but even gets down to fractions. It's got to be one of the world's smallest, most portable stoves available.
It utilizes the same capsules as the Pocket Stove, so the heat (up to 1,400 degree F) is pretty darn respectable for its size.
RELATED: We Put the MSR Pocket Rocket to the Test!
Unlike the Pocket Stove, though, the Titanium Folding Stove only offers a single positions, so all subtlety in food preparation is out the window. If you're a fan of mac-n-cheese and boiled pre-packaged meals, you're golden. Just leave your gourmet goods at home!
Weight — 0.4 oz (!)
Size — 3.3″ by 1.1″ (when folded)
Burn Time — approx. 12 minutes/capsule
Automatic Ignition? — No
Price — $10.50
Where to Buy:
You can buy the Esbit Titanium Stove at:
Esbit Solid Fuel Stove and Cookset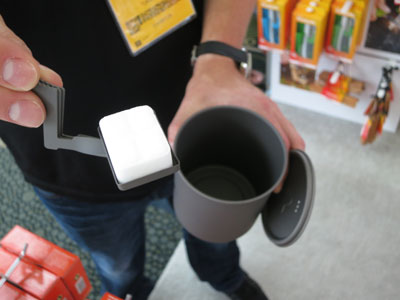 If you don't already have a campsite pot or pan you use to boil water or prepare easy-made meals, then this Esbit Cookset is a great place to start.
The package features an Esbit solid fuel source stove and compatible hard-anodized aluminum pot that fits perfectly atop the flame.
Another great thing about going for the whole cookset, is that it features an integrated windshield around the stove to protect your flame in gusty climes. This takes care of one of the biggest disadvantages of the Esbit stove: its high susceptibility to wind.
The downside is that it's a bit heavier than the previous models–thought that would seem pretty obvious with the addition of a pot. But even with the added ounces, you're still looking at an incredibly lightweight device.
Weight — 7 oz
Size — 4.4″ by 3.4″
Burn Time — approx. 12 minutes/capsule
Automatic Ignition? — No
Price — $29.95
Where to Buy:
Final Thoughts on Esbit Capsule Stoves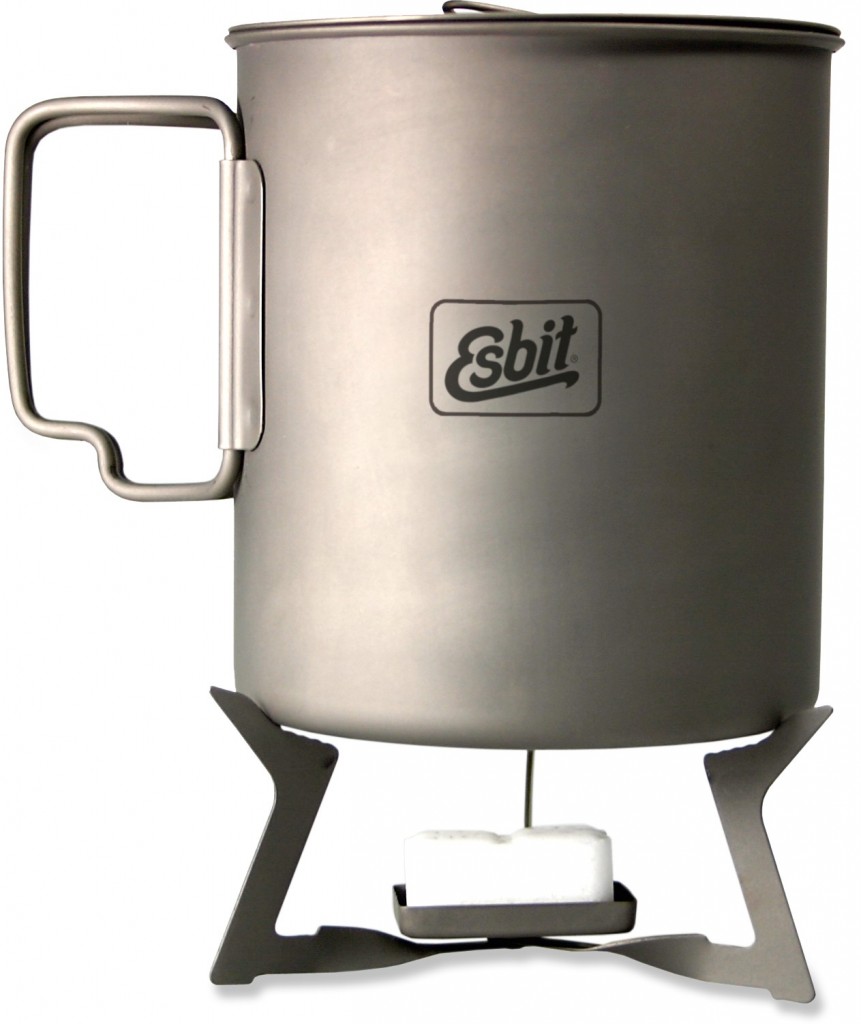 Here's the deal: if you want something super simple, super easy to use, and super lightweight, the Esbit Capsule Stove is just the item for you.
But if you're looking for something with any amount of subtlety or versatility whatsoever, then you just aren't going to find what you're looking for here.
I say, you should get one. Because even if you want something that does more than boil water, it's always a great idea to have an emergency heat source in your car or with your gear when you hit the Rockies.
And for such a low price, buying one can't do anything but potentially help you out. It's a no-brainer.
Where to Buy:
We'd recommend buying an Esbit stove at one of these fantastic outdoor gear stores: