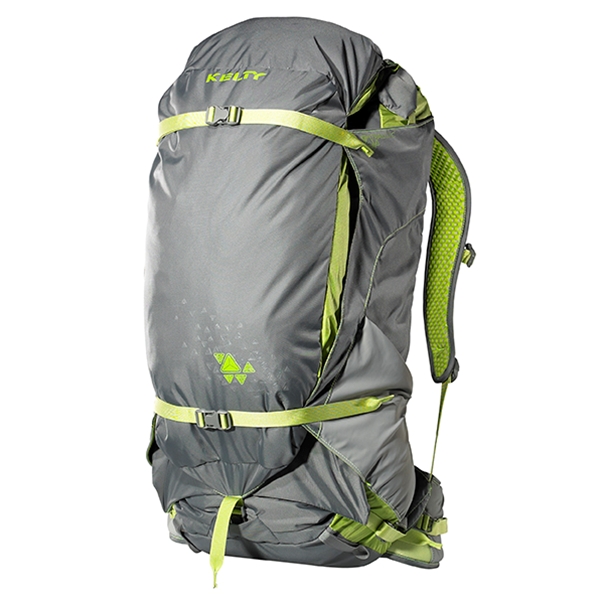 Kelty has announced its new TraiLogic collection of tents, sleeping bags, sleeping pads and backpacks for 2014. And it's definitely worth checking out!
January 2014 UPDATE: REI Now Sells the TraiLogic Series
Kelty, a titan of the camping gear scene, recently announced the imminent arrival of the 2014 TraiLogic collection, and it is just as good as you imagined it would be. Possibly even better.
I got a first-hand look at it at Outdoor Retailer's Summer Market… And wow. This is going to completely change the game of backpacking. The slogan is 'Life is Complex… But Backpacking Shouldn't Be.' And this line simplifies the backpacking experience like nothing else on the market.
The new collection of gear is made up of products in four categories, including tents, sleeping bags, sleeping pads, and backpacks. Each new model has been created with the express purpose of making your next trip in the woods or up the mountain as comfortable and hassle-free as possible.
RELATED: Our Picks for the Best Sleeping Bags
And as far as I can see, they've absolutely succeeded.
Introducing Kelty's 2014 TraiLogic Collection
The TraiLogic collection is really more of a system than a compilation of goodies. Each component is designed to fit perfectly well with every other component, giving you the benefit of a lightweight, superbly organized, and very easy to use pile of perfectly packed gear.
That being said, the individual pieces of the TraiLogic system are also totally compatible with non-collection items. So you don't have to purchase the whole kit-n-caboodle to enjoy the benefits of the collection's intuitively designed construction and hassle-free usability.
That being said, I'll still recommend you do what you can to collect all the pieces so that you can really bathe in the glow of the TraiLogic's brilliance.
Within the four equipment categories the 2014 TraiLogic collection covers, there are a number of different models hitting the shelves:
Tents — Kelty TN 2, Kelty TN 3
Sleeping Bags — Kelty SB 20, Kelty SB 35
Sleeping Pads — PDsi Full Length, PDsi 3/4 Length, PDa Air Chamber Pad
Backpacks — Kelty PK 50
I've picked out one model from each to look at more closely, giving you a better idea of what the 2014 TraiLogic collection has to offer. We'll start with the shelter.
Kelty TraiLogic TN 2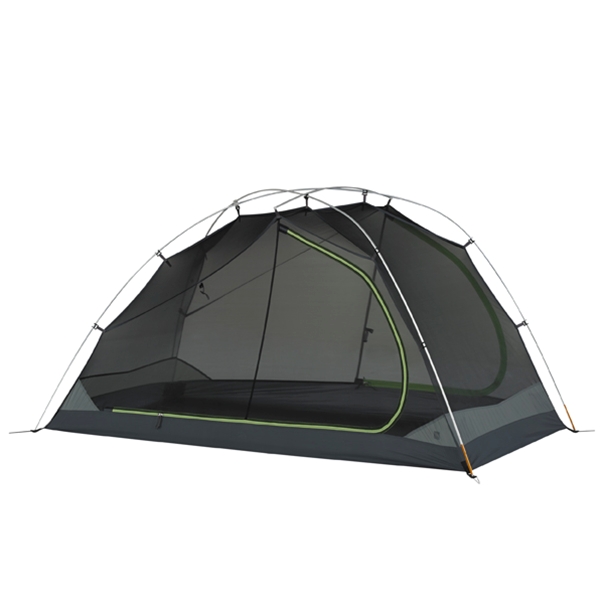 Super lightweight and compact, the new TN 2 is designed to break down fast after use and store easily while you trek in or out of your campsite.
One of the changes in design is that the tent poles are now shorter allowing you to pack the whole shebang into a small, tight rectangular package that's easy to cart around.
Another glossy finish to the TN 2's design is the Stargazing Fly, allowing you to take in an unobstructed view of the nighttime sky before you tuck in and grab some z's.
RELATED: Discover Our Picks for the Best Backpacking Tents
And one of the best parts: the TN 2's protective fly can be utilized without you having to get out of the tent. So if a storm comes along unannounced, you won't be caught with your pants down.
Specs:
Seasons — 3
People — 2
Doors — 2
Vestibules — 2
Floor Area — 30.5 feet square
Height — 42 inches
Pack Size — 14 inches x 11 inches
Kelty TraiLogic Women's SB 20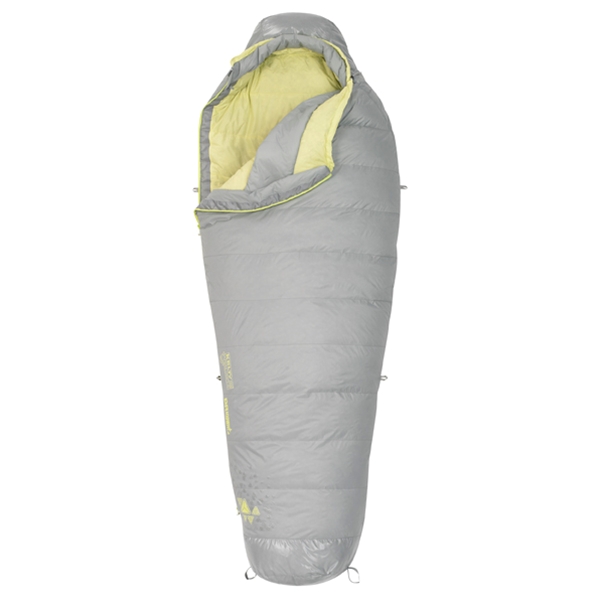 Hey, ladies, if you've never hit the sack in a sleeping bag designed specifically for your physique, then you're missing out. Kelty is by NO means the only manufacturer who realizes that sleeping bags don't have to be unisex, but their women-centric offerings are certainly up among the top tier.
The SB 20 is insulated with 800-fill DriDown, which happens to retain 170% more loft than much of the competition. This makes for a super soft sleep and an extra warm night when temperatures drop below the comfort zone.
The treatment on the down also stays dry 10-times longer and if it does get wet, dries 33% faster. Basically, the treated material is a god-send for inclement weather.
Specs:
Temperature Rating — 20 Degrees / -7 Degrees Celsius
Fit Length — 5′ 8″
Fit Girth — 74″
Weight — 1 pound, 15 ounces
Stuffed Size — 14″ x 8″
Kelty TraiLogic PDsi 3/4 Length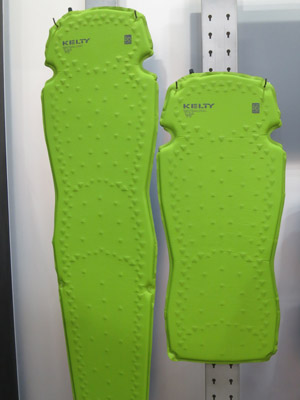 A sleeping pad that's lightweight is great for the hiking portion of your trip, but it's not necessarily great when you have to sleep on top of it. Unless, that is, you have the Kelty PDsi, which is self-inflating.
Its bio-shaped design is constructed to mold to your body shape, giving you all the support and comfort needed for your unique physique.
RELATED: Learn About Therm-A-Rest Sleeping Pads
And if you're worried that your type of outdoor adventuring is too rugged and intense for an inflatable sleeping pad, breathe a sigh of relief as the PDsi comes with its very own, handy-dandy repair kit. But honestly, this guy's so durable that the repair kit will be more of an ornament than a practical tool.
Specs:
Size — Regular
Shape — Bio-Mummy 3/4
Length — 48″
Width — 20″
Thickness — 1″
Weight — 16 1/2 ounces
Packed Size — 10″ x 6.5″ 3.5″
Price — $69.95
Kelty TraiLogic PK 50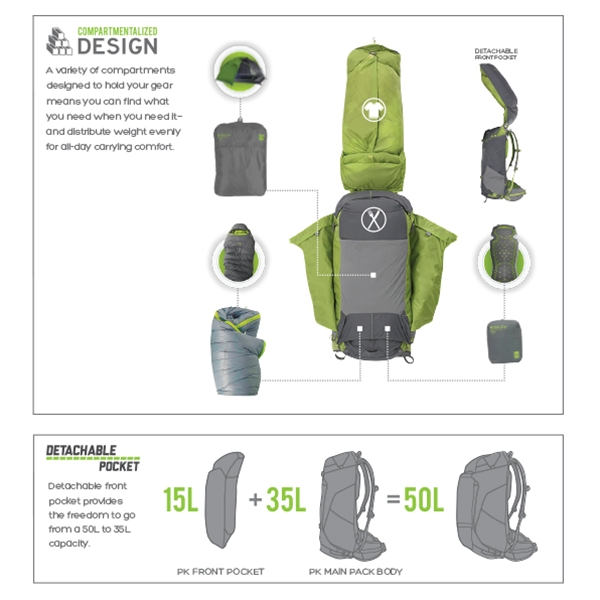 The Kelty PK 50 is the central component of the 2014 TraiLogic collection. It's designed to maximize storage and organization for all the pieces of the big TraiLogic puzzle.
A detachable front pocket allows you to bring a portion of your packed goods into the main room of your tent, while leaving the rest in the vestibule or outside, so you can get the most out of your shelter's square footage.
The PK 50 also features a roll-top top-loading closure, so that you can truly compartmentalize your gear for easy access.
Here's a photo I took from OutdoorRetailer detailing The PK50: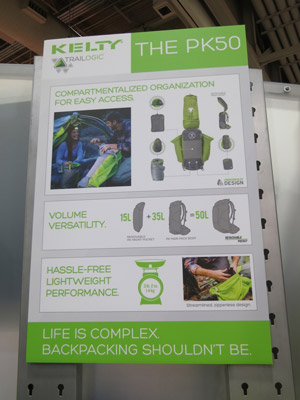 RELATED: Learn About The Best Ultralight Backpacks
For comfort and support, the pack features a ventilated back panel, integrated lumbar support, AirMesh shoulder straps and waistbelt, and load stabilizer straps.
This is a serious pack with a fun interface allowing you to gratify both your inner organizational freak and free-wheeling wild child. The PK 50 is really, truly, and in all other ways fantastic. Now…if it was just a little bit less expensive…
Specs (Medium/Large Model):
Size — 33″ x 19″ x 15″
Capacity — 5,500 cubic inches
Suspension Type — Fixed
Weight — 5 pounds, 10 ounces
Torso Fit — 17.5″ – 21″
Looking Forward to the Future of Kelty
If the new models coming out under the banner of TraiLogic in 2014 are any indication of Kelty's future, I can only say that success is in the cards.
This is a company that consistently produces some of the most comfy, versatile, easy-to-use camping gear on the market, and I'm always excited to see what comes up next.
Of course, not everything they produce is gold-medal material –every brand name has its not-so-shining moments–but the 2014 TraiLogic collection looks like a trophy-winner in the making.
Are you excited for the TraiLogic collection? Or is Kelty not your cup of tea? Tell me what new gear you're looking forward to most in 2014!