Learn from an ounce counting backpacker about how to buy lightweight clothing & about the best ultralight hiking clothes for men & women
Every ounce is important when you go backpacking for any length of time. The more you carry, the harder it'll be. Outfitting yourself in the best lightweight outdoor clothing goes a long way toward making your next trek easier, safer, and more enjoyable.
These days, every bit of clothing you wear when you go hiking, climbing, walking, or backpacking comes in an ultralight variety (and I probably own a piece of each gear!) It seems like every modern sports outfitter is looking to make things as near to weightless as possible.
Ultralight backpacking gear used to be a luxury, but with amazing advances in manufacturing technology, it's quickly becoming a common feature.
I personally love it because, even though lightweight gear can cost a pretty penny, each ounce shaved is an ounce less carried. This means you can go farther and faster than ever before.
It doesn't matter if you're hiking in Glacier National Park or in the Great Smoky Mountains, lightweight hiking clothes will make your life easier and your hikes more enjoyable.
Importance of Hiking In Lightweight Clothing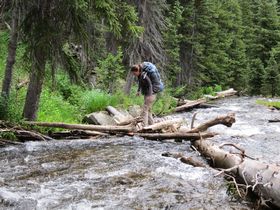 Lightweight hiking clothes gives you extra mobility when crossing tough terrain
Over the past ten years, advances in hiking clothes have exploded with new innovations, new uses for fabrics, and new designs to make hiking, climbing, and backpacking far lighter (and easier!) than ever before.
This new wave of ultra-lightweight gear is reaching its peak as far as elegance and simplicity go–at least until it begins to climb a brand new peak of innovation, that is.
Heavy hiking shorts, pants, jackets, shoes, and shirt are no longer part of the equation–they're antiquated. Today, most backpackers (me included!) are outfitting themselves in lightweight clothing & gear that keeps them warm and dry.
Gone are the days when a shirt was just a shirt or long johns were just long johns.
More than just keeping you layered and warm, the best lightweight clothing should now offer:
Moisture-Wicking — Instead of damp-collecting cotton, most lightweight outdoor shirts and pants are made from polyester or other materials that draw the sweat off your skin, keeping you dry and comfortable.
Water-Resistance — If not downright water-proof, the best lightweight clothing should certainly be water-resistant. The creation of water-resistant materials for clothing has been around for a while–this is nothing new–so every article of outdoor clothing you buy from now on needs to have this feature.
Near Weightlessness — It goes without saying that the best lightweight clothing should be almost weightless. But even if you're not specifically looking for ultralight gear, you should still spend the extra bucks to pick up clothes that are lightweight. It helps preserve your energy, allowing you to hike farther and faster.
Sun Protection — A lot of lightweight outdoor clothing also provides defense against the sun's ultraviolet rays. With a UPF-rated article, you can get much more from your duds than a warm layer–you can get some extra protection.
When it comes to the best lightweight outdoor clothing, you're not just limited to a shirt and long underwear. Almost every article of clothing you buy for hiking, camping, and backpacking can be found in the ultralight category, including: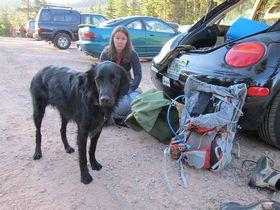 Allyson & Lennon Preparing for a Backcountry Excursion!
Hiking Pants
Base layer shirt
Mid layer vest or sweat
Outer layer soft shell jacket or wind jacket
Hats
Underwear tops and bottoms
Sports bras
And more
If you find yourself on the REI, Backcountry, Amazon, Cabelas, or other online retail sites, getting ready to buy a new outdoor sports outfit, do yourself a favor and check out the lightweight options.
You'll thank me later.
Best Lightweight Outdoor Clothing for Men
If lightweight hiking sounds like it's an activity right up your alley, then you need start doing your research to find the best clothing to suit your needs.
You want cool, breathable, moisture-wicking clothing that will keep you fast and loose on the trail.
After tons of research (and owning tons of gear), here's my opinion on some of the best lightweight outdoor gear for men: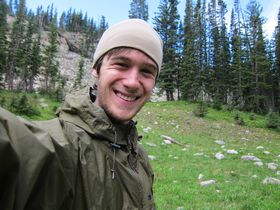 That's me looking rough after a night in the backcountry
Lightweight Footwear —
Lightweight Pants —
Lightweight Base Layer —
Lightweight Mid Layer —
Lightweight Outer Shell —
Best Lightweight Outdoor Clothing for Women
Obviously, men's and women's clothing is different in fundamental ways–the shape, of course, is modified to fit the female form. But there are other ways in which ultralight clothing differs between the sexes. Some fabrics, designs, and physical constructions are as different as apples and oranges.
Because of this, a manufacturer that makes the best men's ultralight outdoor clothing may not make the top three for women. This is a whole new ballgame.
I did some research on specs, and read up on a ton of consumer reviews. Below is a list of the most respected pieces of lightweight hiking clothes for women: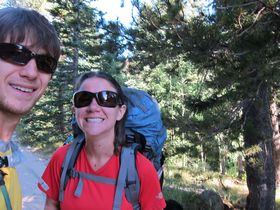 Allyson & I in our lightweight hiking shirts
Lightweight Footwear —
Lightweight Pants —
Lightweight Base Layer —
Lightweight Mid Layer —
Lightweight Outer Layer —
Return back to Glacier National Park