About Grinnell Glacier Trail
Trail Highlights – Crystalline turquoise lakes, cascading waterfalls, towering peaks, plentiful wildlife and the iconic Grinnell Glacier.
Roundtrip Length – 11 miles
Elevation Gain – 1,600 feet
Peak Elevation -7,000 feet
Parking Lot — Yes
Difficulty – Moderate
Region – Many Glacier
Availability of Water – Yes
The Grinnell Glacier trail is one of the most spectacular hikes in Glacier National Park. You'll be rewarded with views of pristine glacial lakes and crystalline cascading waterfalls with stunning vistas of the surrounding peaks.
At the trail's end you'll have a fantastic view of massive Grinnell Glacier and the milky turquoise Grinnell Lake, which is formed from the glacier's melt. You'll also see two smaller glaciers above Grinnell, Salamander and Gem.
Because the trail is relatively easy in terms of elevation gain and length and is extremely well maintained, it's one of the most travelled in the park, so expect to see lots of other hikers (but not nearly as many as Iceberg Lake or Avalanche Lake).
Hiking the Grinnell Glacier Trail
The Grinnell Glacier trail starts at the Many Glacier picnic area at the end of Many Glacier Road just past Many Glacier Hotel. The beginning of the trail traverses the shoreline of Swiftcurrent Lake for roughly half a mile.
After that, you'll come upon Lake Josephine, which is where the trail begins a slight incline following the shoreline with the peaks of Mount Gould and Mount Allen towering majestically around you.
The trail continues to climb gradually as you make the ascent toward Grinnell Lake. You'll pass through open meadows with mind-blowing views of Grinnell Falls, Lower Grinnell Lake, the Continental Divide, Angel Wing and Mount Gould. You should be able to spot mountain goats and bighorn sheep along the mountainsides, and possibly grizzlies and black bear below the trail. Sometimes moose are also spotted in this area. Be aware that even though this trail is heavily travelled, it's also a prime grizzly area, so make plenty of noise when you come around blind bends in the trail, especially if you're hiking in the early morning hours.
You should always bring a can of bear spray when hiking in Glacier–especially on this trail though. If you're unfamiliar with hiking through Grizzly Bear habitat, I've explained the precautions here.
And if you're looking to read a cool story about a Grizzly encounter on the Grinnell Glacier trail, Paul Anderson submitted his tale here.
The trail arrives at a picnic area, at which point, you're about a half mile from the end of the trail. This is a great spot to take a break and have lunch or a snack before you set off again on what is the most difficult stretch of the trail so you can be rewarded with the spectacular view of Grinnell Glacier and Grinnell Lake at the trail's end. Continue along the trail, which climbs over a tricky stretch of rock and gravel moraine for about .2 miles, which is the steepest and most difficult part of the trail.
Arriving at Grinnell Glacier
At the trails end, you'll arrive at the massive Grinnell Glacier and the stunning, milky turquoise waters of Upper Grinnell Lake. The lake achieves this surreal color because of glacial 'flour' in the water, which is rock ground into a fine dust by glacier movement. You'll also see two smaller glaciers, Salamander and Gem, above Grinnell Glacier. Floating in the lake are massive chunks of ice that have broken off the glacier.
Grinnell Glacier is steadily melting, having shrunk to almost in half its former size in the last forty years due to rising temperatures. Nevertheless, it's still quite an impressive sight. Take a good look, because glaciologists estimate that by 2030, this glacier and all of the others in the park will have melted completely.
Never attempt to walk on the glacier, which is carved with deep crevasses masked by snow, making it extremely hazardous for all but the most experienced glacial trekkers.
An alternative to hiking to the Grinnell Glacier from the trailhead is to take a boat from the Many Glacier Hotel across Swiftcurrent Lake and Lake Josephine where you pick up the trail on the south end of the lake. This shaves about 1.7 miles off the hike.
My Experiences Hiking Grinnell Glacier
This is hands down one of my favorite trails in all of Glacier National Park. Compared to other hikes in the Many Glacier area, like Iceberg Lake, this trail is far less crowded and equally as rewarding.
One of my favorite ways to view Grinnell Glacier though is to hike the Highline Trail and go to the lookout. Now that is something special.
If you're going to hike this trail, make sure to get started early as it's 11 miles round trip. I'd also recommend bringing a water filter to purify water from either Lake Josephine or Grinnell Lake. You can learn about various Katadyn water filters here. I personally don't use a Katadyn anymore and instead stick with our SteriPen
, which requires zero effort but takes considerably longer than a pump filter.
Either way, be sure to bring more than a plain ol' water bottle, as that will not be enough water to keep you safely hydrated on this trail.
Grinnell Glacier Trail Elevation Profile & Photos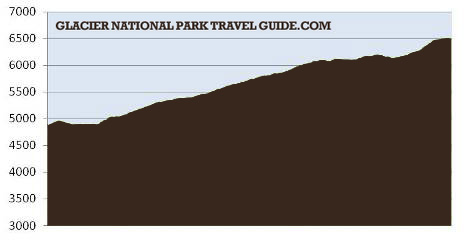 Grinnell Glacier Elevation Profile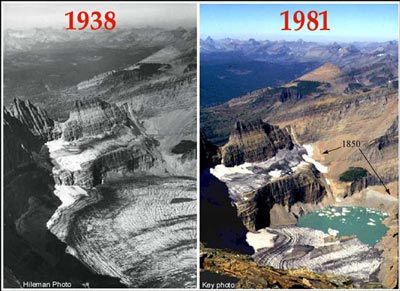 Grinnell Glacier Comparison 1938 vs 1981 (source)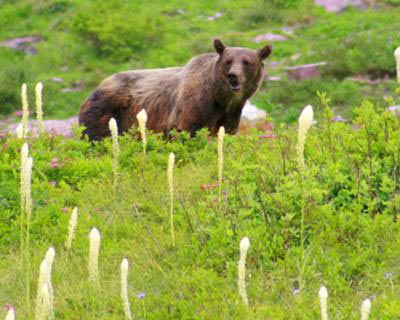 A Grizzly Bear Spotted on the Grinnell Glacier Trail